Smartwatch Car Remote: A Prototyped Remote Control for Cars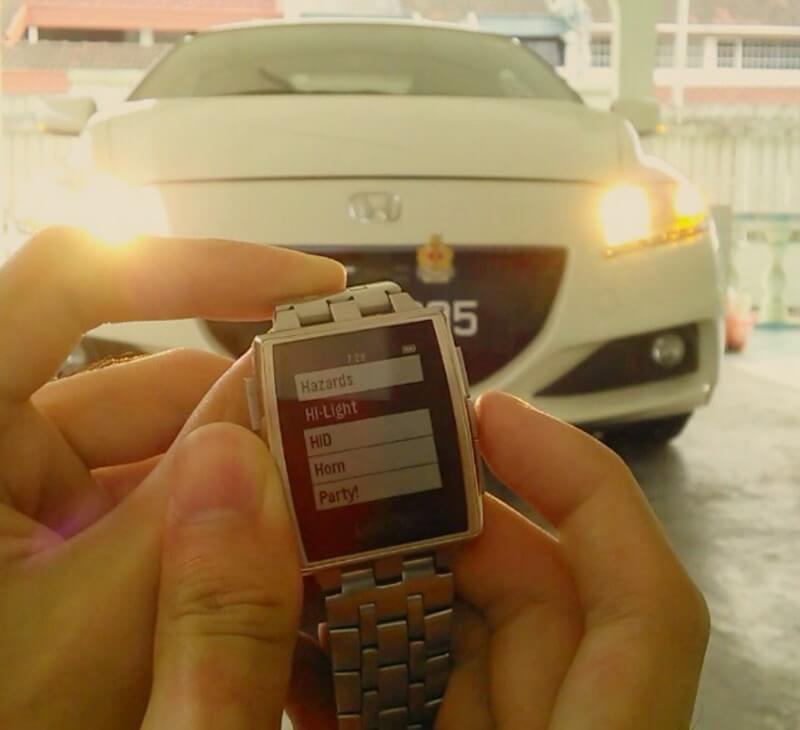 Since its emergence, Smartwatch has often been used for monitoring health conditions or acting as a substitution to mobile phones. Little do we know, it can do much more than the tasks mentioned above. TechDesign comes across an interesting smartwatch car remote prototype made by one brilliant maker. With no further ado, TechDesign  wants to introduce the one and only smartwatch car remote to you.
How does the smartwatch remote work? 
The maker, Mika Wee, said the idea of the project is to control lights and other electrical components of a car through a smartwatch, but not the buttons on the car's dashboard. Since he personally owns a Pebble Smartwatch, he decides to use it as the benchmark controller. He prepared the following list of components for this project:
A DFRobot clone Arduino
A receiver that will be used to interact with Android smartphones
A relay shield acting as the output to complete circuits
Android smartphone with Tasker
A Pebble steel (option)
He used the tasker to create the menu for the smartwatch, and on the tasker, he sets four tasks. He suggests users to then determine the function of each wire on the car. He relied on a multimeter and the original service on the car to manually find out the wire that is associated with electricity. After that, he put the relay wire into the circuit to trigger a "button press" function. To see how the smartwatch successfully controls the car's lights and electrical components, take a look at the video on Wee's Instagram account:
(Via ptewee on Instagram)
How does the smartphone remote work? 
In addition to the Pebble smartwatch car remote, Wee also performed a test with the Android smartphone. He first powered the Arduino board through the car, then he optimized the embedded code to prevent any unexpected behavior from the setup. Then he added more relay wires so the whole setup can actually control more components. He also shares the testing result with the Android smartphone through a video on his Instagram:
(Via ptewee on Instagram)
If you wonder how do the smartwatch and smartphone car remote communicate with the car, the secrets lie in Bluetooth. If you are interested in learning more about the project's details, you can refer to the complete project profile here. TechDesign hopes that you continue to find these prototype projects from fellow makers inspiring. As always, if you have any cool side projects that you want to share, please don't hesitate to send them our way. We will be happy to help share them on here.