The Requirements of Automotive Electronics Designing and Manufacturing for Electric Vehicles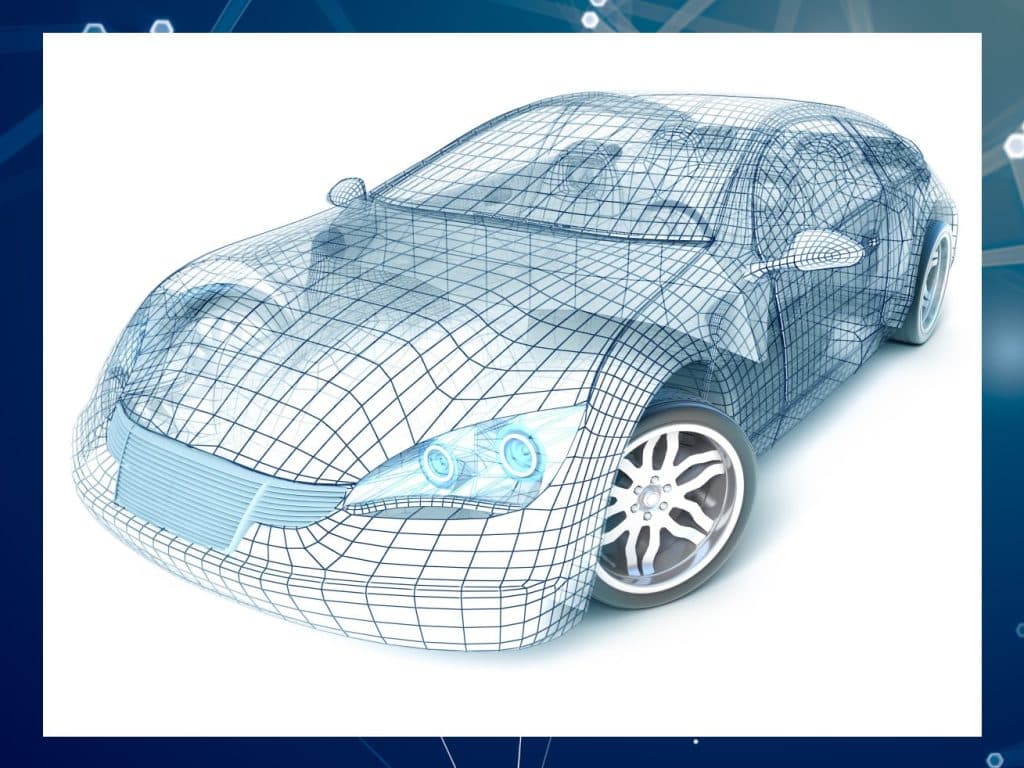 In the rapidly evolving world of automotive technology, the electrification of vehicles has become a prominent focus for automotive manufacturers and consumers alike. The design and manufacturing of automotive electronics, particularly for electric vehicles (EVs), require meticulous attention to detail and adherence to specific standards. This article explores the key points to consider when designing automotive electronics for EVs, encompassing component level requirements and qualifications, PCB level considerations, and system-level certifications.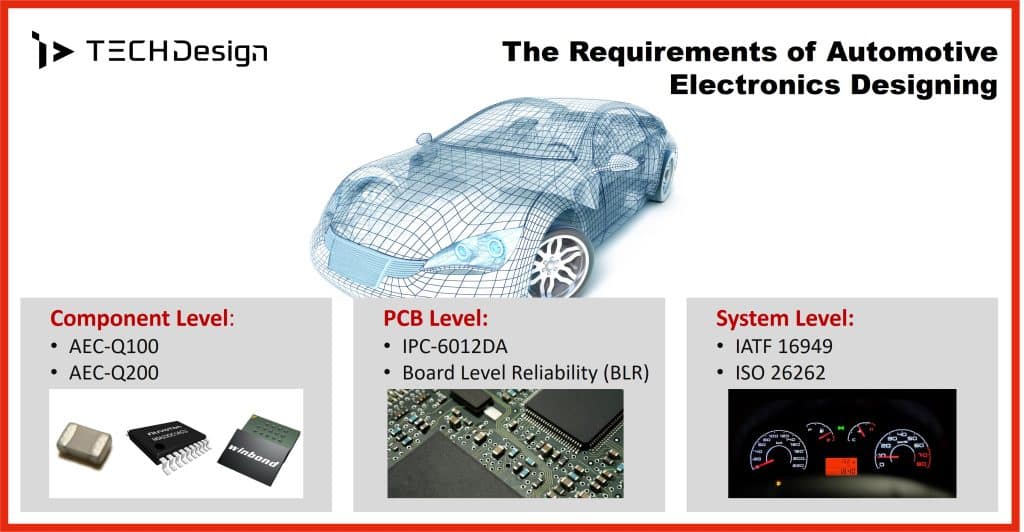 Component Level Requirements and Qualification
Critical component level requirements and qualification processes are vital for achieving optimal performance and reliability in automotive electronics.
Integrated Circuits (IC): AEC-Q100
Integrated circuits form the backbone of modern automotive electronics. AEC-Q100 is a standard established by the Automotive Electronics Council (AEC) that outlines the requirements for the qualification of ICs used in automotive applications. Compliance with AEC-Q100 ensures that ICs are suitable for the harsh automotive environment, considering factors like temperature, vibration, and longevity.
Winbond offers a wide range of automotive electronic solutions with certifications like AEC-Q100, as well as TS16949, ISO 9001/14001, and OHSAS1800, more specifically, SpiFlash® Memories with SPI, Dual-SPI, Quad-SPI, and QPI support. These memories provide high-performance Serial NOR Flash with densities from 512K-bit to 512M-bit. The Dual-SPI and Quad-SPI options offer fast data transfer rates up to 104MHz, enabling efficient code execution and improved boot times. Additionally, the Code Storage Flash Memory family consists of NOR, NAND, and TrustME® Secure Flash Memories, meeting various application needs. Winbond's Specialty DRAM, featuring SDR, DDR, DDR2, and DDR3 support, is also available for automotive applications, with a focus on high performance and reliability.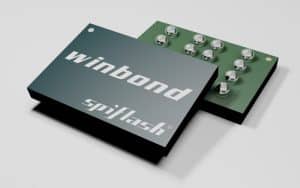 Nuvoton's NuMicro® M0A23EC1ACU is an automotive 32-bit microcontroller driven by an Arm® Cortex®-M0 core that is also AEC-Q100 Grade 1 qualified. It features robust communication capabilities with CAN 2.0B and LIN interfaces and operates in a wide temperature range of -40°C to 125°C with a voltage range of 2.4V to 5.5V. It works well with battery management systems, automobile lighting, electric window lifters, and power seats.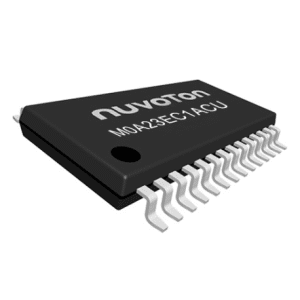 Discrete Components: AEC-Q101
Discrete components, such as diodes, transistors, and resistors, play a critical role in automotive electronics design. AEC-Q101 is a qualification standard that addresses the specific demands placed on discrete components in automotive applications. Meeting this standard ensures the reliability and durability of these components throughout the vehicle's life cycle.
Light-Emitting Diodes (LEDs): AEC-Q102
LEDs are commonly used in automotive lighting systems. AEC-Q102 sets the requirements for qualifying LEDs, assuring their performance and longevity in the demanding automotive environment. This standard addresses factors like thermal performance, light output, and color stability, ensuring safe and efficient lighting for EVs.
Microelectromechanical Systems (MEMS): AEC-Q103
MEMS devices are used in various automotive applications, including airbag deployment systems and electronic stability control. AEC-Q103 establishes the necessary guidelines for qualifying MEMS, considering factors like shock resistance, temperature range, and reliability to ensure their proper functioning in safety-critical systems.
Multi-Chip Modules (MCM): AEC-Q104
MCMs are integrated circuits that combine multiple chips into a single package, providing enhanced performance and miniaturization. AEC-Q104 outlines the requirements for qualifying MCMs in automotive applications, taking into account thermal management, mechanical stress, and long-term reliability.
Passive Components: AEC-Q200
Passive components, such as capacitors and inductors, are vital in automotive electronic circuits. AEC-Q200 defines the qualification and testing procedures for passive components to ensure their suitability for automotive applications, considering factors like temperature stability, vibration resistance, and aging characteristics.
PDC is a leading provider of high-rated power thick-film lead-free chip resistors. These compact resistors offer up to 2W power rating, ensuring high reliability and precision (1%). They are suitable for lead-free soldering and comply with AEC-Q200, RoHS, and Halogen-Free standards, making them an ideal choice for environmentally conscious and high-performance electronic applications.
Walsin Technology is another supplier offering superior components for automotive and other electronic needs and having AEC-Q200 compliance. Their MLCC MT series, a top-notch offering designed for automotive applications, ensures outstanding reliability and quality. These automotive grade MLCCs undergo critical testing based on AEC-Q200 specifications, guaranteeing stable performance in challenging environments. Available in both discrete (MT) and array (MY) configurations, Walsin's MLCCs offer a wide selection to meet various automotive application requirements.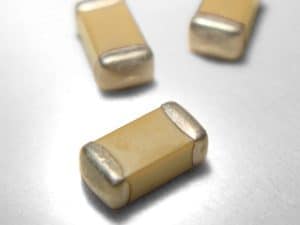 Additionally, Walsin provides a comprehensive portfolio of Chip Resistors suitable for diverse applications, including automotive electronics, smartphones, and networking devices. With a focus on high reliability and stringent quality controls, Walsin delivers exceptional Thick Film Chip Resistors.
PCB Level Considerations
In the realm of automotive electronics design and manufacturing for electric vehicles (EVs), PCB level considerations play a pivotal role in ensuring optimal performance, safety, and reliability. As the backbone of electronic systems, printed circuit boards (PCBs) must adhere to specific requirements unique to the EV domain.
IPC-6012DA
The IPC-6012DA standard pertains to the design and assembly of printed circuit boards (PCBs) for automotive electronics. Compliance with this standard ensures that the PCBs meet the stringent requirements of the automotive industry, including material selection, layer stack-up, impedance control, and reliability.
PCB Assembly Level
Board Level Reliability (BLR)
Board Level Reliability (BLR) is a critical consideration during the assembly of PCBs for automotive electronics. BLR testing involves subjecting the assembled PCBs to various stress conditions, including temperature cycling and vibration, to evaluate their robustness and ensure their longevity in the automotive environment.
System Level Certifications
System Level Certifications are just as important in guaranteeing regulatory compliance, safety, and interoperability in the field of automotive electronics design and manufacture for electric vehicles (EVs). As electric vehicles become more complicated and integrated, obtaining required certifications becomes increasingly important for market access and customer trust.
IATF 16949
IATF 16949 is a globally recognized quality management system standard specifically designed for the automotive industry. It emphasizes the importance of effective processes, risk management, and customer satisfaction throughout the automotive supply chain, including the design and manufacturing of automotive electronics for EVs.
ISO 26262
ISO 26262 is a functional safety standard tailored for the automotive industry, addressing the safety aspects of electrical and electronic systems in road vehicles. For electric vehicles, which rely heavily on electronic components and systems, compliance with ISO 26262 is crucial to mitigate risks and ensure the safety of passengers and road users.
SAE J2980
SAE J2980 is a recommended practice for evaluating the reliability of automotive electrical and electronic systems. It provides guidelines for reliability analysis and prediction, which are essential for designing and manufacturing reliable automotive electronics for EVs.
Designing and manufacturing automotive electronics for electric vehicles require adherence to a comprehensive set of requirements and standards. From qualifying individual components like ICs, LEDs, MEMS, and passive components to ensuring robust PCBs and complying with system-level certifications like IATF 16949, ISO 26262, and SAE J2980, every aspect plays a crucial role in the overall performance, safety, and reliability of electric vehicles. Embracing these standards and guidelines will contribute to the advancement of automotive technology, enabling the seamless integration of cutting-edge electronics in the EVs of the future.
You can explore the automotive offerings from companies like Winbond, Nuvoton, Walsin, and PDC on the TECHDesign website. Discover a wide range of advanced solutions, from flash memories, chip resistors, and MLCCs to microcontrollers, all tailored for automotive applications. TECHDesign provides a platform where you can access detailed product information and connect with these reputable companies to fulfill your automotive electronic needs efficiently and effectively.