Nuvoton iPhone Lightning Docking Speaker: The Smart Audio Solution

It is an undeniable fact that the smartphone market has been dominated by iPhone in the past decade or so. This domination somehow is extending to other sectors within the electronics industry, from smartphone cases to headphones. While TechDesign has featured a couple of interesting audio products on our blog, we haven't really written about one that is specifically designed for iPhone. As a result, we figure it's time to introduce an iPhone lightning docking speaker from our partner at Nuvoton Technology.
A smart iPhone audio solution 
Rather than joining the array of manufacturers that produce headphones for iPhones, Nuvoton Technology decides to go for something less common, a Lightning docking speaker. This iPhone accessory is able to receive music and other audio files from iPhones through a Lightning connector or a Wi-Fi network that it is connected to. As you may have known through our previous posts about Nuvoton products, this speaker also comes with the high-performance Nuvoton microcontroller. Additionally, it also has a power management chip that can substantially amplify audio signals and effortlessly transmits them to external speakers. What's even better is the system's ability to charge electronic devices through the Lightning connector that comes with it.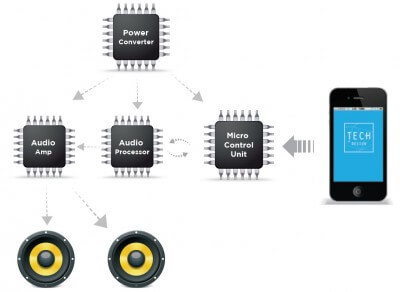 However, the secret power of the speaker, in fact, lies in a piece of board that has an infrared receiver, a keypad and a Lightning connector attached to it. All three components can be used to control the whole system, and as for the main function of the board, it is designed to handle a variety of power consumption scenarios. One instance is that the board can provide enough electricity to charge an iPhone through the Lightning connector while playing music simultaneously. If the user wants to readjust the power distribution to different tasks, they can  accomplish it by providing less electricity to play music while connecting the iPhone to the system through Bluetooth. Last but not the least, the system is also equipped with the NuMicro that prevents the likelihood of copyright infringement and reverse engineering while in use.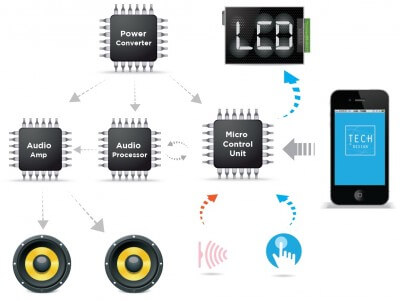 So are you still trying to think about the best way to use this speaker? Imagine if you want to have a house party, this speaker can easily become your go-to speaker with its dual mode connection. If you prefer walking around with your phone while playing the music from your phone, then you can accomplish that through the speaker's Bluetooth connection. For those who think wired connection might be more stable, the speaker can always do that for them.
If you are interested in learning more about the speaker's specs and system requirements, please visit its profile on TechDesign.com. We will continue to introduce other reference designs from our partners in the coming weeks, so stay tuned. Don't hesitate to pass your questions or suggestions our way.