IoT and Pumpkin: How to Make a Smart Jack-o-Lantern for Halloween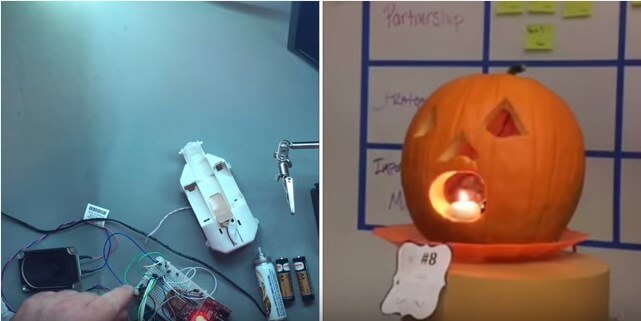 IoT has been applied to countless things around us, and we are constantly amazed by how it expands the function of those things in surprising ways. But the truth is, creativity is everywhere and whether they are lucky enough to go into mass production or not, they all deserve some form of acknowledgement. This is especially true in the makers' community, and this is exactly why TechDesign wants to continuously highlight these raw talents.
We have seen IoT join forces with accessories or daily necessities, but it is definitely something new to see IoT being applied to vegetables. After all, why would we need vegetables to be smart if the main purpose of its existence is to provide us the required nutrition. However, one fellow maker makes his point valid by applying IoT to a pumpkin, and the final product is a pumpkin that shoots flame, talks and is controlled by Internet. How ccol is this!
David Bates is the mastermind behind this brilliant idea but his inspiration should be more than obvious: it's all because of Halloween. According to him, the idea stems from conferences and meetups where other IoT enthusiasts showcased their Halloween projects, and to him, this is a good chance for him to get his hands on new technologies. This is how the smart pumpkin comes into fruition.
How is it made? 
This is not Bates' first attempt to make a flaming Halloween prop out of a pumpkin, as he made one in 2014 with an arduino that is controlled by a Kinect.
(Via David Bates on Youtube)
He decided to add more interaction to his smart pumpkin the following year by controlling it with an Android App that runs on an udoo dual and letting it talk. As the video below shows, the pumpkin was able to talk to a kid with the help of a Bluetooth speaker and microphone controlled by Google Now and a web-based voice recognition service.
(Via David Bates on Youtube)
With two successful experiences, Bates wants to go one step further by combining the two functions in one pumpkin, but of course, this requires more complicated design than the previous projects. He accomplishes the task by combining ESP8266 Huzzah (hardware), ESP8266 firmware, a web-based mobile App, a pytho script, an Amazon Dash Button, and finally the Amazon Elsticsearch. For those of you that are interested in learning about the detailed setup, please feel free to refer to the project introduction.
One worth-mentioning aspect is that Bates made the decision to refine how the fire shoots by replacing a grill igniter that he used in the first pumpkin with a normal candle. And why he chooses to downgrade the dramatic effect of the fire? It's simply because the loud noise from grill igniter will interfere with the new smart pumpkin's talking feature. And here is a video showing how the dual-function smart pumpkin actually functions in reality:
(Via David Bates on Youtube)
While the overall idea contains more entertaining elements than actual business value, TechDesign still upholds the belief that each raw talent contains the potential of becoming a hit product one day, as long as it has the right help. After all, who knows if a smart pumpkin that actually talks and shoots fire won't become a hit product for Halloween in five years.