Introducing the Robo-Spider: A Robotic Maker Project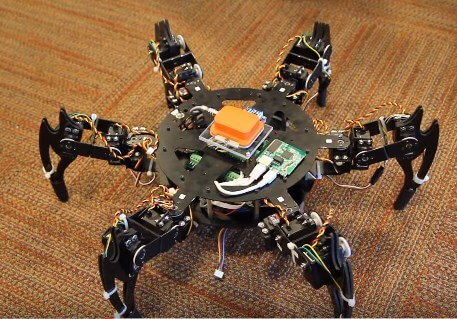 TechDesign has always been amazed by different maker projects that we come across online, whether it is about IoT, robotics or a simple but useful tool in our daily lives. If you still remember, we featured a six-claw robot from our partner at Nuvoton Technology a few months ago, and today, we decide to bring you another maker project that is almost identical to the solution from Nuvoton Technology. With no further ado, we will proceed with the maker project.
A robotic maker project 
This six-claw robot, named Robo-Spider, is the work of fellow maker Josh Elijah. It started out as a project during his spare time when he worked at National Instruments. The model that Elijah based on is the Single-Board RIO and NI LabVIEW, both products of his former employer. The finalized prototype of his Robo-Spider turned out so well that National Instruments even asked Elijah to help them remodel the two predecessors. In essence, the whole project can be divided into three phases: mechanical design, electronics, and LabVIEW software.
(Via hackster.io on SketchFab)
According to Elijah, the hardware components of Robo-Spiders are not overly complex. The components that he uses include LiPo Battery, Mains Input, TP-link Router, Xsens Orientation Sensor, Neopixel LED Array, and Servo Motors. The robot can be powered by an onboard Lithium Polymer battery or a mains power input. Once the power input is set up, it will go through a power regulation board and provide the right voltages for other components.
In order to enable wireless programming and operation, Elijah connects a TP-link router to the sbRIO. Additionally, he connects a Xsens Orientation sensor to the serial ports on sbRio so it allows the robot to sense its own orientation. Lastly, Elijah completes signal routing circuitry to direct digital signals from sbRio to different system components.
Ultimately, it becomes a functioning six-claw robot that can be controlled through laptops or any connecting electronic devices. In order to let you all see the robot in action, Josh Elijah prepares a short clip on Youtube:
(Via Josh Elijah on Youtube)
In case you are interested in learning about the details of this project, you can visit its project profile on hackster.io. If you think making a six-claw robot by yourself is too much work and you would rather get one that can get to work right away, consider the six-claw robot from Nuvoton Technology.
TechDesign will continue to feature other cool and interesting maker projects on here, but if you have any project that wants to be featured, please don't hesitate to send them our way.