Global Chip Shortage: the Reason, the Impact, and the Perspective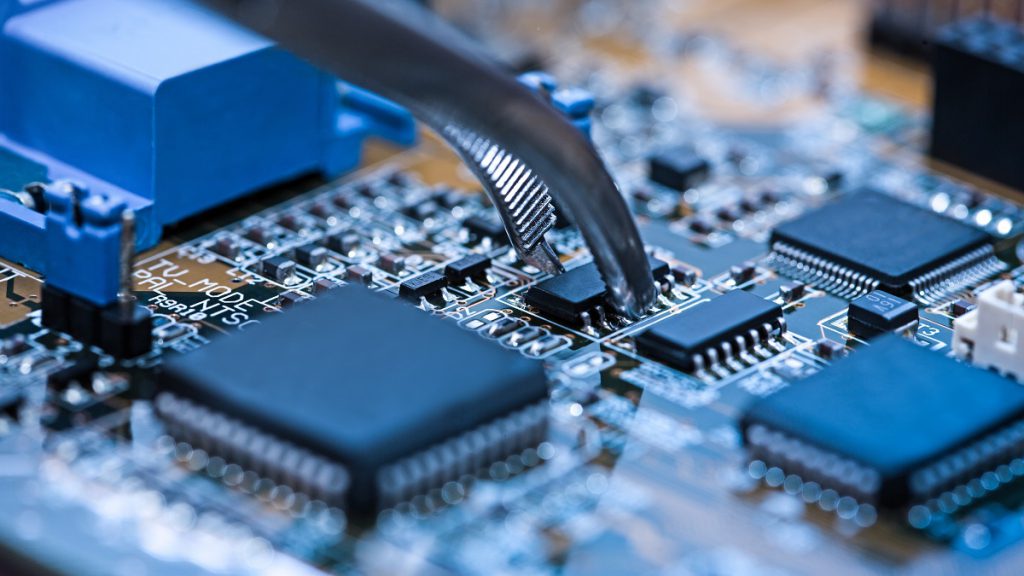 The world is experiencing the worst chip shortage in decades. Multiple reasons cause the consequences, and the COVID-19 pandemic is the beginning of everything. This article will unravel the chip shortage issue and explain why it happened, how it impacts, and where it will go.
All started from the arrival of COVID-19.
Reasons for Global Chip Shortage
As we mentioned above, multiple reasons have made the chip shortage happen. Two of the most important reasons will be discussed below.
Reason 1: COVID-19 Caused a Decrease of the Semiconductor Capacity, and a Rise of PC Demand
At the end of 2019, the outbreak of the COVID-19 pandemic had caused a huge panic and uncertainty in society. Not only does each individual no longer feel safe, but also every industry had no idea what the future held. At the beginning of the pandemic, a sudden drop in customers' demand made manufacturers decrease semiconductor orders, which has resulted in a shortage of chips. And this has led to tragic results.
As arrangements of working from home and online learning became a part of daily life, PC demand started to rapidly grow. From the research of IDC, 302 million PC units were shipped in 2020, with a 13.1% growth compared to 2019. The number is estimated to grow to 357 million units in 2021. The surge of PC demand, caught manufacturers off guard and it was too late to prepare. Not only that, COVID-19 has severely affected the capacity of many fabs worldwide. Some of them either had employees tested positive for COVID, or they were unable to schedule their production plans due to materials or equipment shipping delays of the lockdown policy. As a result, an imbalance between demand and supply appears and grows.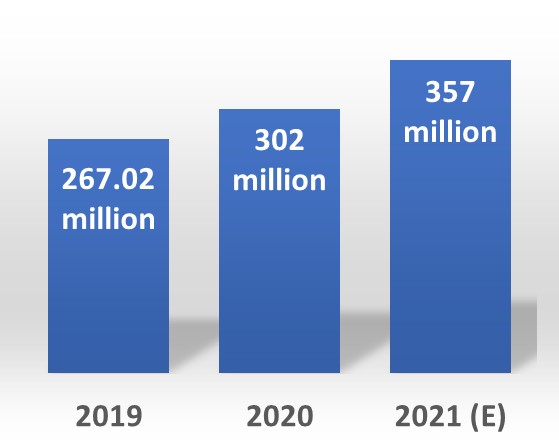 Reason 2. The U.S.-China Trade War Worsens the Global Chip Shortage
The relationship between China and the U.S. – two of the greatest powers globally – is very complicated, as can be seen below. These two countries have a good trading relationship. In 2020, China ranked first as the top trading partner in the U.S. A. and ranks third in 2021.
However, on the other hand, the U.S. has been concerned with China developing military and surveillance technologies which will threaten its national security. China intends to fulfill 70% of its domestic semiconductor demand by 2025, but currently it is only at 16%.
The tension between China and the U.S. has intensified under the Trump administration. In 2019, U.S. initiated trade wars by restricting the Chinese telecom provider, Huawei Technologies, to purchase any product with components or software that more than 25% originated from the U.S. This export control requires companies which wanted to do business with Huawei to get extra export licenses from the Commerce Department in the U.S. More firms in China were put on the blacklist, and chips were purchased before restrictions were put in place.
In September 2019, the Commerce Department in the U.S. placed similar trading restrictions on SMIC (Semiconductor Manufacturing International Corp.), stating that the chips manufactured by SMIC were possible to be used in military applications. Hence, semiconductor equipment suppliers were required to get export licenses from the U.S. government to trade with SMIC. This restriction slowed down the technology development of SMIC and negatively affected its manufacturing capacity. (source)
No surprise, that it decreased the global chip supply, as SMIC is one of the largest chip manufacturers worldwide. Moreover, many companies terminated operations with SMIC and turned to trade with TSMC and Samsung. But these two semiconductor giants could not cope with the capacity, as they had no space for additional production.
The restriction of free trading worsened the chip shortage, and it is worth mentioning that Biden didn't ease the tension but expanded the blacklisted Chinese companies to 59.

Impacts of Global Chip Shortage
All industries are negatively affected by the chip shortage as chips are the basic elements of every electronic device. Among them, we choose three major industries that have been impacted the most, namely the automotive, the GPU, and the game console related industries.
Impact 1. Global Automotive Industry Has Experienced a Severe Chip Shortage
The automotive industry has been severely affected by the chip shortage. According to S&P Global Ratings, the gap between vehicle production and sales in 2020 was around 2~3 million units, which indicates that there were several million supply shortages in the automotive industry. It all started with the automotive companies miscalculating the car demand due to the COVID-19 pandemic early last year.
The automakers had just cut the semiconductor orders when the car demand rose unexpectedly. The foundries had already managed to fulfill the needs of consumer electronics, while consumer products with a higher revenue margin can benefit the foundries more. It was a little bit late for automakers to head back to the foundries, as it took time and extra money to rebuild the capacity required. In general, chip fabrication takes 2~3 months. Semi-Literate has described the situation with automakers as dire. These automakers can only solve the chip shortage problem by either paying more to the foundries, or shipping cars with some components short, or facing shut down (such as Ford, GM, Suzuki, Subaru, and Fiat Chrysler).
| Types of automotive chips | Examples | Use cases |
| --- | --- | --- |
| Analog | A/D converters, D/A converters, amplifiers | Engine temperature monitor |
| Optoelectronics | Sensors, actuators, image sensors, LEDs | Dashboard lighting |
| Discretes | Power transistors, rectifiers and diodes, RF chips | Airbags |
| Logic | Microcontrollers, microprocessors, digital signal processors, FPGAs | Anti-lock brakes |
| Memory | DRAM, SRAM, NAND flash, NOR flash | GPS navigation |
Table 1. Impact 1. of global chip shortage – Types of automotive chips and use cases
(Source: Semi-Literate)
Impact 2. GPU Chips and Game Console Products Have Gone Through a Global Shortage
The industry of GPUs and game consoles have been influenced fiercely by the global chip shortage as well. The pandemic brought up a sharp rise in demand for GPUs and game consoles, along with the increase of cryptocurrency mining. Other than that, as we just indicated above, foundries' productivity was lower than before in 2020, so it is almost impossible to fulfill the demand. Now, it is already difficult to find PS5 (PlayStation 5), Xbox Series X, or Nvidia GeForce RTX series.
According to The Verge, the street prices for these products in March were extremely high, which shows how desperate customers wanted to buy these products. Furthermore, VGChartz also shared the total sales of PS5 and Xbox Series X/S and compared them with their last generation. The sales of PS5 had exceeded that of PS4 by 358,070 units after launching 6 months, and the sales of Xbox Series X/S had exceeded that of Xbox One by 137,190 units after launching 15 weeks.
Item
Retail price (USD)
Street price (Mar. 2021)
(USD)
Nvidia RTX 3090
1499
2985
Nvidia RTX 3080
699
2160
Nvidia RTX 3070
499
1239
Nvidia RTX 3060 Ti
399
1226
Nvidia RTX 3060
329
828
AMD RX 6900 XT
999
1841
AMD RX 6800 XT
649
1555
AMD RX 6800
579
1331
AMD RX 6700 XT
479
1169
PS5 (disc)
499
833
PS5 (digital)
399
754
Xbox Series X
499
805
Xbox Series S
299
432
Table 2. Impact 2. of global chip shortage – Street prices of GPU, PS5, and XBOX in March 2021
(Source: The Verge)
| | Sales after launching 6 months | | Sales after launching 15 weeks |
| --- | --- | --- | --- |
| PS5 | 8039717 | Xbox Series X/S | 3729135 |
| PS4 | 7681647 | Xbox One | 3591945 |
| Gap | 358070 | Gap | 137190 |
Table 3. Impact 2. of global chip shortage – Sales (Source: VGChartz)
And we believe that the gap would have been bigger if there were enough products for customers to purchase from.
The Perspective of Global Chip Shortage
The global chip shortage seems to be never ending; but will last for a while this year. However, in the long run, things will improve. In April 2021, Chuck Robbins, the CEO of Cisco, has told BBC that although the computer chip shortage will last at least until the end of this year, however, "The providers are building out more capacity. And that'll get better and better over the next 12 to 18 months."
Shortly, more consumer products such as TVs or washing machines are seen increased prices or a shortage of stocks. In addition, Tom's Guide has predicted PS5, Xbox Series X or high-end GPUs will still be difficult to find at least until November, and this prediction has been agreed by one of the globally largest GPU makers Nvidia. But luckily, for the automotive industry, the darkest night has finally passed, and dawn is appearing. S&P Global Ratings has projected a crossover between auto production and sales this year and in the same year, TrueCar has forecasted 16 million new car sales.
The difficulty will eventually pass. And if you are lucky enough to meet TECHDesign, it might not be a hard time for you.

Find Chips and Modules on TECHDesign
Here at TECHDesign, you can easily find multiple kinds of chips and semiconductor modules, from microcontrollers, memory ICs, to wireless modules. TECHDesign is cooperating with world-leading suppliers such as Winbond, Walsin, and Nuvoton, in order to provide the best chips for you.
So, why don't you come along, and conquer this chip shortage, by selecting what you need at TECHDesign? Visit TECHDesign now!
➔ Read more supply chain market analyses