Automated Guided Vehicles (AGVs): Definition, Types & Recommended Solutions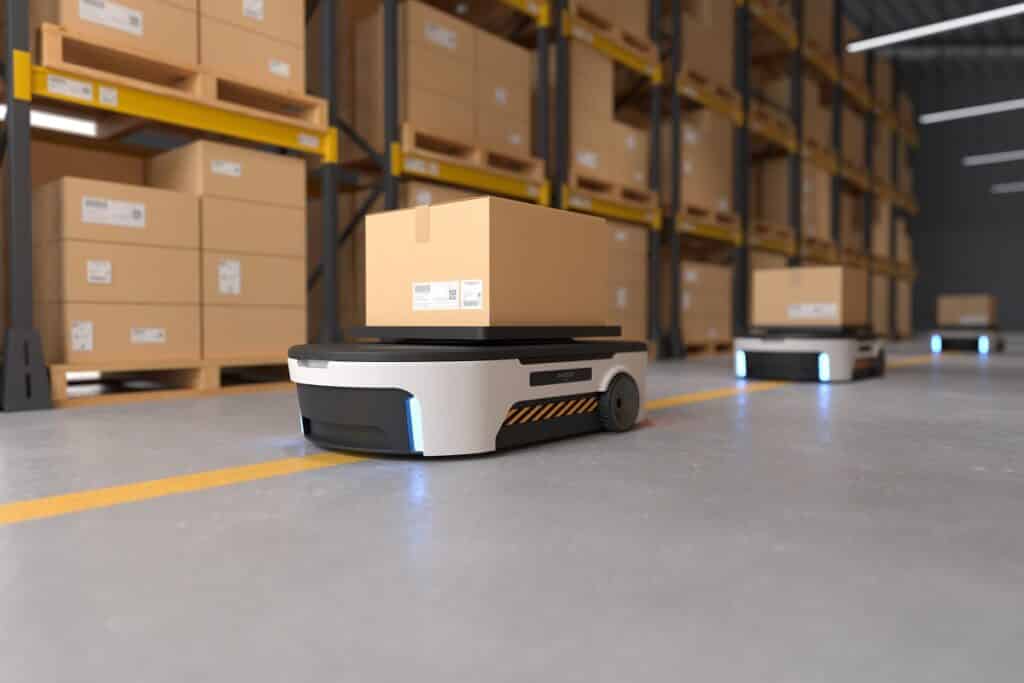 Today, robots are being used to not only prevent human errors, but to reduce human labor. Vanderlande's FLEET is a good example. Its baggage solution based on automated guided vehicle (AGV) can transport a single suitcase to the correct make-up position and determine the best route through an airport.
Not only in aviation, robots are being adopted in other industries such as warehouses and factories as well. A report has pointed out, advanced robotics in manufacturing is expected to reach USD3.7 billion by 2021.
With that in mind, the objective of this article is to:
Introduce you to robots & AGVs
Talk about the main types of AGVs & where they are used
Highlight a couple of AGV solutions from our suppliers to help you reduce human errors in your facility
First, robots vs. AGVs. What is the difference?
Robots are machines built to perform tasks done by human beings. Take the sweeping robots that vacuum and mop your floors for example.
However, in this article, we'll look at a different type of robot: industrial robots.
Industrial robots are robots used in manufacturing. One of the most common examples is automated guided vehicles (AGVs), the focus of this blog post.
What are AGVs, and the types of AGVs?
Automated guided vehicle (AGV) is a computer-controlled, wheel-based vehicle used mainly in warehouses and factories to complete simple, repetitive tasks such as loading and unloading goods — jobs that were previously done by people. It is also one of the key technologies in smart factory.
We can categorize AGVs into three main types: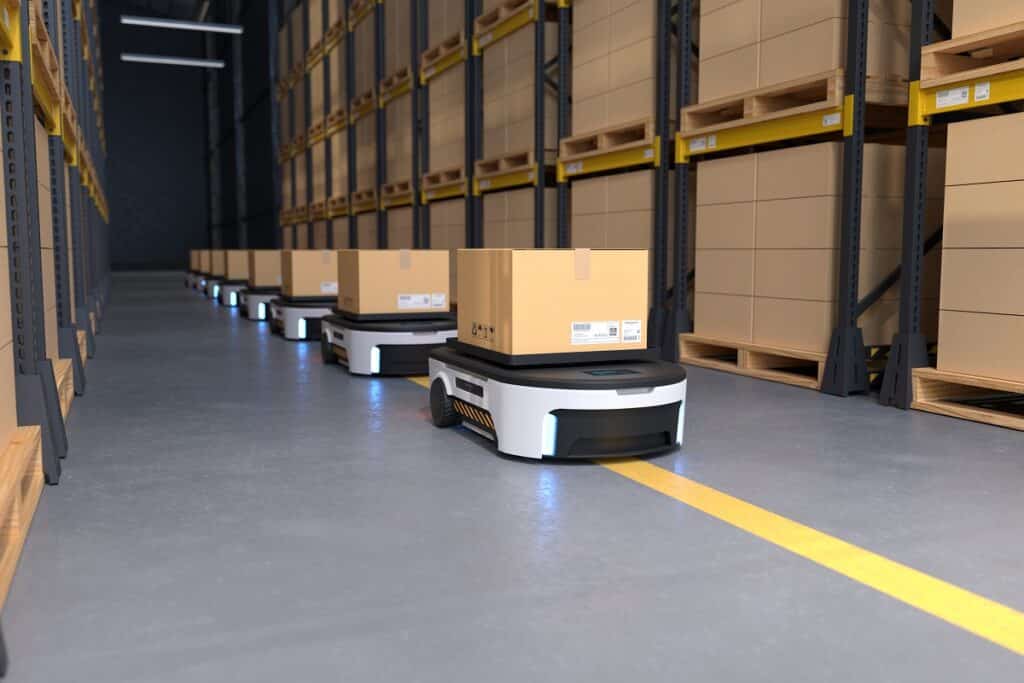 Unit Load AGV. This type of compact vehicle is designed to transport a single or multiple unit loads for long distances at a time. That said, it cannot pick up loads from the floor alone and requires other lifting equipment like forklifts to load and unload the goods.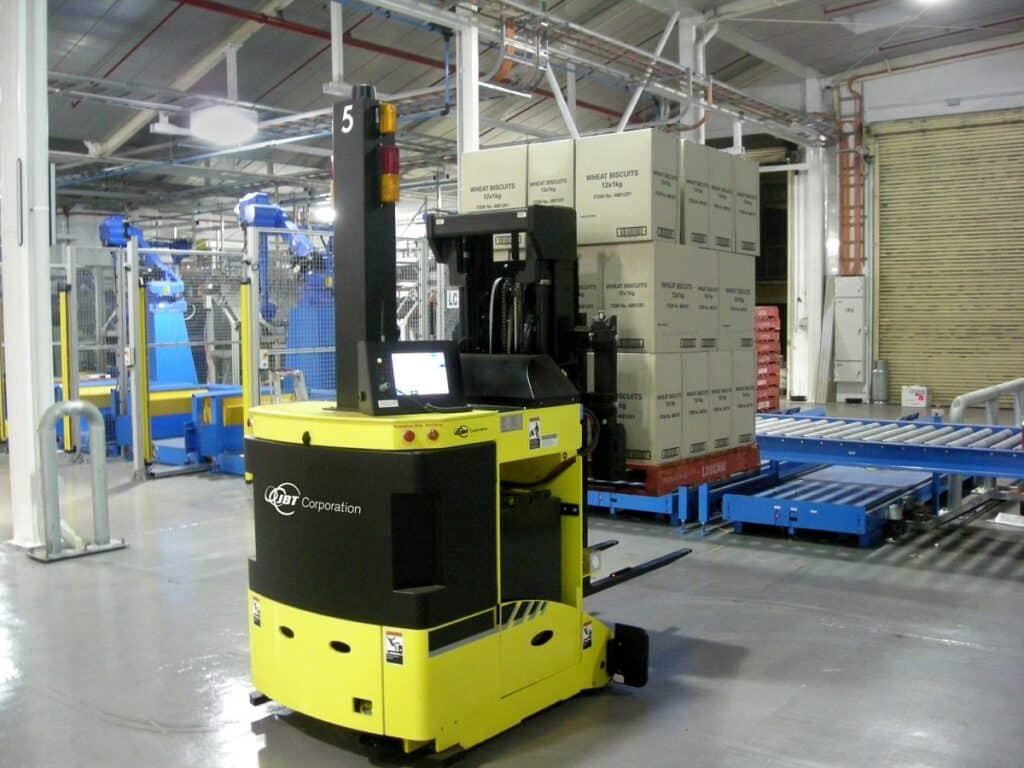 Forklift AGV. This type of pallet truck is great for handling pallet loads. It can pick up floor-level pallets and stack them at various heights.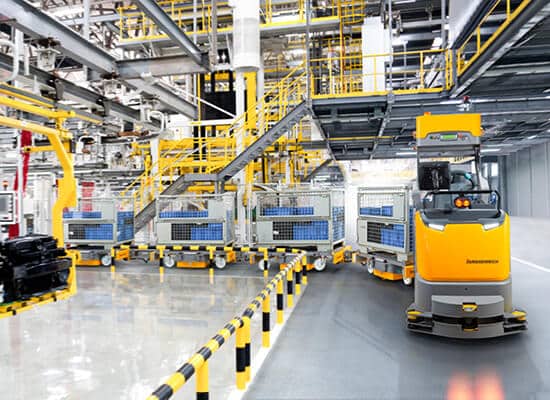 Towing AGV. This type of tugger vehicle is used to deliver goods by dragging one or more non-motorized carriers with multiple loads on them behind it, like a train.
Where are AGVs used?
These types of AGVs can be used to move different goods in different phases of production:
Assembly Lines. You can use Towing AGVs to transfer raw materials from material shelves to workstations on the assembly lines. For example, these vehicles can drag big trucks of components for cars, including steel, aluminum, engine, battery, brakes, fuel tanks, and more.
Packaging Lines. You can use Foklift AGVs to lift semi-finished goods like televisions and laundry machines and move them from assembly lines to packaging lines. These work-in-process products will then be packaged for shipping.
Logics Warehouses. You can use Unit Load AGVs to deliver finished products — like foods and beverages wrapped in boxes — between the packaging lines and logic warehouses or dispatch areas.
Choose the right AGV for your operation
The choice of AGV depends on what you want to use the vehicle for. For example, you can ask yourself questions such as:
Are the weight of my loads light or heavy? For heavy items like televisions, you may want to choose the Unit Load AGV.
How do I want my loads to be moved? There are many ways an AGV operates (e.g., magnetic strips, inductive wires, and reflective marks) and to choose one, it depends on the environment the vehicle will be working in. For instance, the vehicle may not cope with extreme cold, hot or humid conditions.
Out of the three main types of AGVs, the Unit Load AGVs are perfect for delivering extremely heavy loads in facilities with small space as they're relatively smaller in size.
Below, we have picked three Unit Load AGV solutions to help you handle such task efficiently:
AGV (Automated Guided Vehicle) – Maker hart SAR-120. This is a small-sized, lightweight vehicle perfect for moving boxes of small items such as smartphones, headphones and cameras. It weighs 40 kg, can carry a maximum load of 120kg, and has a dimension of 50 cm (L) x 50 cm (W) x 20 cm (H).
AGV Platform Truck with Navigation and Visual Following. This is a medium-sized, middleweight truck that can be used to transport boxes of relatively fewer but heavier items such as tablets and laptops. It weighs 13 kg, can carry a maximum load of 200 kg, and has a dimension of 90 cm (L) x 60 cm (W) x 100 cm (H).
AGV A.I. Embedded Vision Navigation – 500kg. This is a large-sized, heavyweight carrier with a maximum load of 500kg that can deliver boxes of heavy items such as commercial-grade microwaves and ovens. This big boy weighs 100 kg, can carry a maximum load of 500 kg, and has a dimension of 130 cm (L) x 80 cm (W) x 25 cm (H).
AGVs in the future
Since the 1950s, we have seen industrial robots being used in factories, warehouses, airports and even grocery stores. For example, automated guided vehicles (AGVs) are transporting products from one production line to another, while shelf scanning robots are stacking up goods in store floors and putting an end to out-of-stocks.
In the near future, we are likely to witness more innovations with AGVs.
Imagine AGVs integrating with humanoid robots to change the food delivery industry. We may soon find meal delivery robots placing meals on customers' tables, and plate recycling robots taking away empty plates in restaurants worldwide.
To kick start your innovation, check out our solution marketplace for more readily available AGV solutions and talk to TECHDesign's PMs if you need customization.