3D Printed IC to Reshape the Semiconductor Industry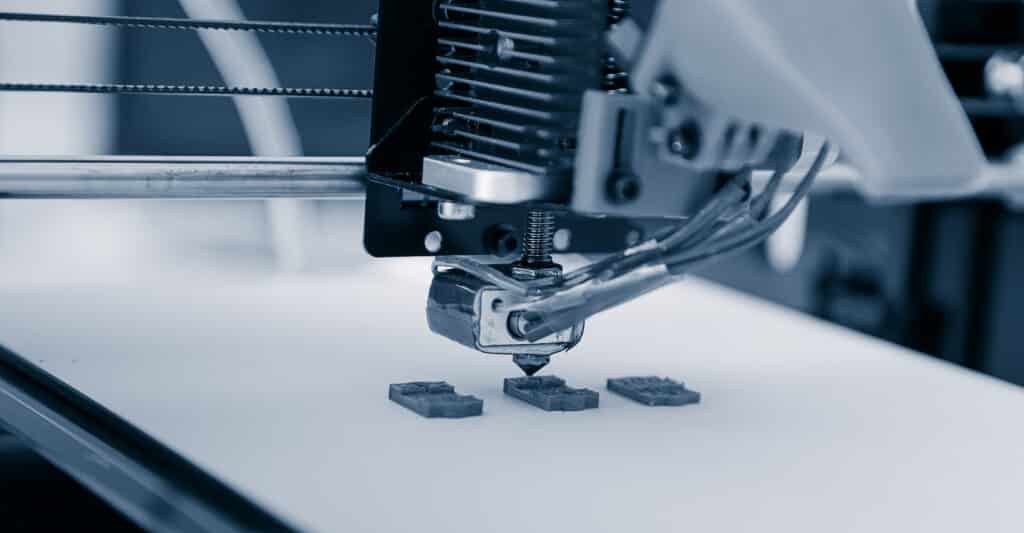 As the size of microchip packages shrinks, semiconductor manufacturers are under pressure to improve lithography capabilities. For more than two decades, researchers have been working on 3D printed integrated circuits. Earlier attempts at 3D printing electronics used the proper technique but failed to reach the required levels of conductivity for a PCB, leaving complicated electrical circuits unusable. Over time though, these printing tools have gradually improved feature size resolution, yield, and variability in production.
● A broad variety of materials may be used to produce an assortment of printed electronics, including conductors, semiconductors, dielectrics, resistors, and other components.
● As has been the case in other areas, additive manufacturing is expected to result in more innovative products, lower costs, and faster production runs.
● 3D printing integrated circuits with the same degree of performance as those on monolithic circuits still poses the challenges.
Additive Manufacturing Electronics (AME)
The maturation of 3D printing technologies, and more specifically, the development of additive manufacturing electronics (AME) has become a highly noteworthy technology for the production of electronics components. 3D printing in the semiconductor industry is becoming more appealing as a result of increased focus brought on by shortages and funding initiatives from governments around the world in the last few years.
A broad variety of materials may be used to produce an assortment of printed electronics, including conductors, semiconductors, dielectrics, resistors, and other components. Electronic components such as resistors, capacitors, antennas, sensors, and thin film transistors may be made using this method.
Organic light-emitting diodes (OLEDs) and organic photovoltaics (OPVs) are currently the most fully developed. Over the last several years, both of these technologies have shown consistent improvements in performance and cost reduction.
An evaluation of AME
As part of good business practice, there must be a complete understanding of the risks and rewards that a new process introduces, along with an honest evaluation of how it compares with existing practice. Regardless of whether it is additive or subtractive manufacturing, each new layer adds complexity and cost to standard IC and PCB production, limiting the number of layers that may be used.
Advantages of AME
New materials for new methods
Unlike traditional manufacturing processes (i.e. subtractive manufacturing) where material loss is unavoidable, 3D printing has allowed manufacturers to reduce or even eliminate waste output that is generated during production. There may be less waste compared to other manufacturing techniques and that waste must be managed with even greater care.
Future applications still have a lot of potential. The materials and techniques used in 3D printing offer a number of distinct advantages: Polymers bond well with semiconductor wafers and can withstand temperature changes of both hot and cold. These polymers are also less susceptible to breakage.
Better tooling for manufacturing
Despite the efficiency of 3D printing, it's evident that traditional PCBs and ICs, as well as the tools required to manufacture them, will be a mainstay. However, 3D printing is becoming more and more significant in this area as well.
Transporting PCBs through the manufacturing process necessitates board-specific pallets and trays, as well as an assortment of jigs, fixtures, racks, and guides. The benefits that 3D printing provides here is obvious (i.e. unique designs printed as needed and in the moment), especially for unique product runs.
It is already feasible to print unique, reusable masks from electronics-friendly materials like ESD [electrostatic discharge]-safe TPU that have a much longer life than the tape that is traditionally used for masking while also saving the time that used to take to apply tape.
In production lines, agile tooling usually introduces additive manufacturing to the production cycle. It optimizes the tooling production, therefore reinforcing traditional manufacturing processes. In fact, tooling may be the most important application of additive manufacturing to the manufacture of integrated circuits.
What kinds of circuits can be 3D printed?
To 3D print PCBs, packaging, hybrid electronics, antennas, photovoltaics, RFIDs, and passives, a multi-layer, multi-material process that employs specialized materials (such as silver conductive inks and dielectric insulating inks) is already available.
Polymer interposers with slanted and curved vias have been 3D-printed in laboratories using ceramic and polymer materials. The vias are then metallized to connect various devices and ICs electrically. The process allows for intricate routing due to a 2-micron resolution and sizes of less than 10 microns.
Sensing devices, FETs, microbatteries, inductors, capacitors, resistors, diodes, and RF circuits can also be produced by 3D printing. FETs are the most active components 3D printed to date but they are still large and slow compared to those manufactured using traditional methods.
Currently, only micron-level resolutions are currently possible with 3D printing. The 3D printing technique for integrated circuits also relies on the co-deposition of materials, which is unquestionably a technological difficulty and adds to the production process's complexity.
What does 3D printing mean to the electronics industry?
Ford, Nissan, and Toyota all declared production cuts owing to a scarcity of microprocessors. Gaming console makers Sony and Microsoft have also experienced stock shortages. It can be safely assumed that once the shortages are resolved, additional emphasis and money will likely result in 3D printing breakthroughs.
Manufacturers in other sectors that have adopted 3D printing into their workflow no longer need to spend time building up tooling for new components or creating molds. It simply becomes a matter of gathering the materials, setting up the 3D printer, and loading the design files.
Electronics manufacturers can reap the same benefits from 3D printing in a variety of ways, including less waste, cheaper production costs, faster prototyping, and faster time to market. But admittedly, 3D printing integrated circuits with the same degree of performance as those on monolithic circuits still poses the already mentioned obstacles.
Finding reliable semiconducting materials that can be applied to a normal 3D printing technique, adapting these materials for the intended purpose, and improving printing resolution down to the nanoscale level are the most obvious challenges.
The future demands flexibility from the semiconductor industry
Electronics manufacturers can now turn to additive manufacturing with the prospect of enhancing throughput and bringing new products to market quicker as they face increasing pressure to reduce product cycle times, satisfy new consumer expectations, and manage more turbulent market circumstances.
There are dozens of other uses in the industrial chain outside 3D printing integrated circuits, such as polishing, light sources and etching, sorting, and other tools. 3D printing allows semiconductor equipment makers to reassess and broaden the scope of what is feasible. 3D printing has a huge potential to help overcome the semiconductor scarcity and reinforce supply chains.
But when it comes fast ramping up production, traditional manufacturing methods have several constraints. 3D printing integrated circuits eliminates these constraints, allowing for greater design freedom and a smooth transition from prototyping to low-volume manufacture of custom products. Before the technology of 3D printed ICs matures, you can always visit TECHDesign for electronic components! Original manufacturers on our platform deliver their components and modules right to your doorstep to ensure product authenticity and quality!