3D Printing Makes Prosthetic Hand Affordable for the Needy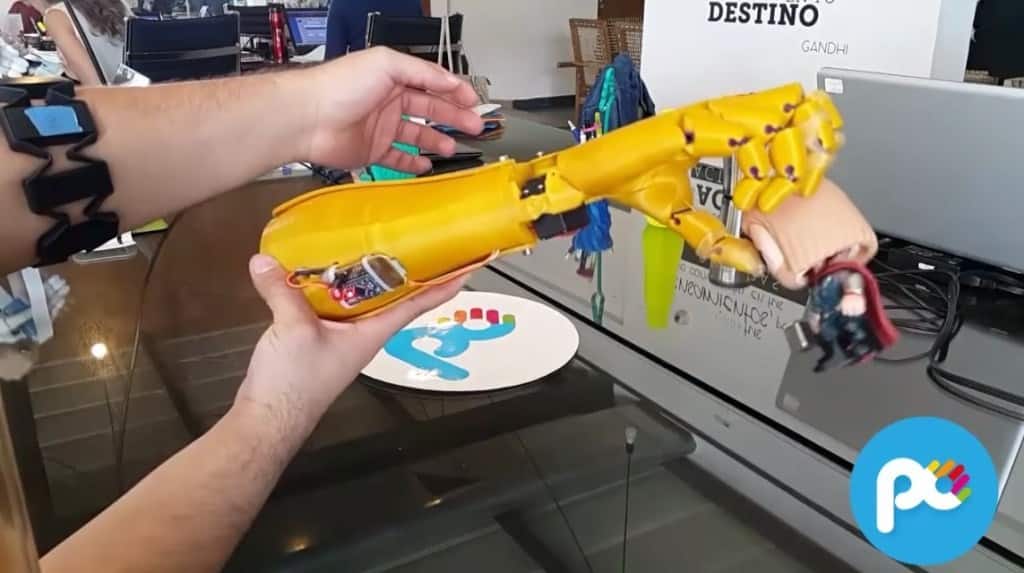 Po is a company in Paraguay which applies 3D printing technologies to customize prosthetic affordable hands for those who suffered injuries and amputation because of a lack of work safety regulations and motorcycle accidents. Cooperating with Myo device, Po develops the hand that is able to monitor and learn the motion.
3D Printing Makes Durable and Affordable Prosthetic Arm
Given that less than 3% of the people in Paraguay who need a prosthetic can afford one, Po utilizes 3D printing to develop a durable, customizable, and affordable upper limb to solve the problem. The first version of the prosthetic arm is based on mechanical control with limited functions. But now the latest version is improved and controlled with Myo device.
Myo, developed by Thalmic labs, is worn on a user's arm and able to monitor muscle movement for bioelectric signals that are passed and communicated to other devices. Therefore, the prosthetic hand combined with Myo enables users to have some movements, like tilting hand and wrist, switch devices, etc. That is to say, Myo learns and remembers the movement from the muscle and then instruct the 3D printed prosthetic hand and fingers to follow the movements.
The development concept of Po prosthetic is not to make it invisible but personal. With the 3D printing technologies, Po is able to customize the upper limb as what users like. Po wants users to choose the prosthetic suiting their personality and be willing to use prosthetic confidently. Also, the cost of a 3D printed prosthetic could be less than 1% of a traditional one. That is main factor that the prosthetic could be affordable.
Leverage 3D Printing and Open Source to Help Those in Need
The Co-founder of Po, Eric Dijkhuis, told TechCrunch that they help the user to pay a figurative amount that they are able to afford and cooperate with NGO's to gain the support and donations. Po would like to get their entire workflow open so that anyone can start their own project with the standardized procedures. 3D printing can not only be applied to industry but also social impact. Leveraging the new technologies, including 3D printing, Myo, and open source, Po could be the quick manufacturing model to help those in need all over the world.