7 Tips to Work with Manufacturers to Get Your Hardware Product Made Successfully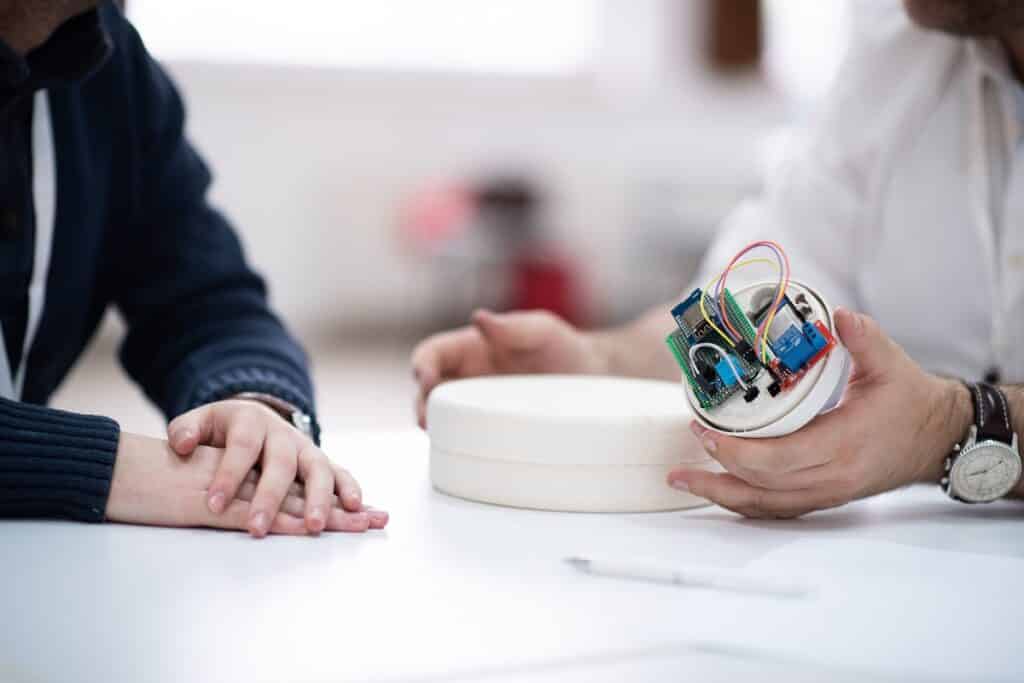 What took one and a half years for a hardware startup to reach mass production of its IoT product, could have taken less than 6 months.
The following 7 tips are things we feel you should consider before finding and working with a manufacturer to ensure your product is on schedule, under budget, and of high quality.
If you need help at any step of the development process, TECHDesign experts are here to walk you through.
1. Do your homework beforehand, as much as you can.
Before you work with a manufacturer, you should know as much as you can about the following 3 aspects:
Specifications (features) of your product,
Schedule (time to market) of your product, and
Cost (budget) of your product.
A little research on such things can help you understand how to better communicate with a manufacturer and get your product made smoothly, and successfully.
Features can be drawn from user scenarios. For example, when you think about your clients' pain points and how you can help relieve them, you will naturally come up with the features needed. You can then create a list, or better a visual diagram, of such features. Details will be further explained in tip 4 below.
As for the delivery date and total cost of your product, you should have a rough idea of when you would like to ship the product to your clients and how much money you're willing to pay to make it happen.
Without knowing the answers to these 3 aspects, it could mean a huge understanding gap between you and your manufacturer and lead to more time and effort spent on explaining or clarifying even the most fundamental concepts during discussions.
2. Tell the future, as far away as you can.
To predict the number of parts you need, you should do "predictable marketing." More specifically, you should do competitive analysis and market research.
Your competitors are businesses who're already manufacturing and selling the same or similar products as yours. What you can do is evaluate their performance. For example, a similar product has sold 20,000 pieces this year in Asia. This number can be used as a reference for the number of pieces you plan to order from the manufacturer.
Next, do some market research on your product. Chances are that such a product might've already reached the peak of its life cycle. You should know the answers to questions like are sales likely to grow, will demand remain the same but attract more competitors in the market, and will it be more cost-effective to make another new product. Once you know the answers, you can make a better prediction.
If you're wondering what the benefits of making a forecast are, they include:
Better chances for negotiation. Knowing more accurately the number of parts you need can help you get a better deal. The more parts you order, the lower the price you will get.
More lead time for manufacturer. Every part you order requires a lead time. Manufacturers need time to prepare and produce each part, and they certainly want to avoid overstock in their factories.
3. Be clear of your responsibilities, and the manufacturer's too.
Some responsibilities are fairly clear, while others including R&D responsibilities and inspection responsibilities can get a bit tricky. Here, we use R&D duties as an example. Simply put, you should clarify who's responsible for developing which functions of your product.
Let's say you want to make a smart television. Who is responsible for how the launch screen should look and for deciding what default apps it should support?
If you're responsible for what the launch screen looks like, that means you need to provide the on-screen display UI, including all the icons and buttons, to the manufacturer. If this is not clearly defined, you may be waiting for the manufacturer to do it and they may be waiting for you to do it, and that is when delays and misunderstandings arise.
Responsibilities not being clearly defined at the beginning, can lead to missing product functions, work needing to be redone, and arguments over who's to blame. Also, after you and the manufacturer have spent the extra time and effort to clarify whose fault it is, you or the manufacturer could face delivery delays, extra costs and compensation disputes.
4. Turn your user scenarios into product specs.
Usually, a product (especially an IoT product) contains two parts: software and hardware. For whichever part you're responsible, you need to provide the manufacturer with specifications and one way to do so is by turning user scenarios or applications into "functions."
For software functions, you can interview your existing or potential clients, find their pain points, understand what they feel is missing and turn such needs into features. For example, your clients want to withdraw cash from ATM via fingerprint scan; this would become a feature of your product.
The same goes for hardware. You can gather information on how the product would be applied and used in different circumstances. For example, if your clients want to listen to music on headphones when commuting, the technologies needed to realize this—like Bluetooth—would become your product features.
You can also create a "function block diagram", a visual illustration that not only lists out all the functions needed to make your product but also describes their relationships.
5. Find out all the fees, and what they should cover.
Normally, after you have discussed the product specs with your manufacturer, they should list all costs for all things requested by you in the contract, including fees for the ordered samples, R&D, labor in factories, shipping, etc.
However, there could be fees not covered in the contract but required for items needed during development process. For example, the costs for making a "fixture", a tool used for supporting in manufacturing, and the labor costs for operating it may not be included.
What we suggest you to do is:
Find another manufacturer or more. When they provide you with lists of fees and the items they cover, you can compare them and go back to the first manufacturer for negotiation.
Talk to a consultant. You can seek advice from experts who already have knowledge or experience in developing the same or similar product you're making.
Or better, you can find a manufacturer with more experience developing a similar product if your budget allows.
6. Know what certifications you need to acquire, and when.
If possible, know at least what safety certifications must be acquired before you find and work with a manufacturer.
We suggest you think about what certifications you need to acquire during RFQ discussion, decide which certifications are a must while designing your product and defining its specs, and acquire them during the DVT stage to avoid delay in your time to market.
Note that knowing what certifications to acquire depends on which countries you want to market your product to. For example, if your electronic product were to be manufactured and sold in the U.S., you must obtain the FCC certificate.
You can most certainly certify your product at a later stage of your development process. However, doing so could mean more time needed for modification and re-design, as you should've taken security and safety into consideration during the early design stage. Moreover, even though it normally takes one to two months to acquire a certificate, it can also take up to six months.
7. Make room for exceptions in your agreement.
It is likely you will come across unexpected surprises such as schedule delay in ETD, quality not meeting standards, and unexpected costs during the development process.
Take unexpected costs for example. Due to the Covid-19 crisis, demand now greatly exceeds supply in the electronic supply chain, causing the prices of electronic components to escalate and thus the unit price of your product to rise.
This is one reason you should include a clause in the agreement stating that should unexpected costs come about, the manufacturer shall be responsible for the fees to a certain degree.
If such a clause is not included in the signed agreement, you and your manufacturer might need to negotiate afterwards. This could be both time-consuming and frustrating unless you have clear evidence that supports it's the manufacturer's fault or the other way around.
Nobody likes delayed schedules, unexpected fees or additional bottlenecks when getting their products manufactured.
Experts at TECHDesign have decades of experience in helping startups and growing companies find and collaborate with the most reliable manufacturers. We encourage you to follow the above-mentioned 7 tips before working with one.
If you need professional support to find the right manufacturer and ensure you don't miss out on anything before working them, contact us at TECHDesign. We are happy to help!