Ask TECHDesign PM: Going from Concept to Manufacturing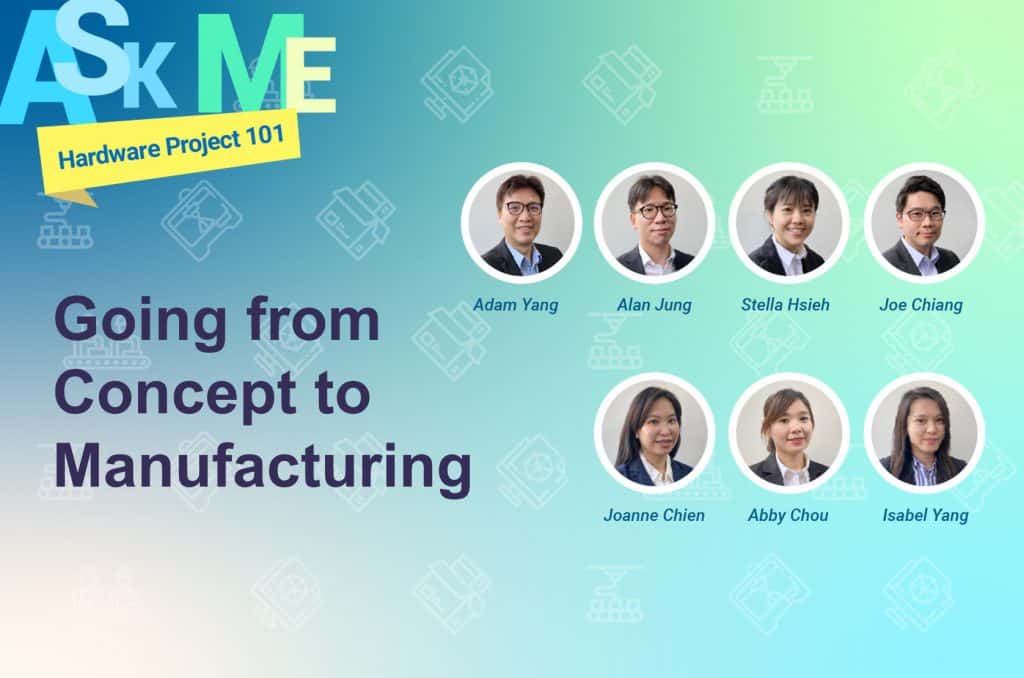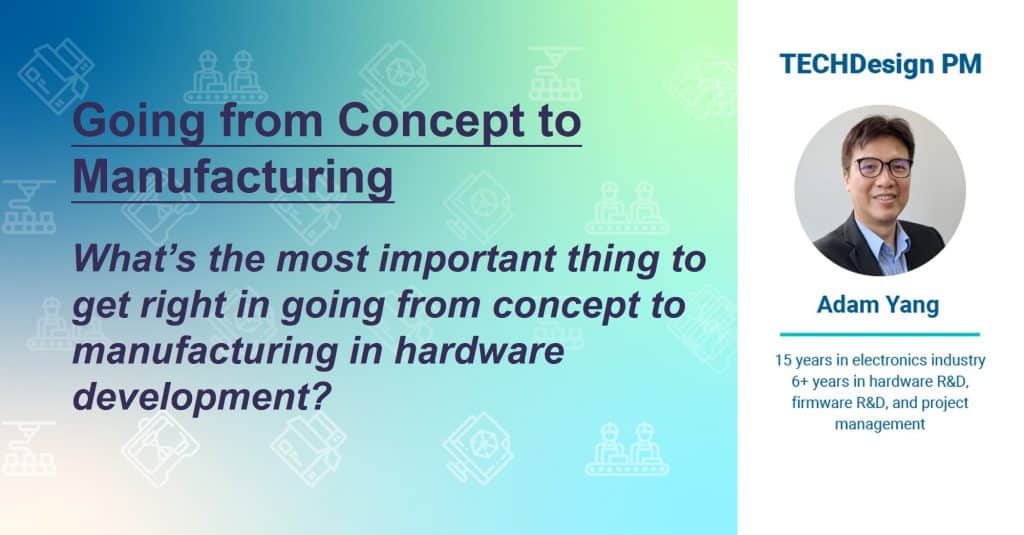 Q: What's the most important thing to get right in going from concept to manufacturing in hardware development?
A: I believe a strong contract with your supply chain partners is critical to successfully bringing your electronic product to market. In addition to recording the content of the product to be completed by the assignee, the contract has another important purpose that when the two parties encounter a dispute in cooperation, they can use the content agreed in the contract as the basis for judgment. If one of the parties is harmed, the contract will also play a protective role, so before cooperation, drawing up a contract acceptable to both parties extremely important.
In our experience, when signing cooperation contracts with OEM or ODM factories, start-ups tend to get less favorable terms due to their limited experience and lack of legal resources. Some key items for startups to pay attention to signing contracts is as follows:
1. Related product definitions: clearly define product specifications, delivery time, quality requirements, payment terms, delivery methods, and after-sales service, etc., so that the product can meet the quality and delivery requirements.
2. Confidentiality agreement and intellectual property rights: mainly define "property rights" and "protect intellectual property owners" to prevent the property rights from being exposed or copied.
3. Dispute handling: define the dispute's "basis for judgment", "penalty" and "court of ruling". When one of the parties fails to enforce the contract, it can be judged in accordance with the defined penalty and contracted court.
4. Other: Define the dealing with special situations that are not in the contract.
All of the above are key points that startups should pay attention to when signing contracts with factories. We at TECHDesign provide a standard NDA template for our projects and help our startups to review their contracts to ensure a solid foundation when working with suppliers.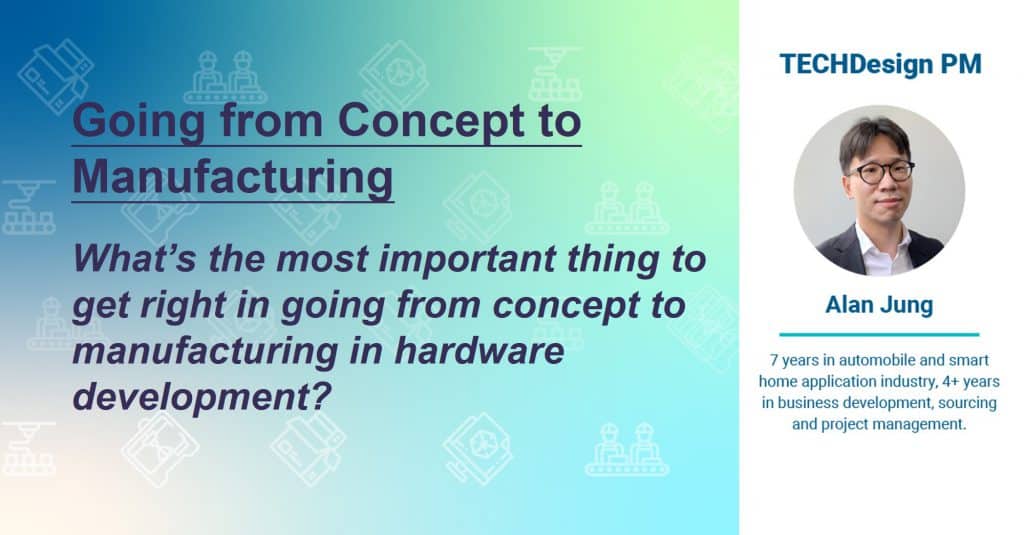 Q: What's the most important thing to get right in going from concept to manufacturing in hardware development?
A: Understanding customer pain-points. In my view, if you're a startup company thinking about building a hardware product from scratch, the most important thing to begin with is to answer this question: will it truly address the problem I am aiming to solve?
Like the cliché "Hardware is hard", hardware development for commercialization takes a tremendous amount of money, time and grit to persevere through each phase from concept to prototyping to production to delivery. If you don't care much about the problem itself and just want to make a quick buck from selling a product you think has a lot of market potential, chances are you'll stumble along the way with countless obstacles such as funding, recruiting, identifying a suitable supplier, etc.
How can I check if my product concept can address the pain-points of my target customers? The quickest way would be to build a simple MVP (minimum viable product), distribute it among your customers, and ask for their feedback through an interview or workshop. If what you have in mind is an IoT device coupled with an App, you can simply draw an App illustration first to show how it might work and interact with the hardware to address the pain-point they have experienced. Just remember, the last thing you want with hardware development is to realize that your customers don't actually find your product useful after spending a fortune on prototyping and even tooling. That's what you should try your best to prevent.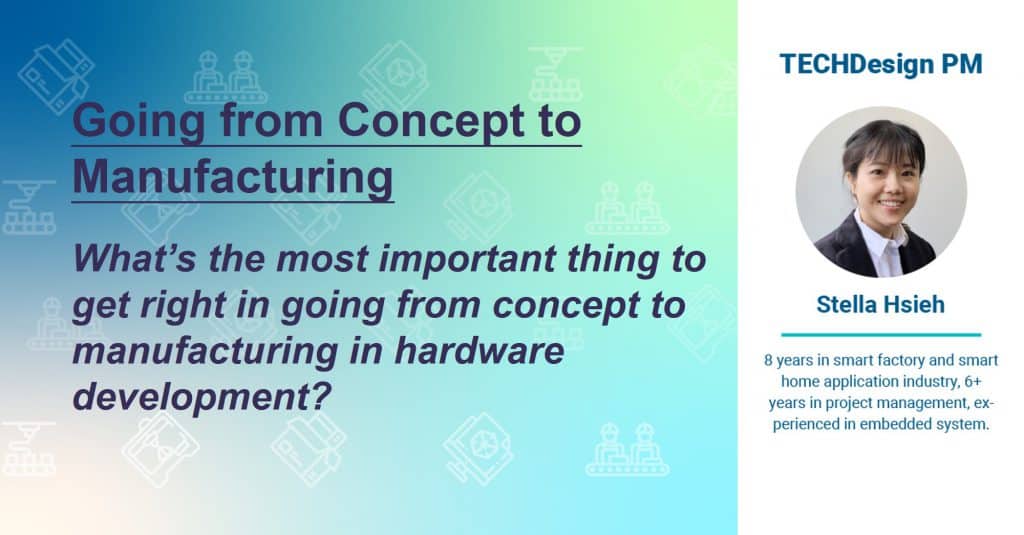 Q: What's the most important thing to get right in going from concept to manufacturing in hardware development?
A: Finding the right electronics supplier. In my opinion, finding the right supply chain partner to work with will make or break your business. Finding the wrong supplier could result in wasting your money, wasting your time, delaying your time-to-market, harming your brand (with low quality products), and generally making your life miserable. Finding a good fit of supplier, on the other hand, will alleviate many of your development and production concerns, and allow you to focus your time on the marketing, sales and other customer-facing aspects where you can create differentiating value for your business.
One of the best way of finding trustworthy partners is through using your existing network for referrals as they may have some positive testimonials of past projects. Another option is to let TECHDesign help you find the best fit of supplier for you. During your sourcing journey with supplier selection, remember that best pricing does not guarantee the best quality, and when you are a small business, it's hard to expect to get support from a big company because they are rather picky. Last but not least, be open-minded and honest to your suppliers. Usually, that's the way to find suitable partners and establish a smooth cooperative relationship.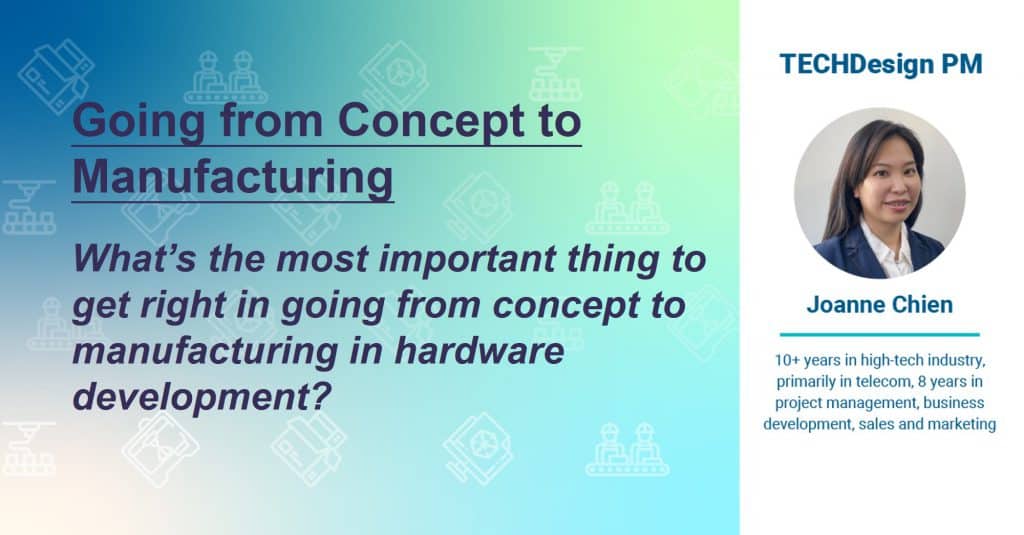 Q: What's the most important thing to get right in going from concept to manufacturing in hardware development?
A: Your project schedule. The most critical thing we need to take care of is the schedule. If you have ever developed a hardware product, you know from experience how easy it is for your schedule to slip or get delayed. Thus, to complete your POC (Proof of Concept) and MP products in a timely manner, you will need to manage your project schedule very carefully. It could be the difference in being the first to reach the market with a new product.
Here are some tips to make your project stays on track:
1. Hold regular meetings with your team, thus any critical issues will be highlighted early before it affects your product launch.
2. Schedule high-priority activities to determine the critical path which will provide a higher level of insight into your project's timeline.
3. Save your resources on critical or confidential tasks and outsource others to save your limited resources. Furthermore, assign an experienced project manager to look after those outsourced activities to mitigate the risk of delay.
4. Build some time buffer into the schedule for unforeseen issues. Accidents can happen at any time!
5. Utilize mature project management software tools to help you get your work tidy. There are many software tools that can help managers to coordinate tasks, such as IBM RPM, JIRA, etc.
Hope these tips can help you stick to your schedule and achieve success!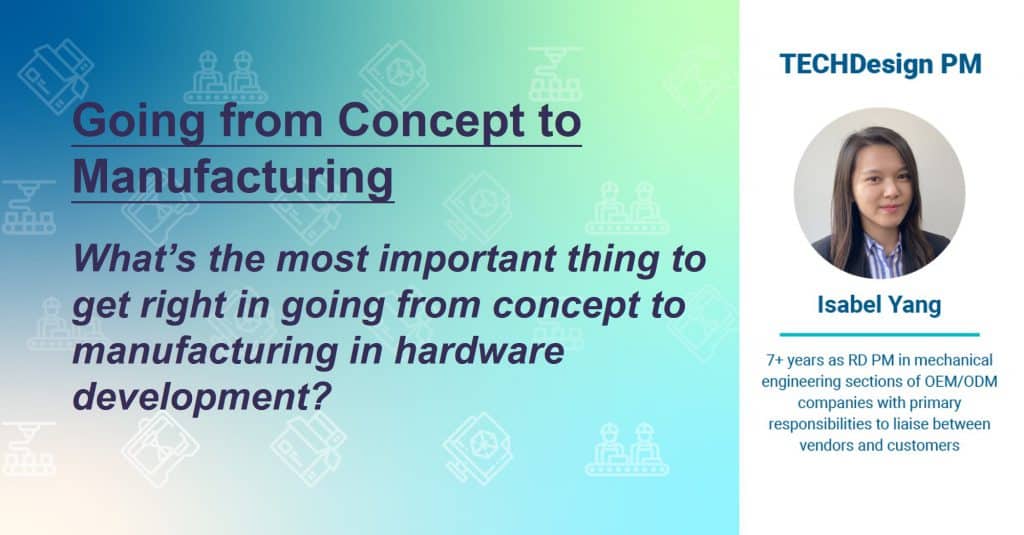 Q: What's the most important thing to get right in going from concept to manufacturing in hardware development?
A: Thorough and clear project documents. Before diving into detailed design and manufacturing , I recommend having prepared 3 documents for your project:
BRD —business requirement document. This is used to announce the business value and strategy of the project to potential stakeholders. It includes the investment amount and given project timing.
MRD —marketing requirement document. This is used to provide an overview and analysis of the business battlefield. It's important to understand where the target market is, who the customers and competitors are, and what the barriers will be.
PRD —product requirement document. This is used to specify the details of your product and is critical for suppliers in understanding what you need from them. It contains the functional requirements, flowcharts, acceptance criteria, and overall project schedule. A clear and explicit product requirement will help you verify your thoughts. An effective PRD will help the team to think critically, communicate effectively and operate with higher levels of trust.
Getting these 3 documents right will be critical in having a smooth product development journey. They'll make sure you have thought through all the necessary details and aren't having to pivot or change direction too often along the way.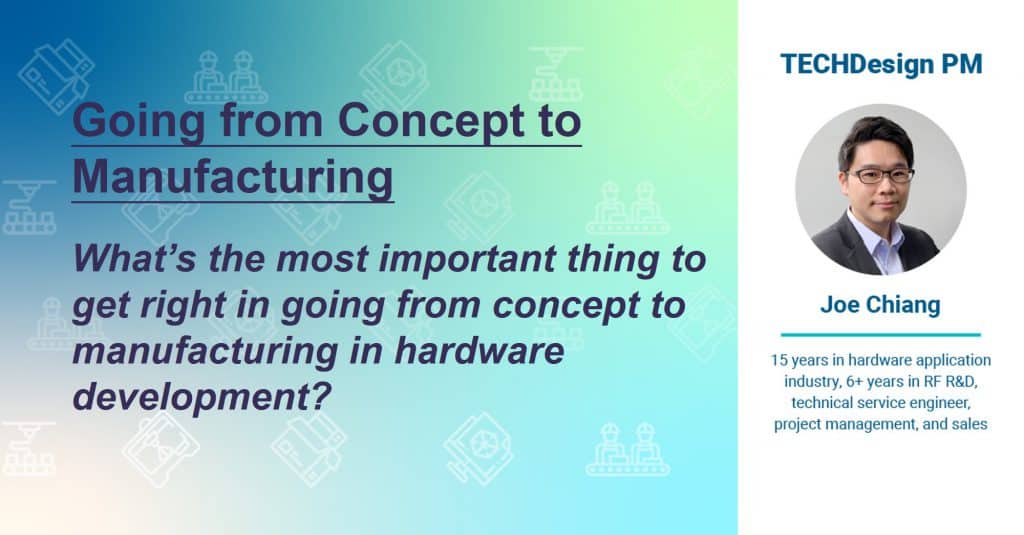 What's the most important thing to get right in going from concept to manufacturing in hardware development?
A: Securing funding will be the foundation for your hardware journey. Although you may be able to bootstrap some of the early concept work, at some point you will need real money to move your project forward. We have seen many projects get to a certain point in their development and stall out when they could not find any more funds. So if you've already exhausted borrowing from family, friends or the bank, here are some other channels you can try for funding:
1. Incubator & Accelerator Program
Business incubators and accelerators look different, but they're similar in funding support. You can join programs of incubators or accelerators to get help for your project development. Some of them provide funding service or guide you to get funding. As long as your project is attractive enough, you may be provided with a demo day or launch day to show your product to attract potential funders or Venture Capital (VC). These kind of programs provide step by step help in every aspect across funding, legal, pitching, manufacturing advice, or even engineering support. I would recommend applying incubator or accelerator programs if you don't have enough resources or experience in project development. At a minimum, they will provide helpful suggestions from mentors and coaches which can help you to avoid many mistakes. These programs do have a selection mechanism to pick higher potential projects, though, so entrance is not guaranteed.
2. Venture Capital (VC):
If you have completed drawing up your biz plans or developing your unique core technology, you can try to approach venture capital for funding. Venture capital investors will want to see everything about your company including operation, direction, strategy, and go-to-market plan. Because they are taking on a relatively higher risk by investing in startups, they will want to seize on the opportunity of company growth to maximize their return on investment (ROI).
3. Crowdfunding
Crowdfunding provides a way to get money directly from end users. Customers can participate as early-bird backers to give you money in order to get your product at a later date (even when you haven't produced yet). You can then use this money first for project development. Before you start your crowdfunding campaign, you'd better know how much you need in every cost. In addition, people also use crowdfunding as a marketing tool to test market response and get feedback on their product.
Based on the different characteristics of each funding method, you can choose the one most suitable to meet your current situation of hardware development.