Smarter Healthcare through Networked Devices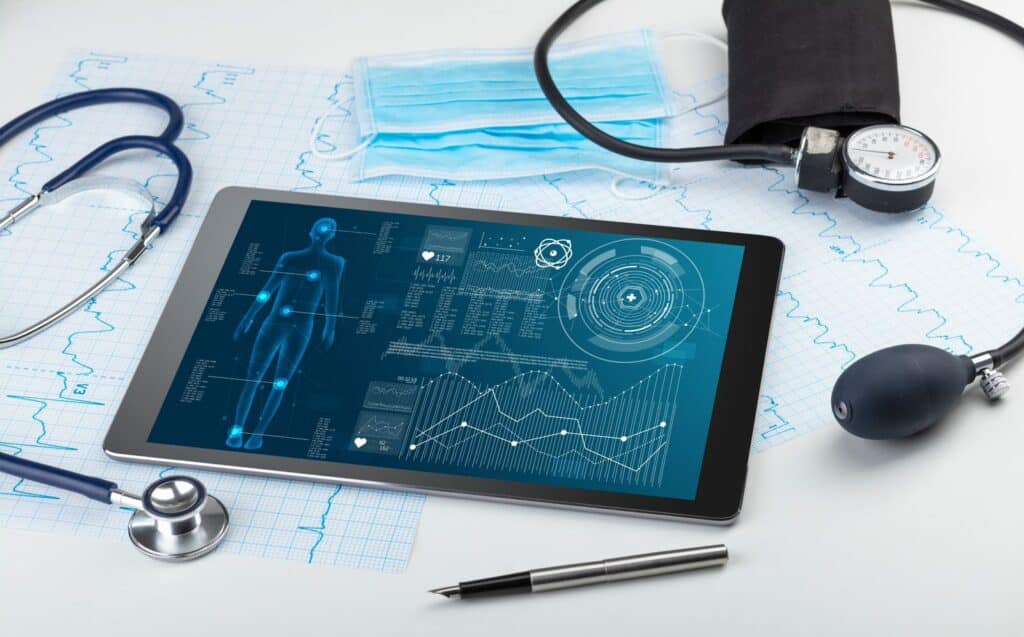 The adoption of digital systems for monitoring and analyzing health problems, growing demand for cutting-edge technologies for individualized medical care, and growing interest in solutions that provide safe and effective healthcare are all driving factors for the Internet of Things in the healthcare market.
IoT devices can be used by medical facilities to manage and track every patient, doctor, and staff member as they move between wards in real time, reducing any delays in responding to emergencies or physical harm. Healthcare practitioners are able to monitor patients and automate each stage of the operation to provide data for analysis of test results, patient intake data, and medicine sales. A health information management system, more specifically, a cloud-based architecture with edge nodes, can be used to deliver the data. Below are IoT devices that can help improve the healthcare ecosystem.
IOT Medical Devices
IoT technology enables smooth communication between networks and devices, whether they are high-tech medical devices or simple domestic appliances.
While thermometers have been a key tool for diagnosis over the last four hundred years, they have certainly come of age to now include features such as linked health apps, a log of results, and sometimes even health recommendations.
Remote Patient Monitoring
Remote Patient Monitoring (RPM) apps are medical tools that transmit information from sensors affixed to patients and their surroundings to their healthcare practitioners for the goal of diagnosis and therapy monitoring.
● Remote Patient Monitoring (RPM) is a delivery system within the greater telehealth business and refers to the specific technology utilized to electronically communicate information between patients and healthcare providers.
Monitoring devices, which monitor body temperature, body posture, heart rate, and respiratory rate, and digital blood pressure monitors, which allow patients to remotely send doctors their blood pressure and blood oxygen levels, are two common examples of remote health monitoring devices, but sometimes, all is needed is a button that grants the ability to call for help. These types of sensors enable healthcare practitioners to monitor patients outside of the typical clinical setting and save needless and expensive excursions to the doctor's office.
Wearables
Healthcare professionals can monitor patients who are within a facility or comfortable in their own homes thanks to wearables and other Internet of Things (IoT) devices. Devices for remote monitoring are particularly helpful for patients with chronic health issues or for facilities that are experiencing a staffing deficit. Healthcare professionals and caregivers have access to real-time data from these devices, giving them the knowledge they need to act quickly and effectively.
● Wearables can provide clinicians with real-time data on critical patient vitals like heart rate and blood pressure, warning them of problems before they arise.
Developing Better Healthcare
The Internet of Things (IoT) coupled with healthcare systems is an intriguing topic because of the recent technological advances and the fact that we are needing to deal with aging populations, increased medical costs, and a strong need for telemedicine in developing countries.
The capacity to sense and use analytics at different locations throughout the network, including the deployment of analytics, alerting, and decisioning at the point of the sensor, or what is known as the "edge computing," will be also a key factor in facilitating both scale and the integrity of RPM. At the same time, people have already become familiar with fitness trackers and are better able to analyze their own health and performance.
Society at large was driven by the COVID-19 epidemic to confront novel problems and ideas, such as social distancing, and to give priority to technologies like the cloud, IoT, and AI that encourage developers to consider novel use cases. According to this trend, IoT will continue to be a significant healthcare technology, this year and beyond. To catch up with the current, contact TECHDesign for more insight and better access to the healthcare technologies that make all this possible.