Show Your Dance with Smart Sparkling LED Footwear
(The original Chinese version of this article is written by Chih-Yen Liu and published on MakerPRO)
Remember that shoes with lights were popular with adults and kids for a while? Though the trend did not last for a long time, you still can see kids wearing shoes of this concept walking and playing with the lights. We can see that the design combining footwear and lights is a popular element.
Sports Brand Leads LED Sneakers Fashion
In fact, this design concept does not disappear. Like the famous sports brand Nike, their sneakers were equipped with sensors. Nike cooperated with street dancers to create the logo of the sneakers by wearing the shoes to hit the ground to draw. What the sneakers showed were not only trend but culture. It made LED shoes become fashion again.
Japanese New Brand Build Smart LED Sneakers
Apart from leading the fashion, what else can LED sneakers do? The Japanese startup company, No New Folks Studio, wanted to find the answer. Therefore, they designed Orphe smart footwear system.
The system contains customized light, instruments, and audio controller. All Orphe shoes are equipped with motion sensors and LED lights. Through wireless blue tooth and app, you can change the sole color as you like. Performers wearing the shoes can design the light color and audio effect by various dance moves and speed. It is a quite intuitive way for dancers to express their thinking and emotions.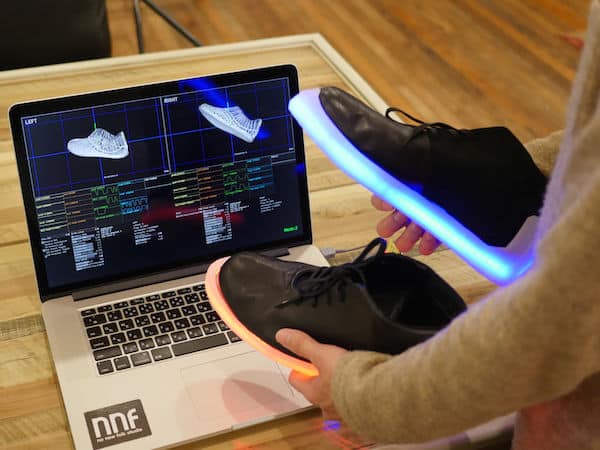 Dancing with Light up Footwear Made Fun Interactions
The design team of Orphe footwear would like people wearing the shoes to dance in the darkness and cause the persistence of vision to create the light strings and patterns. Thus, dance moves can bring new and fun atmosphere and inspired dancers to create their unique light dance.
To have more creations share, Orphe established the community to gather performers from different regions to interact and learn from each other. LED sneakers are not only footwear but the most interactive tool with motions and light effects.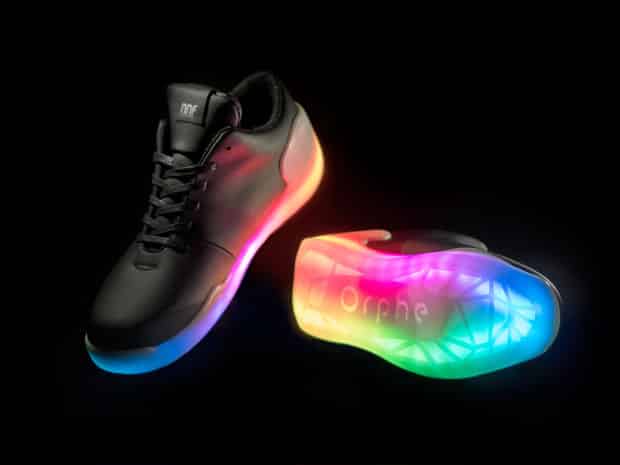 Communication among people is not restricted to language only but body language. Please wear your own LED shoes to have a cool walk.
Do you have your own innovative wearable design as well? Go implement your hardware now!