Ask TECHDesign PM: New Technologies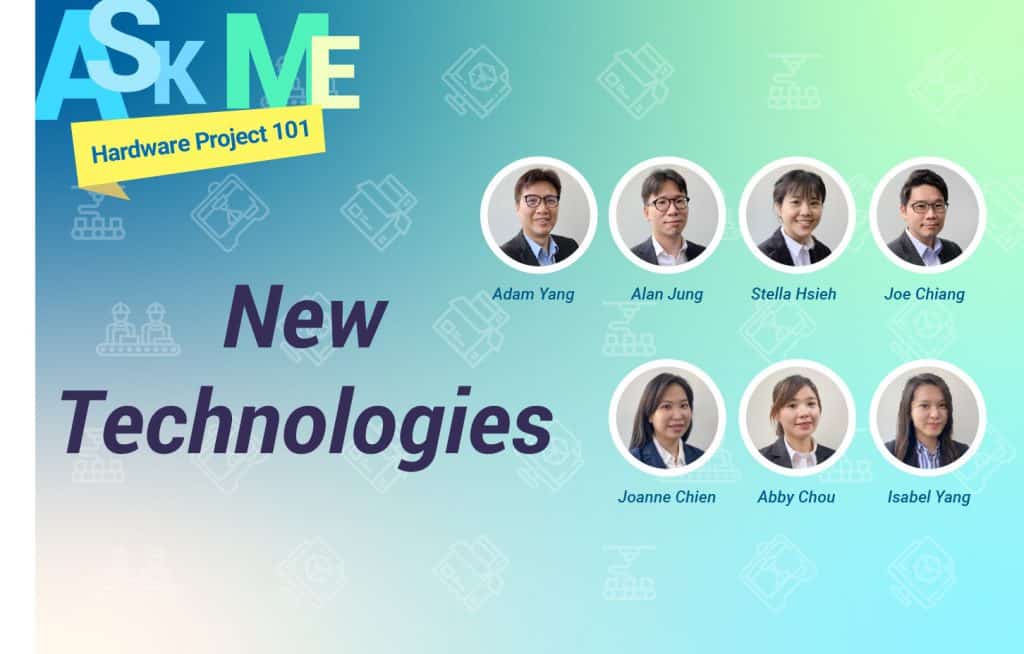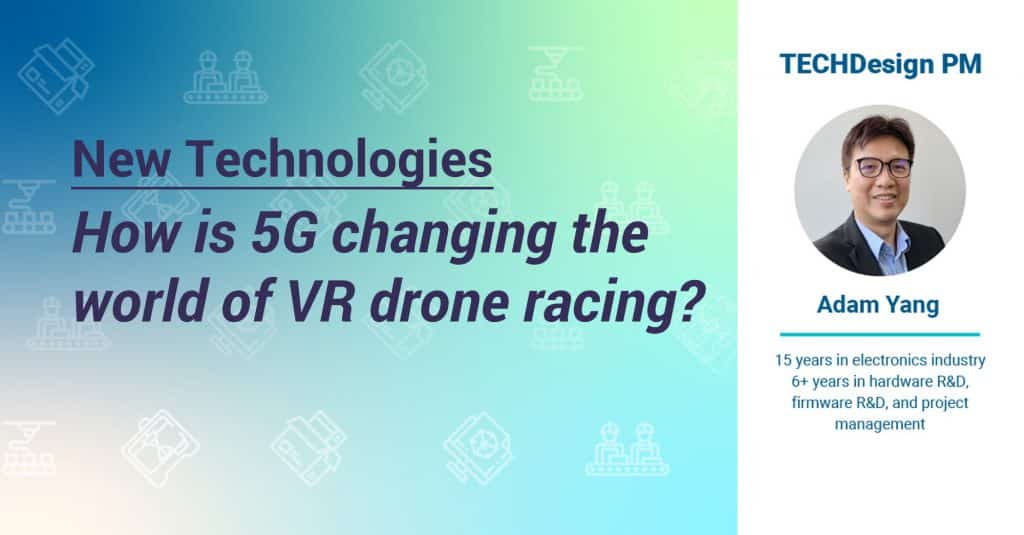 Q : How is 5G changing the world of VR drone racing?
A: Anyone who has ever watched a Star Wars movie may have a picture in mind—the hero drives a spaceship chasing bad guys acrossthe universe. The scenes in the movie are quite nerve-wracking and exciting, aren't they? Now, you can experience it through "VR Drone Racing". In 2015, the first drone competition was officially held at California State Fair's gymnasium, which opened up new prospects for drones. In order to increase the thrill factor for participants during the competition, the designer combined the Virtual Reality (VR) headsets with the drone competition, which had become an indispensable element.
However, VR headsets have a limitation – the video transmission of VR headsets is only for live images, while virtual images are not included. Because of this, the race could not include any enhanced virtual elements to make the race more compelling., . Fortunately, this problem can be solved after the launch of 5G. Because of the low latency and large bandwidth of 5G, image transmission will improve, and the players will enjoy a brand-new experience.
As a result, there will be more applications for drones as the technology progresses, and one of them is sure to be drone racing. There are many such solutions on our platform, and three of them are listed as below for your reference. If you are interested in learning more about drone products, you can check it out on our website.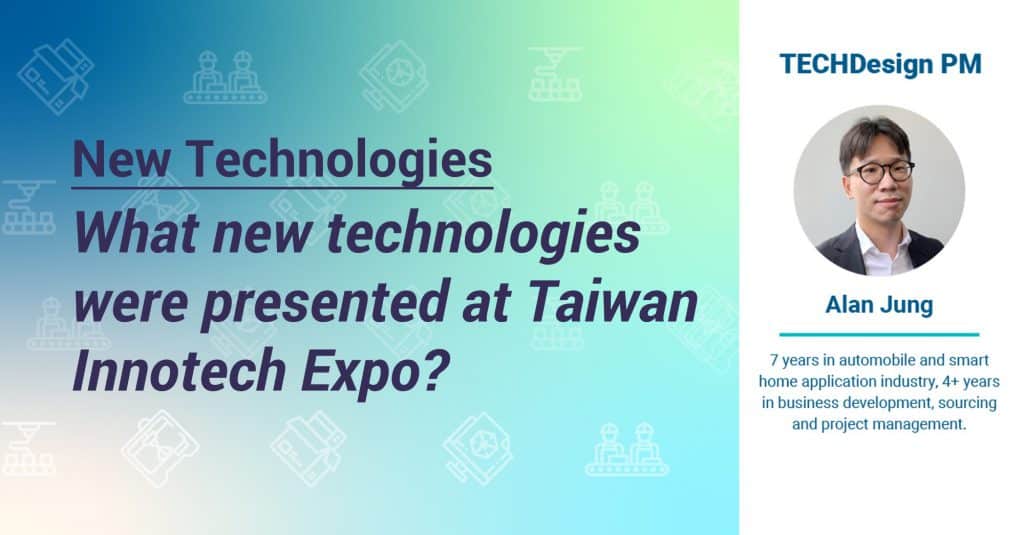 Q: What new technologies were presented at Taiwan Innotech Expo?
A: During my visit to Taiwan Innotech Expo 2020, I came across an interesting IoT solution in vertical integration for Industry 4.0 which could bring great convenience to the manufacturing field.
In a nutshell, it's a tag-shaped sensor solution developed by a Taiwanese startup. Its key with a regular industrial-grade sensor is that its form factor resembles a piece of sticker with PCB-layout ready. The tag-shaped sensor may not look like a sticker at first glance, but, functionally speaking, it performs exactly how a sticker does – it can be torn from a plastic sheet and stuck onto the surface of a manufacturing machine such as CNC or stamper to measure its vibration and temperature. Furthermore, it sends data to the cloud via a gateway to conduct data analytics for predictive maintenance. As many legacy manufacturing machines aren't designed with a data port for data output, such a solution offers an innovative way to make them smarter with enhanced reliability.
To lower the barrier for digital transformation on a broader scale, whenever new technologies and devices are developed, we can think about how to adapt these strategies to legacy equipment or appliances to achieve lower costs and less effort while realizing a similar outcome.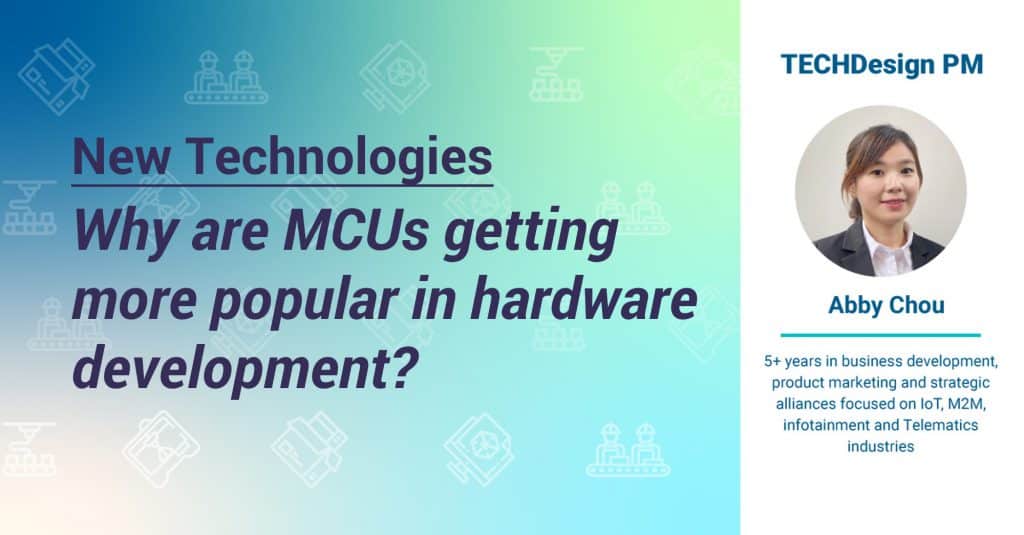 Q: Why are MCUs getting more popular in hardware development?
With the increasing number of IoT connected devices, there has been strong growth in the global microcontroller (MCU) market. In 2019, more than 30 billion units of microcontrollers were shipped, and the market is expected to grow at a CAGR of 10.8% to reach USD 47.74 billion by 2027, according to a new report by Grand View Research, Inc.
A microcontroller is a powerful integrated circuit that includes a processor, memory and peripherals for different applications in a compact package. Seeing the high potential of the IoT-MCU market, many microcontroller manufacturers have invested greatly in the system integration of hardware and software, and built partnerships with key cloud platforms to help clients facilitate the development process.
MCUs contain many advantages. Building an industrial IoT solution takes at least three to six months with dedicated team support in development of the hardware layer, network stack, protocols and cloud application. With a well-integrated MCU solution, however, you can save a lot of this time and effort. In addition, MCUs have strong price competitiveness because of the electromechanical predecessors, and its relay type circuit and components come with lower power consumption.
Despite the programming complexity of using the C language, MCUs are still widely used for diverse applications that require agility and speed, and play an important role in the field of IoT hardware solutions.
 Find more ASK PM articles
 Get quote for your hardware project!