Apple's Hot New Design Secret: Wireless Charging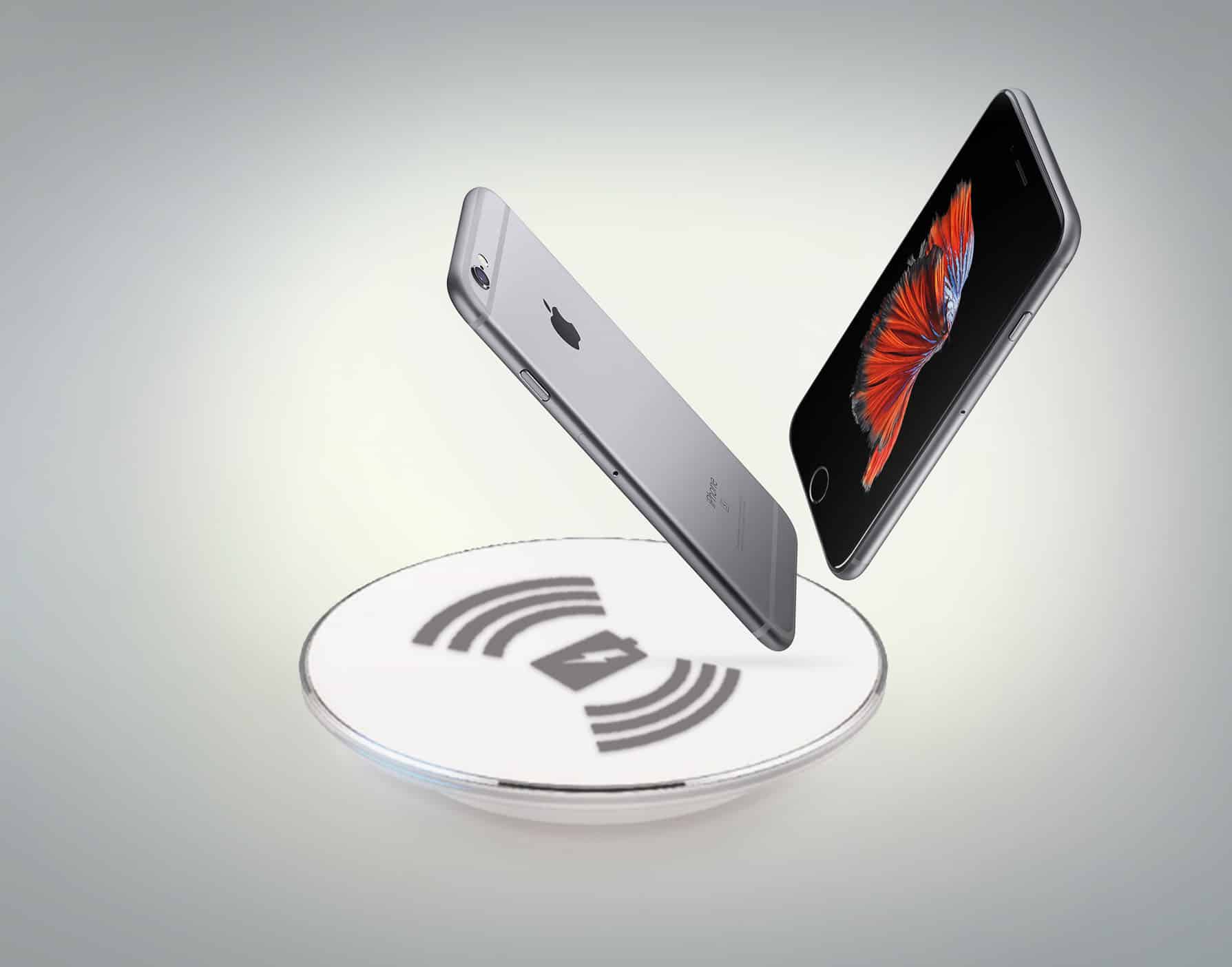 There's a rumor going around that Apple will give the iPhone 8 a wireless charge feature. There's another rumor going around that the new AirPods case, which serves as a mobile drop-in charger for the AirPods, will also serve as a wireless charger for the iPhone 8 and other Apple devices.
"Wireless is the future" – Apple CEO Tim Cook
Apple has long been famous for timely, innovative design, and the AirPods design has been well-received. So well, in fact, that supply is about six weeks behind demand. One of the reasons is the drop-in case – at 38 grams, it's much lighter than most portable chargers but packs enough power to recharge the AirPods five times over.
As if the drop-in charging weren't sensational enough: the AirPods case is also designed to be charged wirelessly. Set it on a charging pad, earbuds inside or not, to recharge. If rumors are true, the case will serve as both a wireless charge transmitter and a wireless charge receiver as well as a portable battery pack.
The right feature at the right time
The number of wirelessly powered products in use will triple by 2020 when the market is expected to reach 15 billion, according to Pike Research. Wireless charging requires no opening to the electrical components over which current must flow. This makes for a more robust design, improving water and dust resistance.
What would it take to give your own product design a wireless charging feature?
Designing for this feature involves:
Choosing the technology most suitable for your device and form factor
Equipping the wireless device with a receiver
Considering your build materials with respect to the transmission technology
Including a wireless charge base with your device package
You don't need to build everything yourself. Manufacturers make wireless chargers available for rebranding, and many accept customizations of their designs. You can package these with your product.
The device itself will need to serve as a wireless charge receiver, and you'll design that feature into the electronics components. First, though, you'll decide which technology to use.
Wireless charge technologies
To begin, you'll need some familiarity with the technology and techniques that are commercially available for wireless charging, and you'll need to understand how wireless charging impacts the design of your product.
Wireless energy transfer is categorized into radiative and non-radiative technologies:
Radiative wireless charging uses electromagnetic (EM) waves, usually RF waves, to transmit energy as radiation. RF transmission usually operates under low power, but microwaves and light waves also fall into this category. With radiative transmission, energy is transferred by the electric field of the EM waves. This is a far-field technology – EM waves are far enough from their source so as not to be affected by them.
Non-radiative wireless charging techniques, which include inductive coupling, resonance coupling, and capacitive coupling, rely on some form of magnetic coupling between the charge transmitter and the charge receiver. Non-radiative technologies are near-field technologies, and like the Tesla coil, can produce electric fields that are large relative to the energy they transfer, which impacts system efficiency at high power levels.
The most popular techniques currently in use for wireless charging are magnetic inductive coupling (non-radiative), resonance coupling (non-radiative), and non-directive RF power transfer (radiative).
As these technologies are now commercial, standard interfaces for wireless charging have been developed.
For radiative wireless charging:
Cota system
PRIMOVE
Powercast wireless rechargeable sensor system
For non-radiative wireless charging:
Nokia, Google/LG, Motorola, and HTC all make smartphones that feature wireless charging with the Qi standard interface.
Design considerations
With wireless induction charging, your device must be designed with an induction coil. The charge base also uses an induction coil, while the device itself contains a coil and a converter to convert magnetic energy to an electric current for charging the battery or running the device. The two coils in combination constitute a transformer.
As this is a near-field technology, some techniques require the device and the charge base to be in proximity. Generally, transmitter and receiver coils are positioned within a wavelength distance within the magnetic field. A greater distance between coils is tolerated when the receiver is tuned for resonance (resonance coupling).
Operating frequency is typically in the kilo Hertz range due to low attenuation and high heat dissipation.
With capacitive coupling, capacitance is dependent on the available surface area of the device. This imposes design limitations for small devices.
Some drawbacks of this technology choice include slower charging due to lower efficiency, more complex designs, and greater expense in manufacturing as both charger and base require compatible coils. Also, the device must be positioned on the charge pad for the duration of charging, which means it may not be usable due to limited mobility.
Radiative power transfer (far-field) is more efficient, with lower attenuation and virtually no heat considerations as radiation absorption does not affect the transmitter. It also tolerates distance well, and operates in the Mega Hertz to Giga Hertz range. However, conversion efficiency is a consideration for this technology.
The non-directive RF power transfer technique requires that the transmitter be equipped with a magnetron for the DC-to-RF conversion. RF energy is converted back to electricity at the receiver. Conversion efficiency at the receiver depends on the power density at the antenna, impedance matching, and the power efficiency of the voltage multiplier.
Production-ready products
You won't necessarily start from scratch in designing your wireless charge feature. After you've considered the technology choices for your device, you may explore related components and modules. Some manufacturers, such as Yes.Unique, Power 7 Technology, and Philme Electronics manufacture wireless chargers that can be re-branded and mass produced, or customized.
For example, Power 7 Technology designs and manufactures power devices and peripherals for mobile OS platforms. They offer OEM/ODM services, which means they can customize the design of your device and manufacture it too.
They make a Qi charger that can be customized or rebranded on request. Incorporating a pre-designed product like a charger is a benefit because it eliminates so many design steps – there's no need for prototyping or verification testing. Power 7 Technology publishes the reference design for their Qi charger on the TechDesign platform.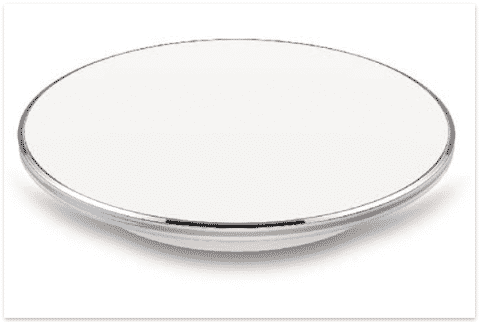 Innovative hardware production
TechDesign offers an innovative business service platform that gives you the opportunity to browse OEMs/ODMs like Power 7 Technology. Suppliers on the platform have been reviewed by TechDesign and found to be trustworthy and reputable. These manufacturers showcase reference designs, such as the one for the Qi wireless charger, to help you develop your design specifications. You can request a product quote from the reference designs page.
The reference designs section of the website features a search and sort entry page where you can find a design that's relevant to your project. Each reference design page features a picture or diagram of the product and a short description that may include technical information.
If you browse the reference designs, you'll notice that there are quite a few designs for wireless chargers by different companies, and with different specifications, form factors, and styles. You can request quotes for the products that seems most suitable for your project.
The purpose of the TechDesign platform is to make it easy for you to work with manufacturers. If you find a reference design for a product that you want to use, visit the Verified Suppliers section to learn more about the services the supplier can offer you, and the other products they manufacture.
Our platform also offers an automated project management system that's free for startups and Makers. Your customization requests, communications, and quotes are recorded and managed within the system. Your payments are protected by an escrow service, and deadlines and deliverables are transparent. We make it easy to find the manufacturer that's right for you, and to develop good business relationships.
So, dream big with your startup and your device design. Hot features like wireless charging aren't exclusive to world-class companies like Apple. The revolutionized supply chain caters to startups too, making those technologies available for even small-batch runs. The TechDesign platform gives you the opportunity to take advantage of the same features that give product lines like the iPhone and AirPods the success of a Fortune 500 company.