US Startup Integrating UAV and GIS to Build Drones for Farmers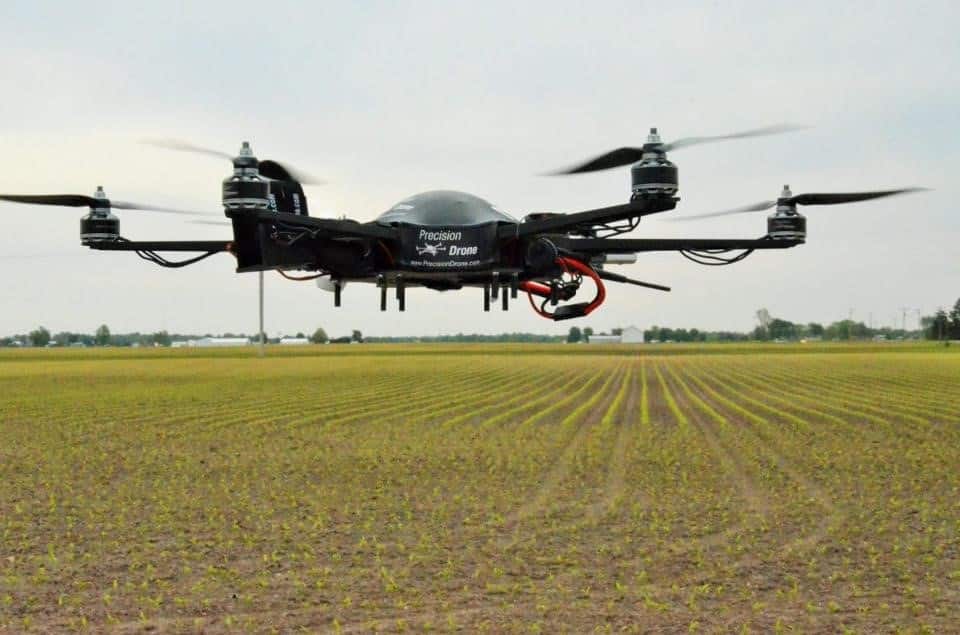 When seeing a farmer manipulating drones to work on the field, don't be too surprised. Drones have been widely applied to agricultural industry, such as insecticides and fertilizer. "Six Ways Drones Are Revolutionizing Agriculture" in technology review lists that drones could be used from soil and field analysis, planting, crop spraying, crop monitoring, irrigation, to health assessment. For farmers, using agricultural drones is a new way to increase crop yields and efficiency and decrease efforts and cost. In Indiana US, the startup, Precision Drone, integrating UAV and GIS technologies builds the drones with more capabilities of analyses.
Taking care of millions of acres of farmland is time-consuming
In Indiana, where the founder of the drone startup, Matt Minnes, grew up, there are nearly 15 million acres of farmland in this state. In order to help farmers to maximize crop yields and production, Minnes decided to replace the traditional and time-consuming ways with an unmanned aerial vehicle. He told Forbes,"I realized that walking hundreds of acres to monitor corn and soybean fields was no way to spot a problem unless you stumbled upon it."
Minnes established the startup to manufacture helicopter-style drones (hexacopters) for farmers to assess the health of their crops and detect live vegetation.
Drones integrates with GIS to help precision farming
The entrepreneur built the agricultural drones through a series of researches and experiments to find the suitable solution. Firstly, Minnes bought an infrared video camera and a graphical indicator, called an NDVI (Normalized Difference Vegetation Index) to sense the presence of live vegetation on the ground. And then he attached the two devices with a store-bought drone.
Meanwhile, Minnes developed the software that could integrate the data from the video camera, the NDVI, and GPS monitor. Then all the data sets could be plotted on GIS (Geographical Information System) maps to examine and analyze the fields.
After the experiments, Minnes' startup — Precision Drone finally has its own drones embedded with an infrared video camera and technologies to help farmers have better farm management. The objective of the agricultural done is not only to maximize the yields and profits but to monitor the fields and take care of crop-health in a more environment-friendly way.
Does your hardware startup have innovative ideas to solve daily-life problems? TechDesign provides the one-stop platform for worldwide startups to find suitable manufacturers to have your ideas turn into products.