Request for Quotation (RFQ): Sourcing Electronics Manufacturers—Part 2 Business

This article is the second part of "Request for Quotation (RFQ): Sourcing Electronics Manufacturers", following Request for Quotation (RFQ): Sourcing Electronics Manufacturers—Part 1 Product. If you have thoroughly considered the product description and technical specification, now it's time to think through the target market, project schedule, production forecast and estimated budget, according to your business plan and go-to-market strategy. This information will help suppliers better understand your needs and propose a more suitable solution.
As you get your business plan ready, you will have a clearer roadmap for your product strategy: which geographical market you will be selling into, what kind of sales (and hence production) volume do you expect, what kind of regulations your product need to comply with (based on your target market and industry), and what are the costs and schedule for product development and go-to-market. A solid business plan and product strategy is critical for your ventures' success, and it covers topics such as monetization models, funding, and distributions – which are beyond the scope of a hardware procurement RFQ. We will not try to cover all grounds here in this article as they deserve a series of articles dedicated for that topic. Here we'd like to focus on the commercial elements that will impact your supplier procurement and hence should be included in a good, informative RFQ.
1. Certification Requirements
Different countries and industries have different regulation requirement for hardware products. Before starting the manufacturing process, one needs to consider which countries the product will be selling into. Certification suppliers, such as SGS, emtek, Intertek, are available to help you find out which certification your product needs to comply with the local regulations.
Below is an example of regulation on wireless communication device in various markets and by different regulation bodies:
| Country & Region | Regulation | Definition |
| --- | --- | --- |
| USA | | FCC: Federal Communication Commission |
| USA | | UL: Underwriters Laboratories Inc. |
| Europe | | CE: Conformite Europeenne |
| Europe | | Green: Renewable Energy Certificates |
| Japan | | TELEC: Telecom Engineering Center |
| China | | CCC: China Compulsory Certification |
| Taiwan | | NCC: National Communications Commission |
If your products are targeting specific industries, such as medical device, automotive-related products, here are the regulations and standards you should pay attention to in finding appropriate manufacturers.
| Product | Regulation | Definition |
| --- | --- | --- |
| Medical Device | ISO 13485 | International Organization for Standardization |
| Automotive Product | TS 16949 | Technical specification |
| Lithium Battery | UN38.3 | United Nations transport of dangerous goods, manual of tests and criteria, section 38.3 |
| Lithium Battery | MSDS | Material Safety Data Sheet |
While this may sound basic, making hardware products compliant according to your specific target market and segment is critical, and these details may impact the design, manufacturing, and testing process of your products. If you are not sure which regulations your product should comply, consulting with experts who have manufacturing experience would be helpful. You may also contact us and let our professional consultants help you find out the regulations you need to comply with.
2. Schedule
Before mass production and the final product launch, there are three development phases of a hardware product:
1) EVT (Engineering verification test),
2) DVT (Design verification test), and
3) PVT (Production verification test).
To make sure the product can be launched on time, it is critical to have clear expectation of the mass production ("MP") date. We understand that time to market is the key to your ventures' success. Based on the MP date, you will be able to work with the vendors on setting dates for each milestone. Electronic hardware products development is a complex process that requires high level of precision, and it involves collaborations of various parties (e.g. electronic engineers, mechanical engineers, and industrial designers). Therefore, every detail matters and could impact your schedule. It is always wise to leave rooms for buffer in your schedule, and planning the process with experienced experts would help you mitigate the risk during your hardware journey.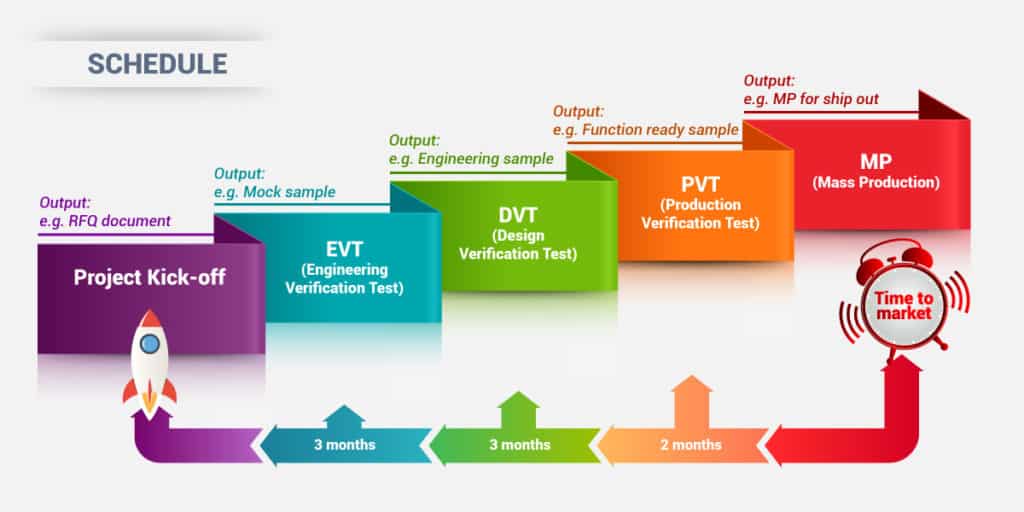 3. Forecast
The forecast production volume at each stage is an important piece of information for manufacturers. The project scale will help suppliers to better plan and allocate resources – including manpower, design and production capacity, and number of parts they should reserve in advance for your project (so the project doesn't run into materials shortage). A clear and detailed production forecast will increase the willingness for the suppliers to work with your project. Just as you are selecting professional and reliable vendors to bring your ideas to reality, suppliers also look for trustworthy and business-savvy clients to grow with.
Below are the four metrics to consider:
A. Sample volume
The samples for testing, verification, demo, and customer approval purpose.
B. Initial volume
The volume of the first order to let the manufacturers understand the first batch quantity.
C. Volume per month
The volume for each month after the first order shipped.
D. Total volume/product life time
The total volume of the product and also provide the product life time for the manufacturers to evaluate the business case.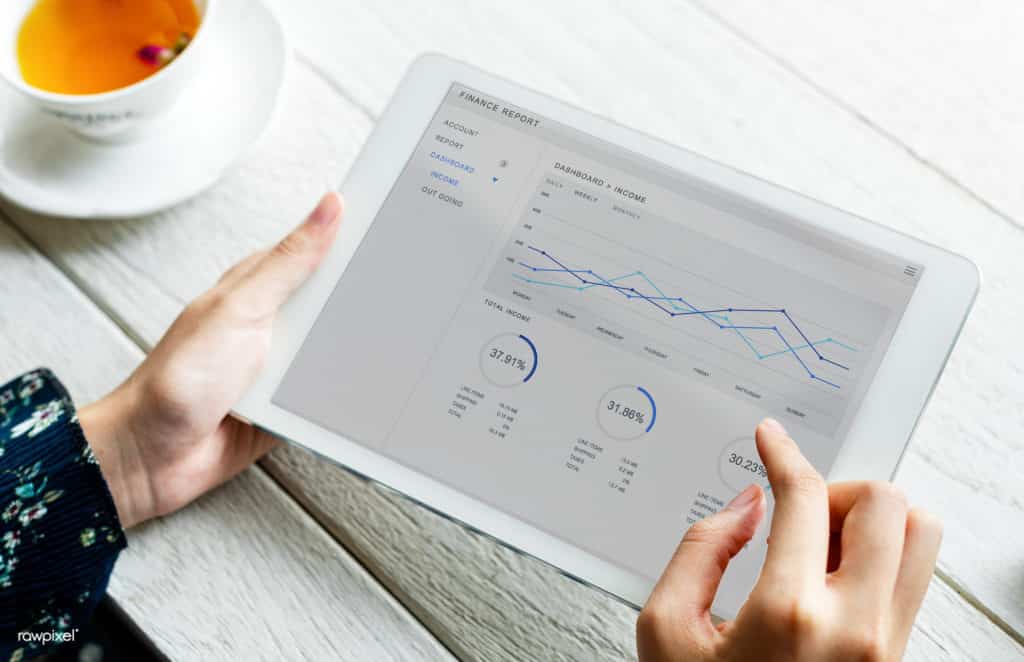 4. Budget
The budget and cost of a hardware project is a result combining both 1) the technical requirements of the product (which we addressed in the first article), and 2) the commercial arrangement, such as your target price for the final product and the trade terms you choose (which will impact the shipping costs). The technical performance and product features requirement will determine the Bill of Materials and development fee. A good Project Manager or supplier will be able to work with you to determine the target selling price based on the BOM and development costs. Alternatively, if you already have a target selling price set in mind, that will also help the suppliers to work out a list of materials and cost structure that's more suitable for your project.
To summarize, the factors that might influence your budget are listed below:
A. Target price of each unit (based on Bill Of Material)
B. Development Fee:
1. NRE (Non-Recurring Engineering)
a. Human resource cost (E.g. R&D, PM, and so on)
b. Fixture cost: Test samples and transportation cost (For R&D, Certification using)
2. Tooling cost
3. Certification cost
C. Trade terms:
Trade terms define the way your products are shipped, payment period, and the buyers'/sellers' responsibilities. Here is the list of some common terms.
1. FOB – (Free On Board – Named place of shipment)
2. CIF – (Cost, Insurance and Freight – Named port of destination)
3. CFR – (Cost and Freight – Name port of destination)
4. FCA – (Free Carrier – Named place)
5. CPT – (Carriage Paid To – Named place of destination)
6. CIP – (Carriage And Insurance Paid To – Named place of destination)
In this article, we will not explain all the details of trade terms. For more terms and definitions, you may refer to online resources, such as HKTDC Research website.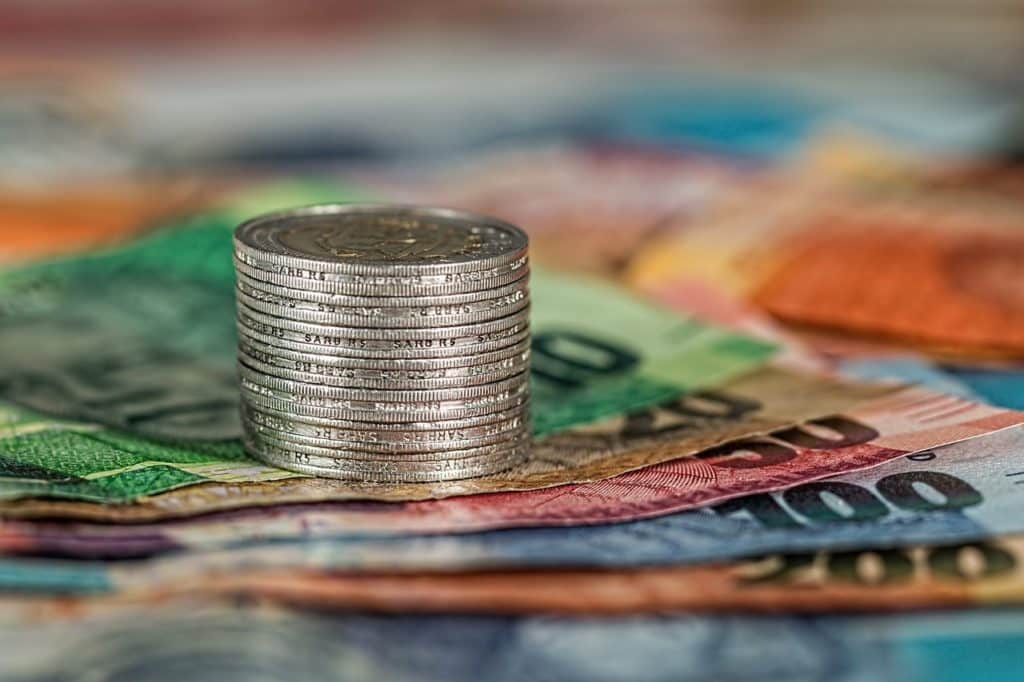 Next step: What Should You Expect from Suppliers After Submitting the RFQs
After providing the RFQ documents and related product requirement to suppliers, the suppliers should provide the following information:
A. Counter-Proposal, which clearly defines Scope of Work, product functions, material selection, testing procedure, shipping locations and warranty
B. Quotation breakdown, which includes Electronic Engineering (EE), Mechanical Engineering (ME), B. Non-recurring engineering (NRE), Testing, Certification, and Shipping method
C. Legal terms: The legal terms will define the contractual relationship, and terms and conditions
D. Payment terms: The payment usually consists of a down payment and follow-up milestone payments. In terms of the payment method, some commonly-seen payment methods include:
– T/T – Telegraphic Transfer (e.g. 50% T/T in advance)
– P/A – Payment in Advance
– Net 30 – Payment 30 days after invoice date
– COD – Cash on delivery
E. Schedule: The schedule should lay out the timing for each important milestone along the product development process, as well as timing for tooling, certifications, and shipping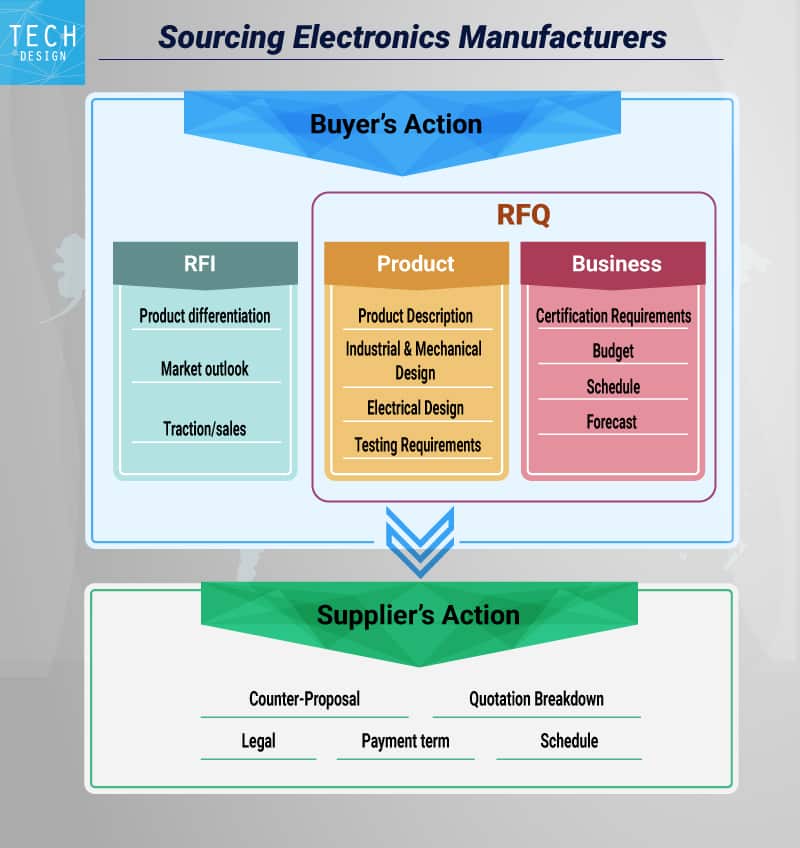 RFQ's Role in Finding Qualified Suppliers
RFQ is a very important document as it is essentially the blueprint and development roadmap of your product project. It guides the suppliers to understand your product vision, technical requirement, and production/go-to-market schedule, and in return the suppliers can better plan their resources, cost, schedule, and solution when supporting your needs. It is also a legal-binding document so that the service you requested will be clearly defined in avoidance of any potential disputes.
The amount of information a good RFQ demands could be daunting for innovators who are unfamiliar with manufacturing process. If you have no clear idea how to start the RFQ preparation, at TechDesign we have hardware project specialists who can assist you in your hardware journey.
Contact TechDesign to have professional consultation services.
Sign up to become TechDesign member and get the first-hand supply chain news.