NuMaker Learning Board NUC140 for Beginners to Learn the Embedded System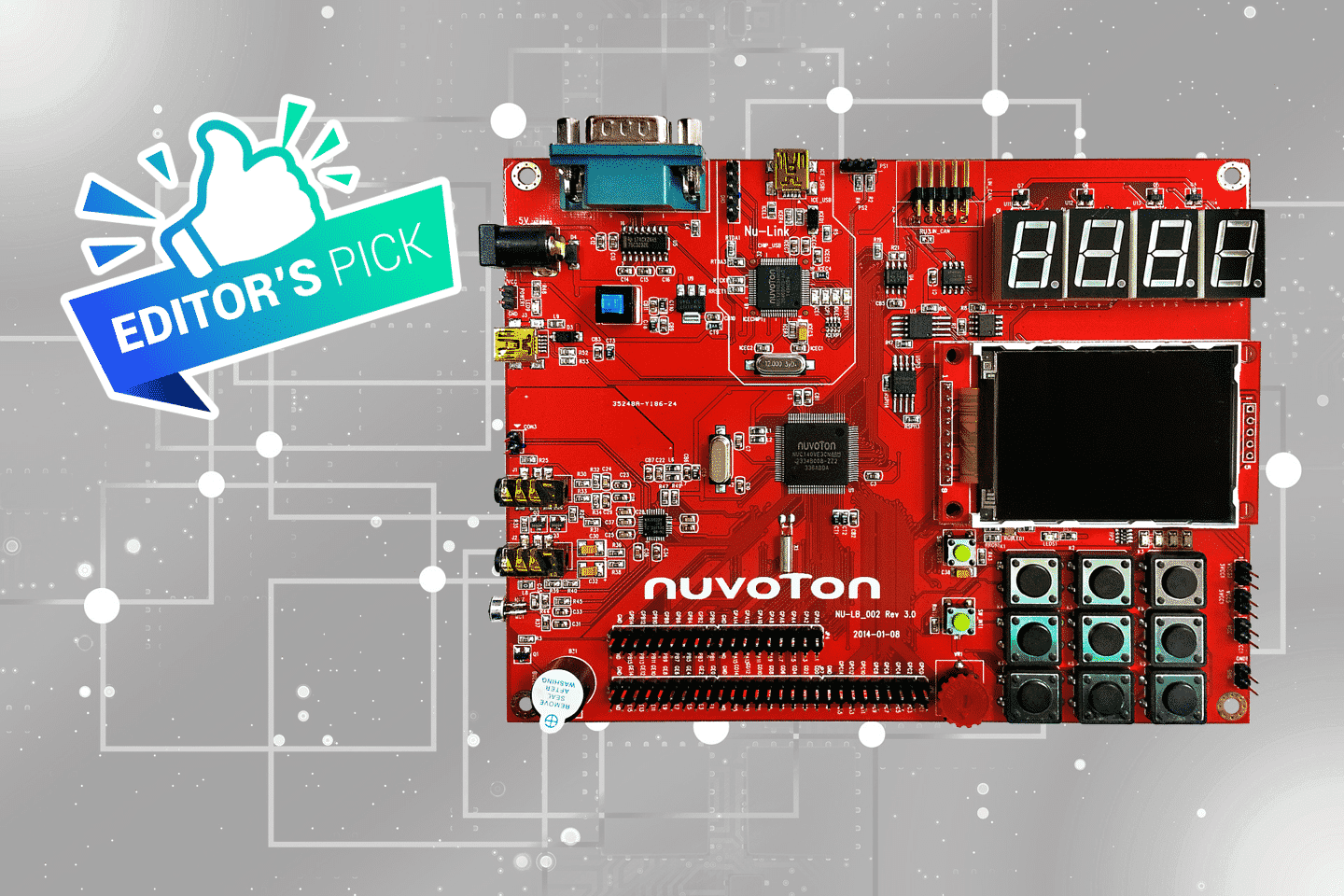 The Nu-LB-NUC140 is an evaluation board for NUVOTON's Cortex™-M0 based microcontrollers, which has 4K/8K/16K byte internal SRAM and 32K/64K/128K byte embedded flash, build-in 1.8V LDO, integrated Timers, Watchdog Timer, RTC, PDMA, UART, SPI/SSP (include 1 SD card slot supported by SPI port1), I2C, SWD interface (for ICE debugging), PWM Timer, GPIO, LIN, CAN, USB 2.0 FS Device, 12-bit ADC, Analog Comparator, Low Voltage Detector and Brown-out detector. The UART port is with a RS-232 level shifter for console connection (UART0).
Users can use Nu-LB-NUC140 to develop and verify applications to emulate the real behavior. The Nu-LB-NUC140 can be a real system controller to design users' target systems. This user manual provides information about hardware features and information about using this learning board.
From the figure below, one could find the complete sensors, the panel, and the interfaces on Nu-LB-NUC140. It is easy for beginners to learn the embedded system through the board. Moreover, a started kit made by Nuvoton which includes IAR EWARM (evaluation version), Keil RVMDK (evaluation version) and examples with source code. The kit is supported by CooCox CoIDE as well.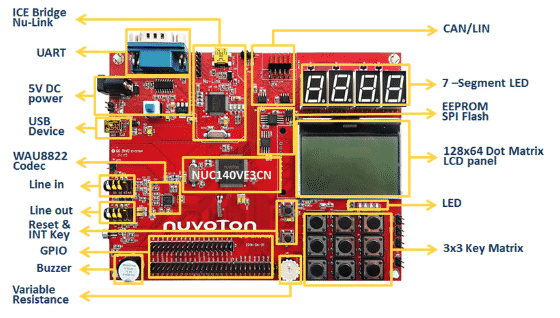 The on-board chip covers NUC140 series features. In the meantime, Nu-LB-NUC140 also supports NUC100, NUC120, and NUC130 series.
NUC100, NUC120, NUC130 and NUC140 are all equipped with ARM Cortex™-M0. Based on the previous article "Selecting the Right Microcontrollers for Your Products: 8-bit v.s 32-bit MCU", 32-bit Cortex™-M0 microcontroller suits controlling multiple connections without TCP/IP capability.
There are various applications for the above NUC series, in summary, NUC100 could be applied to advance headsets, home appliances and e-balances; NUC120 with USB 2.0 FS device could be applied to e-bikes, dockings, home appliances, security panels and USB car driving simulator systems, etc.. For NUC130 and NUC140, they are with CAN 2.0B bus series and could be used in automotive related applications.
Overall, Nu-LB-NUC140 is easy to use, equipped with complete peripherals and applicable in many systems. Now NuMaker learning board NUC140 is 50% off in TechDesign! Come visit TechDesign and enjoy the discount immediately!