How the Applications Drive NOR Flash Demand: 5G, TWS Hearables, AMOLED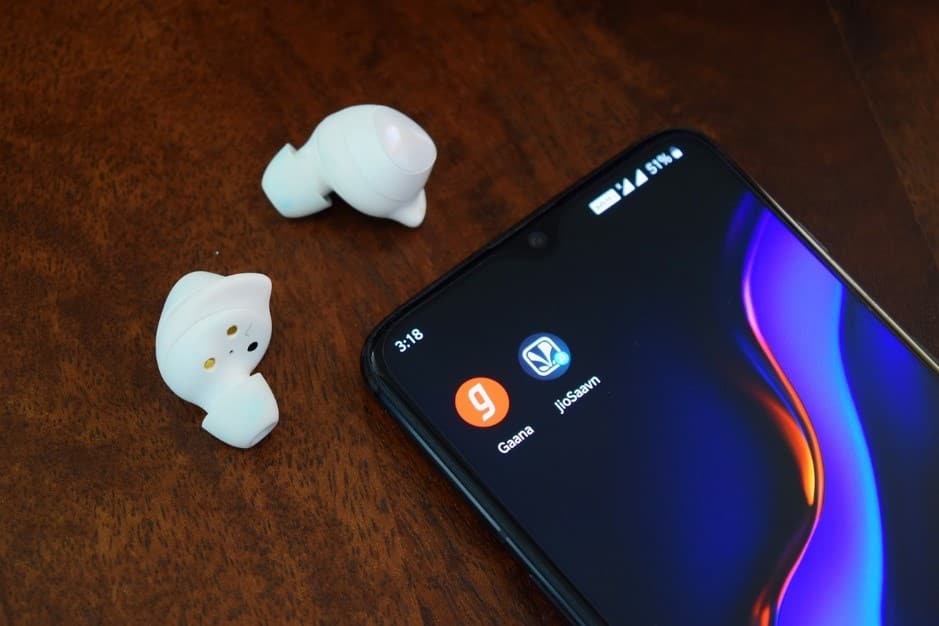 NAND Flash vs. NOR Flash
NAND Flash and NOR Flash are two dominant non-volatile memories used in electronic devices. Since the capacity of NAND Flash is larger than that of NOR Flash—256MB~2GB—it could be used for data storage. With sufficient address space and data lines, NOR Flash has faster random read speed and suits to be used for code storage and execution. Besides, NOR Flash also has higher reliability than NAND Flash.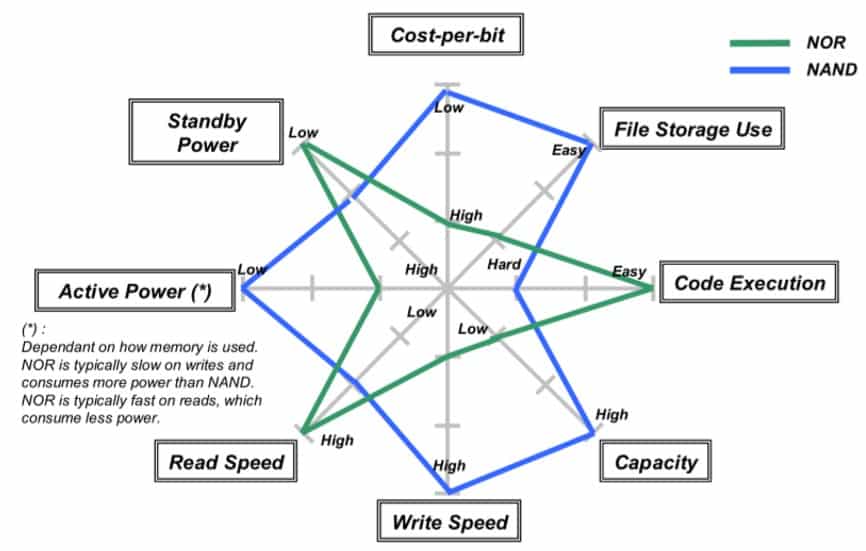 Depending on different use cases, the market for NAND Flash and NOR Flash varies with a quite wide range. In general, NAND Flash accounts for 40% of the memory IC market, NOR Flash accounts for approximately 1% of it, DRAM accounts for the rest. According to CINNO Research, the revenue of NOR Flash was around USD 2.6 billion in 2018, and according to Market Intellica, it may reach nearly USD 3 billion dollars in 2020.
Although the market of NOR Flash is relatively small comparing to that of NAND Flash, it is stable and irreplaceable. Application programs and embedded operating systems could be executed directly on NOR Flash, so XIP (eXecute In Place) is viable.
In general, Macronix, Cypress, and Winbond occupy more than 60% of the market share; accompanied by Micron and GigaDevice, which occupy around 30% of the market share.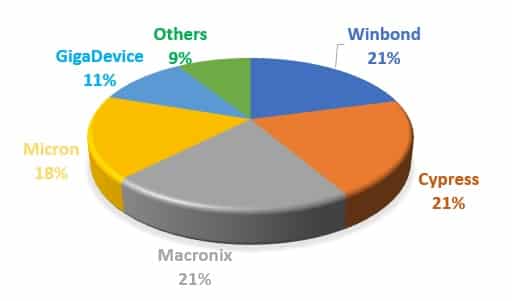 True Wireless Stereo (TWS) Hearables Market
The applications of NOR Flash are estimated to boost in the coming era of IoT and 5G. Among multiple IoT applications, TWS (True Wireless Stereo) hearable devices have driven a huge momentum on NOR Flash. When Apple first came up with AirPods to create the connections between both earbuds and iPhones, the wireless stereo transmission is realized. Being motivated by Apple, Samsung, Sony, Huawei, Xiaomi and other brands also enter TWS hearables market and release their own products.
In order to improve the acoustic features, more firmware needs to be stored in NOR Flashes in TWS hearables. Basically, each TWS hearable would be applied with 2 NOR Flashes. Hence, the rise of TWS Bluetooth hearable market will strongly drive the demand of NOR Flash.
According to Counterpoint Research, the market of TWS hearables is expected to reach 230 million units in 2020, with a 90% growth rate comparing to 2019.
As a result, the revenue of NOR Flash could be predicted to increase more than USD 200 million dollars in 2020 in terms of TWS hearables market.
Estimated Shipments
(M units)
NOR Flash
Estimated Unit Price (USD)
Estimated Penetration Rate
Total NOR Flash Revenue (M USD)
AirPods
120
256M
1
0.3
72
128M
0.5
0.7
84
Android TWS hearables
110
128M
0.5
0.2
22
64M
0.25
0.35
19.25
32M
0.13
0.25
7.15
16M
0.05
0.2
2.2
5G Infrastructure Market
The fifth-generation wireless technology 5G for digital cellular networks has become the future after 4G. With rapid speed, high bandwidth (up to 10Gb/s) and ultra-low latency, 5G technology could enable more applications which might have not been imagined before.
As claimed by Gartner, Inc., the revenue of 5G network infrastructure is projected to reach USD 4.2 billion dollars in 2020, rising from USD 2.2 billion dollars in 2019.
Fulfilling the modern world need of high reliability and availability, NOR Flash is widespread used in wireless base stations. Comparing to NAND Flash, NOR Flash allows SoCs (system-on-chip devices) and FPGAs (field-programmable gate arrays) to boot from it directly and reliably, it is commonly used to store firmware images. It is also easy to predict that the rapid growth of 5G infrastructure will surely bring up the demand of NOR Flash.
Since there are many types of 5G base stations, the implemented numbers and densities of NOR Flashes vary a lot, it is difficult to specifically calculate the revenue increase of NOR Flash which comes from the construction of 5G infrastructure. However, it could still be verified that which NOR Flash would be suitable for the application.
For 5G infrastructure applications, one needs to choose the NOR Flash with 1Gb or higher density, industrial-plus temperature grade (-40~105oC), and low power consumption. Normally 1.8V Quad-SPI or Octal SPI NOR Flash would be used more often. Regarding healthcare and automotive application use cases, safety functions and secure-boot mechanisms should be applied to NOR Flash in order for Flash to process safety or security functions.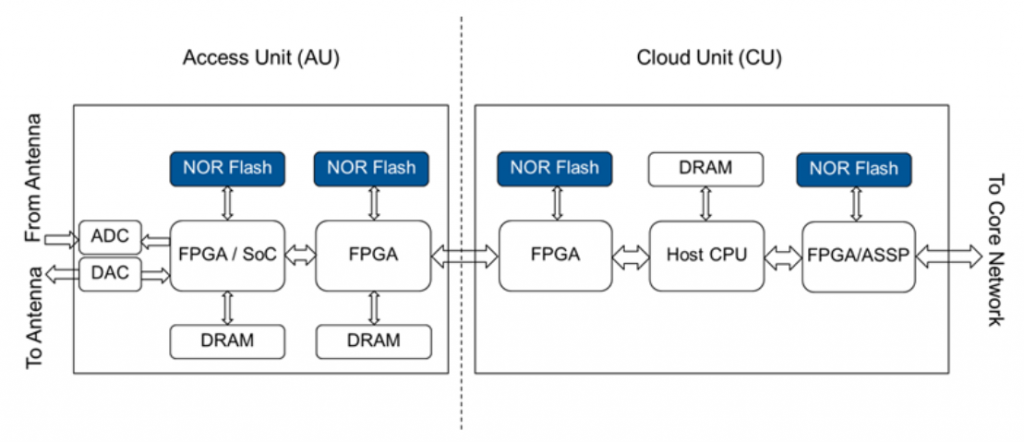 AMOLED Display Market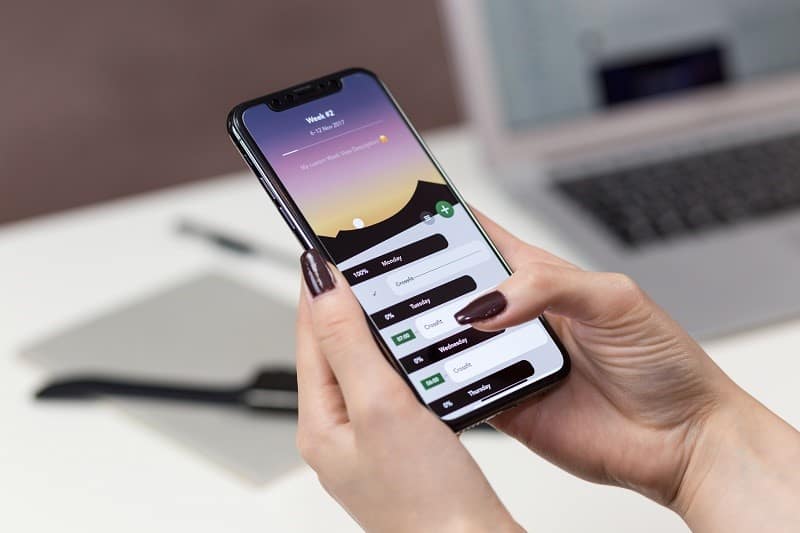 Another application which could increase the market revenue of NOR Flash is AMOLED (Active Matrix Organic Light Emitting Diodes) display. Currently AMOLED displays have become the mainstream specification in premium smartphones due to its light weight, thinness, high image quality and low power consumption. Moreover, it is believed that AMOLED displays will continue to penetrate to mid-tier smartphones in 2020.
IDC has predicted 1.4 billion shipments of smartphones in 2020 and Counterpoint has predicted an exceeding 40% AMOLED display penetration rate, therefore, it is estimated around 600 million AMOLED-based smartphones will be shipped this year.
Although AMOLED display has a lot of benefits, it still suffers with the disadvantages of afterimage and brightness uniformity. External compensation is required to solve the problems. The external compensation data, application programs or firmware images are stored on external NOR Flashes, thus, the growth of AMOLED displays brings up the growth of NOR Flashes.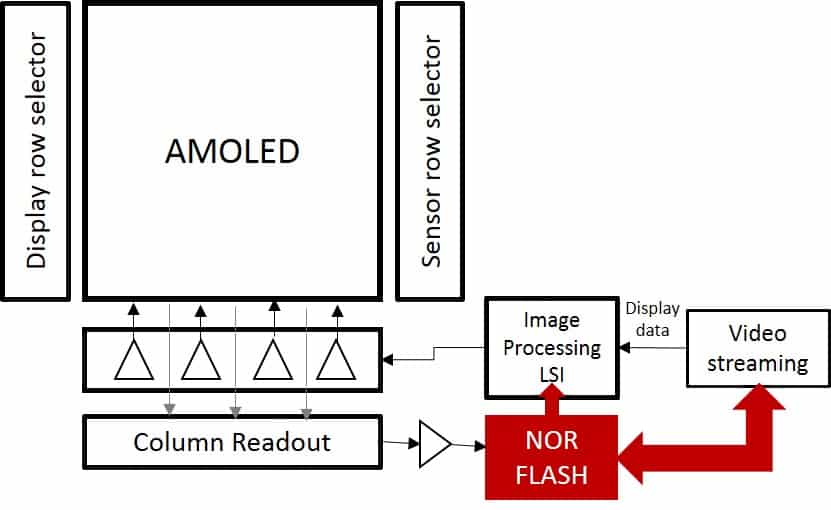 In general, an 8Mb (Full HD) or 32Mb (QHD) NOR Flash would be needed for an AMOLED-based smartphone, which is between USD 0.2 to 0.4 dollars. Consequently, the increased NOR Flash market will be around USD 200 million dollars considering AMOLED display market as a driving force.
Winbond is the worldwide leading NOR Flash supplier. It has a complete range of Serial NOR Flash products from 512Kb to 2Gb density and 1.8~3V operating voltage for selection. The density of 90nm NOR Flash ranges from 512Kb to 8Mb, and the density of 58nm NOR Flash ranges from 16Mb to 2Gb.
The W25X family supports Dual-SPI effectively doubling standard SPI clock rates. The high performance W25Q family is available in Dual-I/O and Quad-I/O SPI with clock speed up to 104MHz, which achieve an equivalent of 416MHz (50M-Byte/S transfer rate). Additionally, Winbond offers industrial, industrial plus, and automotive grade products to differentiate customers' needs.
Conclusion
The demand of NOR Flash will continue to grow steadily in 2020; TWS hearables, 5G infrastructure, and AMOLED display markets are some main driving forces of the demand of NOR Flash.
In prediction, TWS hearables and AMOLED displays could respectively bring nearly USD 200 million dollars for NOR Flash market in 2020. Meanwhile, 5G infrastructure market will spur NOR Flash demand as well. For 5G base stations, high density, industrial-plus temperature grade and low power consumption NOR Flash is required.
NOR Flash will remain as the spotlight in the market, come visit TechDesign now and buy Winbond's NOR Flash!