3 Selected Solutions for Industrial IoT Applications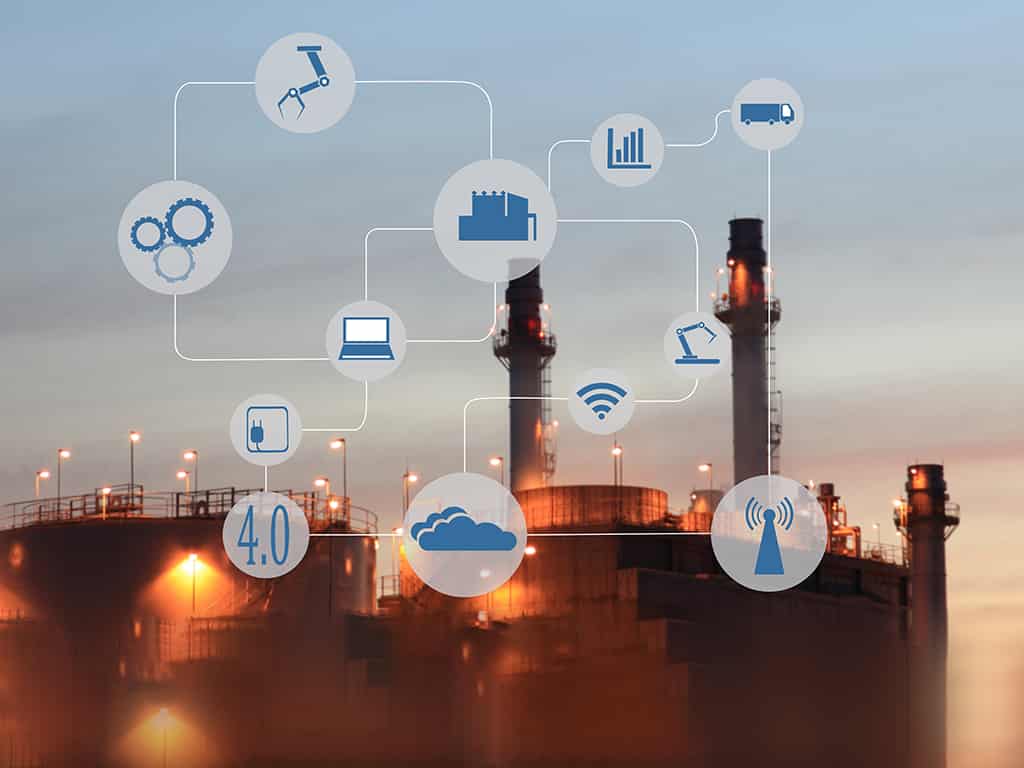 A company uses an App to have better and clearer ideas of how their production line performs and predicts when the machines will need servicing. A warehouse manager uses browsers to have remote and real-time monitoring of the temperature and humidity to ensure their product storage and quality. A supermarket manager applies the collected data to optimize supply chain. From manufacturing to retails and whole, the demand of IoT solutions have increased significantly in industries currently.
The enthusiasm for IoT adoption is global, and more and more decision makers in industries are planning to adopt IoT technology in their upcoming projects. According to Microsoft's IoT signal's report, 85% of IoT decision makers in enterprise organizations say that they have at least one IoT project in either the learning, proof of concept, purchase, or use phase. 97% of the decision makers will use IoT in the next 2 years.
Through the trend we have observed, TechDesign selects 3 solutions, from microprocessor, microcontroller, to gateway solutions, to help the developers to find the suitable components and products to build their IoT projects and optimize their working efficiency.
Microprocessor for Industrial Remote Terminal Unit
Nuvoton NUC980 series with the ARM926EJ-S core can operate at up to 300 MHz. It offers 64-pin, 128-pin and 216-pin LQFP packages stacked with 16 MB, 64 MB and 128 MB DDR-II Memory to reduce PCB size and EMI issues. Rich peripherals include 10 sets of UART, dual Ethernet, 4 sets CAN 2.0B, dual SDIO / eMMC interface, NAND Flash interface, QSPI NAND, 8 Ports USB Host, ISO-7816 interface and High-Speed USB 2.0 host / device controller to allow more flexibility in designs. The NUC980 also integrates the crypto engine which provides hardware acceleration for AES, SHA, ECC, RSA function.
It supports industrial temperature from – 40 ℃ to 85 ℃ and targets applications include:
Smart Home gateway
Fingerprint Machine.
Power concentrator
Data Collector
Smart Home Appliance
Serial server
2D/1D Barcode reader
Barcode printer
Power Distribution Unit
Ethernet Industrial Control
SNMP Card
Ethernet RTU / DTU
NuMaker NUC980 IIoT Developmnet Kit
To provide developers a platform to develop their industrial IoT solutions with ease, Nuvoton 's NUC980 IIoT can be used to remotely monitor and control a variety of devices and systems for automated, multi-purpose devices. It has a very small PCB two-layer board and supports multiple network protocols and supports up to 10 UART devices.
Features
Small PCB size and easy layout (2 layers)
Ethernet stack MQTT, COAP, HTTPD, HTTPS
Wi-Fi / 4G LTE connect to Cloud
up to 10 measurement units
Linux OS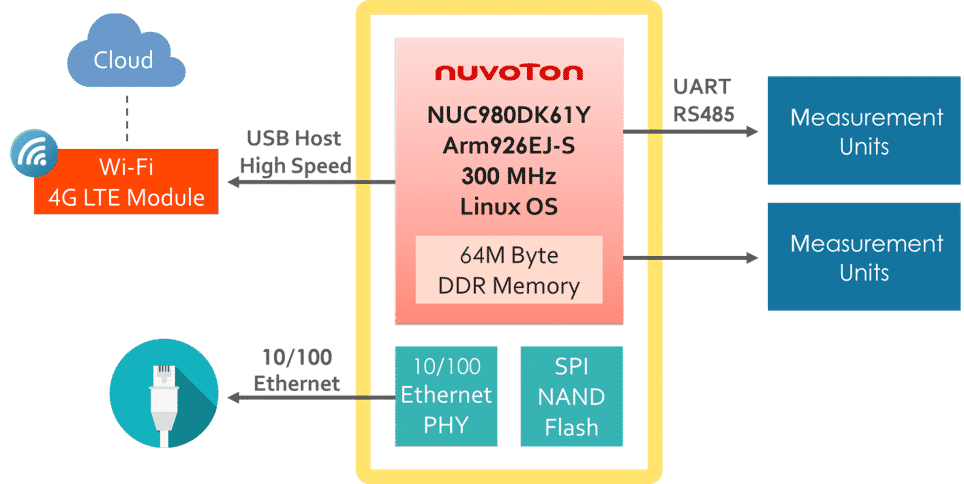 Nuvoton Microprocessors for Industrial Remote Terminal Unit
Low Power Microcontroller for Industrial IoT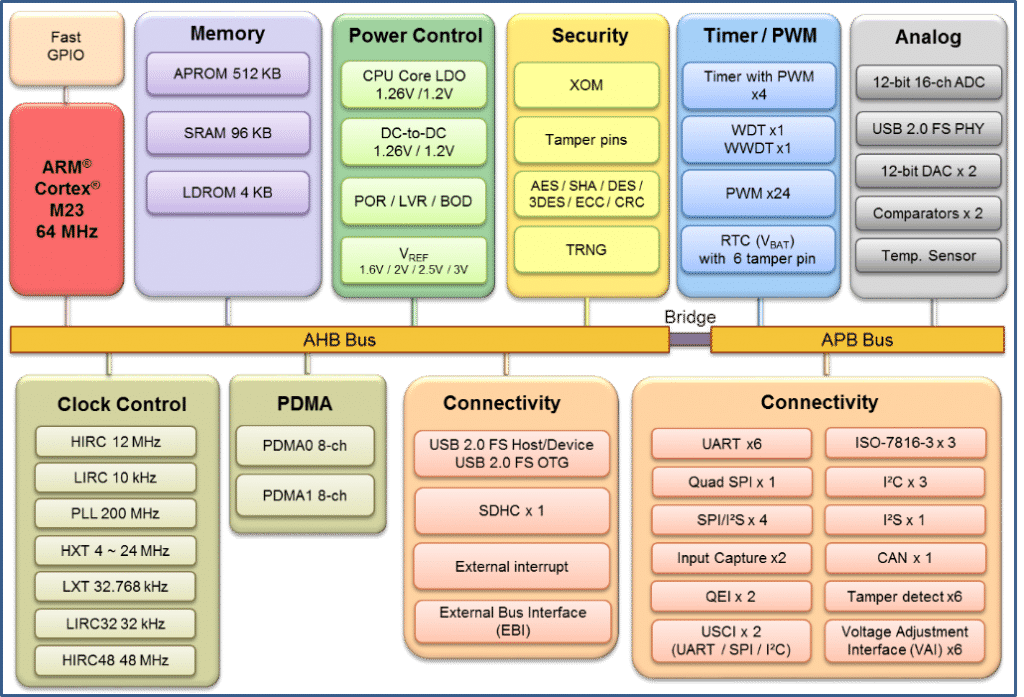 Nuvoton NuMicro M263KIAAE is a low-power microcontroller platform based on Arm Cortex-M23 core for Armv8-M architecture. It runs up to 64 MHz with 512 Kbytes embedded Flash memory in dual bank mode supporting Over-The-Air (OTA) firmware update and 96 Kbytes embedded SRAM. It also supports low supply voltage from 1.8 ~ 3.6 V and operating temperature range from – 40 ~ + 105 ℃.
Low power and robust security are two major vitals for Internet-of-Things (IoT) applications. Nuvoton M263KIAAE provides multi power modes for diverse operating scenarios, such as Power-down mode (PD), Fast Wake-up Power-down mode (FWPD), Low Leakage Power-down mode (LLPD), Ultra Low Leakage Power-down mode (ULLPD), Standby Power-down mode (SPD) and Deep Power-down mode (DPD). This MCU also integrates RTC with independent VBAT voltage source pin to support low power mode with main power off and VBAT only.
Nuvoton M263 Series MCU for IoT Applications
Gateway Server for Realtime Monitoring and Warning System
EBox-CGate is a gateway server that allows users to take only 3 steps to build their remote monitoring system for industrial IoT application. EBox-CGate can be paired up with other devices to achieve real-time monitoring and warning system without implementing extra software and additional hardware. It is fully functional even without the internet, and it comes with a graphical user interface to enable real-time precise monitoring.
EBox-CGate focuses on the connection between the software and devices instead of hardware itself. EBox-CGate is designed for Modbus devices monitoring. EBox-CGate is built to perform common data transmission/synchronization. In addition, EBox-CGate comes with a web-based management interface that not only helps the users to complete settings remotely but also supports real-time monitoring.
Wireless Transfer & Telecommunications support Modbus-RTU, Modbus-TCP, USB Dongle Extension, LoRa
Want to find more about IIoT Solutions?
TechDesign is an ecommerce platform that accelerate hardware innovator's product development. With the 400+ suppliers and 450+ solutions, our professional project managers are able to help you find the most suitable solutions no matter which development stage you are. No more hesitation, visit TechDesign website today and submit your request now !