Your IIoT Ecosystem Suppliers in Hand Aside from Computex 2018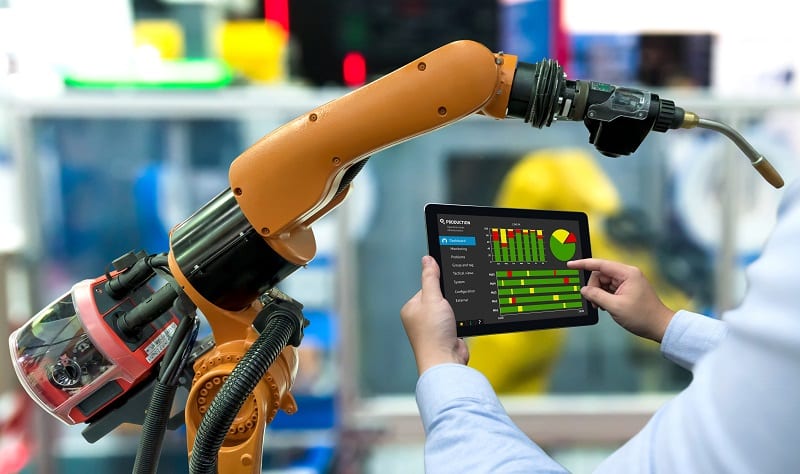 The Industrial IoT (IIoT) refers to the industrial subset of the Internet of Things, which is the amalgam of connected devices, sensors, networking and computing devices working together to collect and analyze data and enhance industrial processes. IIoT is often associated with manufacturing. IIoT in the factory leads us to a fourth industrial revolution or Industry 4.0
From Industry 4.0 to IIoT
The term Industry 4.0 was first coined in 2011. The four key components of Industry 4.0 are:
1) Cyber-Physical Systems
2) Internet of Things (IoT)
3) Internet of Services (IoS)
4) Smart Factory.
The integration of computational and physical processes, that is enabled by embedded systems monitoring and controlling the real processes interacting with computation processes, are the Cyber-Physical Systems. The IoT is enabled by Machine-to-machine communications (M2M) among things – smart devices. The IoS are the value-added services offered by vendors powered by the internet. The Smart Factory is one in which the CPS coordinates both the machines and people in a factory via the IoT. Companies considering the implementation of Industry 4.0 consider six design principles that include: interoperability, virtualization, decentralization, real-time capability, service orientation, and modularity. ("Design Principles for Industrie 4.0 Scenarios: A Literature Review" by Mario Hermann, Tobias Pentek and Boris Otto is a great research review that digs into and helps define the concept.)
The overall global IoT market is expected to reach $1.7 trillion in 2020, up from $655.8 billion in 2014 according to IDC. By 2025, according to McKinsey, Industrial IoT (IIoT) will have a potential economic impact of $6.5 trillion. Meanwhile, the World Economic Forum expects that the IIoT will create $1.3 trillion of value. Zion Market Research expects the global IIoT market size to grow to $232 billion by 2023 with a CAGR of 8.06%.
Product Design Element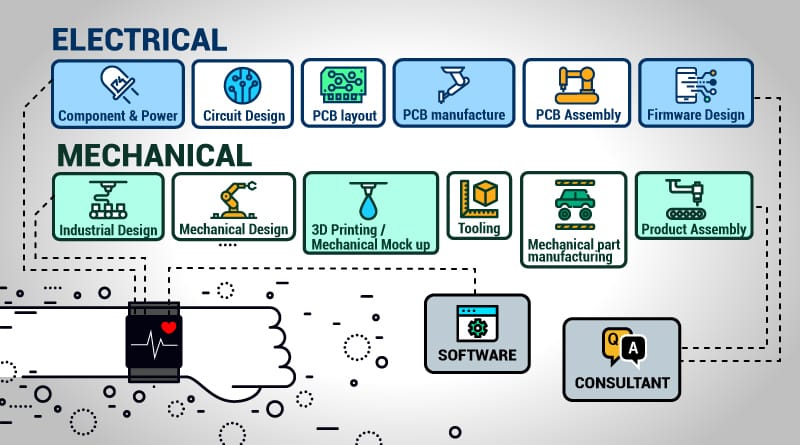 To realize the IIoT solution, you will go through the electrical design and mechanical design. Meanwhile, you may need consultant's support to help you solve technical issues and understand how to negotiate with suppliers. In addition to hardware itself, software is another critical part to make your IIoT solution work smoothly.
Here we'd like to use a simple definition to help you understand each element in the product design process.
Component & Power: The basic discrete device or physical entity in an electronic system used to affect electrons or build a flow of electricity, e.g. MCU, Connector, battery, etc.

Circuit Design: The process normally begins with the conversion of the specification into a block diagram of the various functions that the circuit must perform, then the individual circuit components are chosen to carry out each function in the overall design.

PCB layout: This process is to transform the electronic circuit to the PCB which mechanically supports and electrically connects electronic components using conductive tracks, pads and other features.

PCB manufacture: The process is to etch the conductive tracks, pads and other features from one or more sheet layers of coper laminated onto and/or between sheets layers of a non-conductive substrate.

PCB Assembly: The component can solder onto the PCB to both electrically connect and mechanically fasten them.

Firmware Design: To design a specific class of software that provides the low-level control for the device's specific hardware.

Industrial Design: A process of design applied to products by the creative act of determining and defining a product's form and features takes place in advance of the physical act of making a product.

Mechanical Design: The process that applies engineering, physics, engineering mathematics, and materials science principles to design mechanical systems

3D Printing/Mechanical Mock up: Any of various processes in which material is joined or solidified under computer control to create a three-dimensional object.

Tooling: A manufacturing process to producing a set of mold which can repeatedly produce mechanical part quick and efficiently.

Mechanical part manufacturing: A consistent process to produce mechanical part by a set of mold

Product Assembly: a company which assemble and test the electrical parts and mechanical parts to end product.

Software: The programs and other operating information used by a hardware, ex: app, cloud service, database

Consultant: A professional who provides expert advice in a particular area such as management, law, human resources, marketing (and public relations), finance, engineering, science or any of many other specialized fields
Computex 2018: Industrial IoT Suppliers
Computex is a global ICT and IoT exhibition and conference held annually in Taipei, Taiwan and the next one is coming up soon, June 5-9. The event is co-organized by the Taiwan External Trade Development Council (TAITRA) and Taipei Computer Association (TCA) and attracts more than 40,000 international visitors and more than 1,600 exhibitors. While the event covers the full spectrum of the global ICT industry and specifically Taiwan's complete end-to-end ICT clusters, you'd be missing a significant number of established and qualified vendors to help you develop your IoT product and get it to market.
Fortunately, we at TechDesign are looking out for you and would love to share some of the many trustworthy suppliers that make up the IIoT Landscape. Check out our infographic mapping the landscape below and introductions to the respective IIoT supply chain partners to learn about their services in more detail.