Discovering Wireless Communication Solutions for Vital Signs Monitoring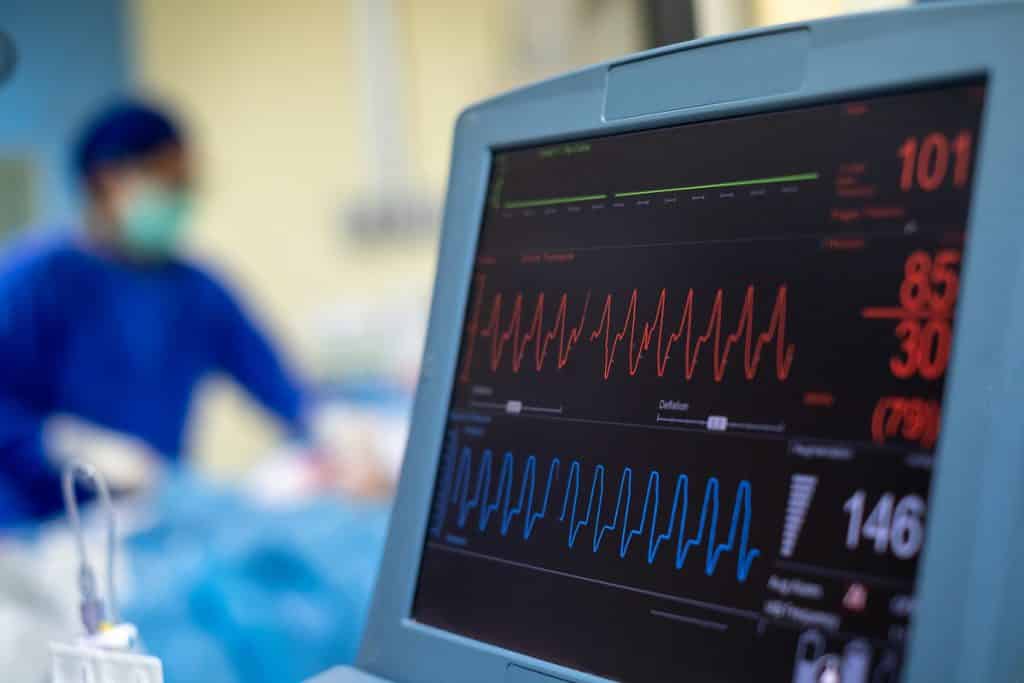 Owing to the rising prevalence of chronic diseases, the increase of aged population, and the continuous spread of COVID-19, applications related to health care are getting more attention worldwide, one of which is vital signs monitoring. In general, vital signs are medical signs of a body's basic life-sustaining function, which include body temperature, pulse rate, respiration rate, and blood pressure. The monitoring devices corresponding to these signs are temperature monitoring devices, pulse oximeters, and blood pressure monitors.
The market of vital signs monitoring devices has been growing with a rapid pace and is estimated to hit USD 11.55 billion by 2027, with a CAGR of 11% comparing to 2019, according to Fortune Business InsightsTM. Aside from the rise of chronic diseases and elderly people which were mentioned above, the reimbursement from the government is also another driving force to fuel this market growth.
Overall, in 2019, pulse oximeters approximately account for 36.2% in vital signs monitoring devices market, and blood pressure monitors account for 27.9%. From geographic perspective, North America is the dominant region to hold the largest market share, followed by Europe. It is estimated that the market share of North America will exceed 40% by 2030, from Future Market Insights. On the other hand, Asia Pacific is the area with the fastest growth rate. Moreover, from end-user's point of view, hospitals have the most share in the market, followed by clinics and home care settings.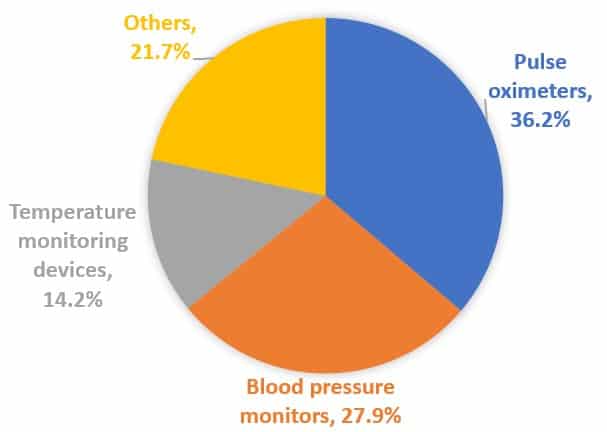 Taking a glance of the main players' strategies in this field, it is not hard to understand that these monitoring devices with Wi-Fi and/or Bluetooth functions built-in is on trend. For instance, in 2019, Masimo brought Bluetooth portable capnography into the market. And in 2020, Hillrom unveiled the Hillrom Extended Care Solution, which store patients' health data in the cloud, allowing healthcare professionals to access them from hospitals or clinics.
As mentioned above, since pulse oximeters and blood pressure monitors dominate the market, the following discussion will be focusing on these 2 kinds of devices.
COVID-19 brings up the demand of wireless pulse oximeters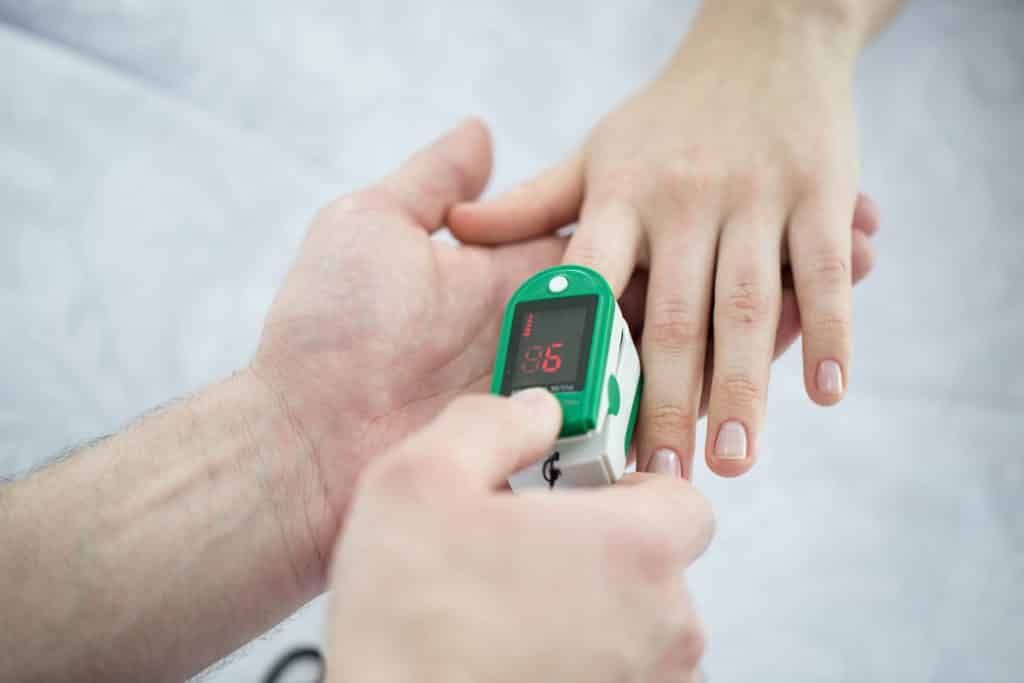 A pulse oximeter is a non-invasive device which measures heart rate and oxygen saturation of a person with the light detection method. Red and infrared LEDs are always used to detect the vasoconstriction, the vasodilation, and the variations of blood volume. These physiological changes affect the intensity of transmitted and reflected light, which would be measured by a photodetector. After digitalizing the physiological signals (known as PPG signals, photoplethysmogram signals), an MCU is then calculating the heart rate and oxygen saturation. The calculation results could be sent to any display (such as smartphone or computer) with a proper APP through wireless communication.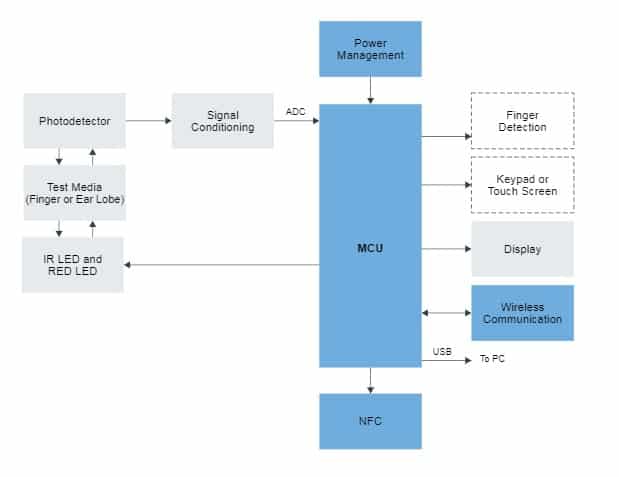 The widespread of COVID-19 has made the respiratory related syndromes under spotlight. Therefore, pulse oximeters which could measure the oxygen saturation of people have seen a surge in 2020 and are expected to grow continuously in the near future. The Business Research Company has predicted a 2.5 times growth in global pulse oximeters and spirometers market, from USD 2.6 billion in 2019 to about USD 6.5 billion in 2020.
As for the highly contagious feature of COVID-19, it is safer for people to use pulse oximeters at home or in an isolated area, so the need for pulse oximeters to be wireless and smart is being significantly more important. Through wireless connection, the data could be stored and analyzed on a remote device, then healthcare professionals could trace and monitor the physiological data of patients remotely.
Main suppliers lead the way of wireless blood pressure monitors
A blood pressure monitor measures the blood pressure of a person. It inflates a rubber cuff which is wrapped around the upper arm until no blood could flow through the artery, then it releases the air from the cuff to let blood flow through the artery again. A pounding sound that is created during the process could be detected and the blood pressure could be read afterwards (the systolic blood pressure is the pressure when the pounding sound starts, and the diastolic blood pressure is that when the pounding sound stops) .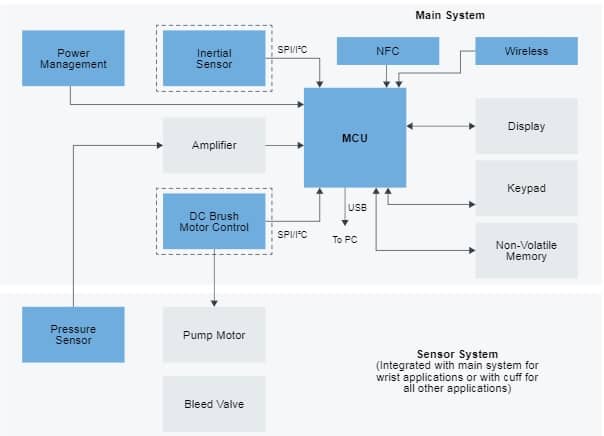 With the advancement of technology, the needs for blood pressure monitors to be wireless are similar to those for pulse oximeters: convenient, easy to monitor remotely, periodically collecting and analyzing blood pressure data. Major suppliers in this field have sensed the trend, and have come up with the new solutions one after another. In 2019, Withings launched its blood pressure monitors BPM Core and BPM Connect which could be connected with iPhone; Omron Healthcare, Inc. announced the first wearable blood pressure monitor HEARTGUIDE, along with its APP HeartAdvisor. Based on this, it is not hard to imagine that there will be more wireless blood pressure monitors coming into the market in the years ahead.
Wireless communication solutions of Reyax, GPlus and Opulinks
As an e-commerce platform which sells thousands of electronic components, TECHDesign has provided multiple selections of wireless communication solutions including Wi-Fi and BLE modules/SoC.
Reyax Technology, a total solution provider, has focused on producing high quality wireless communication modules, BLE and Wi-Fi modules are no exception. For BLE modules, RYB070I (with built-in TI CC2541) and RYB080I (with built-in TI CC2640R2F) are BT4.0 and BT4.2/5.0 compliant, respectively. For Wi-Fi modules, there are multi-protocol solutions such as RYWB116, RYWDB00 and RYWDB02; all of them are dual-mode and compliant with IEEE 802.11 b/g/n and BT5.0.
GPlus IoT Technology Inc., a technology service company, also provides multiple wireless communication modules for customers to select. For BLE modules, AN2640R2, BLE232, and WB822D series which comply with BT5.0 and BT4.2 specifications are now available at TECHDesign. And there are also various choices for Wi-Fi modules, among them, TA3200R1D-SA, which is embedded with TI CC3200 chip and IEEE 802.11 b/g/n compliant, is available as well.
Apart from that, Opulinks Technology is another industry expert which delivers the ultra-low power BLE/Wi-Fi combo SoC for IoT applications. Its product OPL1000 features a fully integrated 2.4GHz radio transceiver and baseband processor for Wi-Fi 802.11b and Bluetooth Smart applications. Besides, due to OPL1000, Opulinks has won the first prize of "Growing Enterprises Group in Electronic Information Industry" in the 8th China Innovation & Entrepreneurship Competition of Hong Kong, Macau & Taiwan in 2019, which successfully addressed the competitiveness of OPL1000 SoC.
Conclusion
The vital signs monitoring devices market has been growing rapidly due to multiple reasons such as increased population of the elderly and the widespread of COVID-19 pandemic. Fortune Business Insights has predicted it will reach USD 11.55 billion by 2027. In this market, pulse oximeters and blood pressure monitors are the top 2 devices and are gradually being wireless with Wi-Fi and/or Bluetooth technology.
At TECHDesign, you could find Wi-Fi and Bluetooth solutions which fit your vital signs devices design. TECHDesign cooperates with the leading wireless communication solution suppliers including Reyax, GPlus IoT, and Opulinks, which provide low power Wi-Fi and Bluetooth modules/SoC to IoT applications. Do not hesitate, come to TECHDesign now and start shopping!