Get Started with Your Voice-controlled Smart Home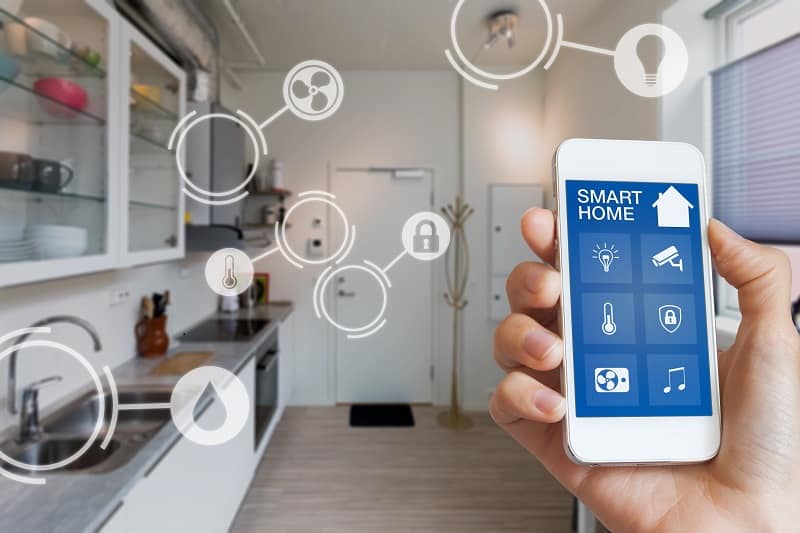 Imagine that you can send your GPS location from smart phone to the home control center, and then the air conditioner will be switched on in advance. As you get to the door, the smart lock with sensor will automatically open for you. Try to imagine another scenario. When you are at the office and planning to have a party this evening, you can talk to your smart phone and give commands, "Steward, please book half a dozen of beer for me." Then you will get the beer at the reception of your apartment as you go back to home. In addition, home surveillance is one of the smart home core technologies. Wherever you are, you are able to monitor your home and control the door, window, and even alarm system.
There is no perfect definition for smart home since it can be applied to diverse scenarios with people's creativities and innovations. In general, the trend of developing smart home applications is to make the home environment comfortable, energy-saving, safe, privacy-protected, and automated.
Combination of Smart Home
Smart home is a huge but delicate system, including multiple sub systems, such as control system, lighting control, security control, entertainment, smart kitchen, etc. In term of devices, smart home devices include end device, control center, cloud, and mobile device. In the following paragraphs, we are going to show you the concept of control system and take lighting control as an application example.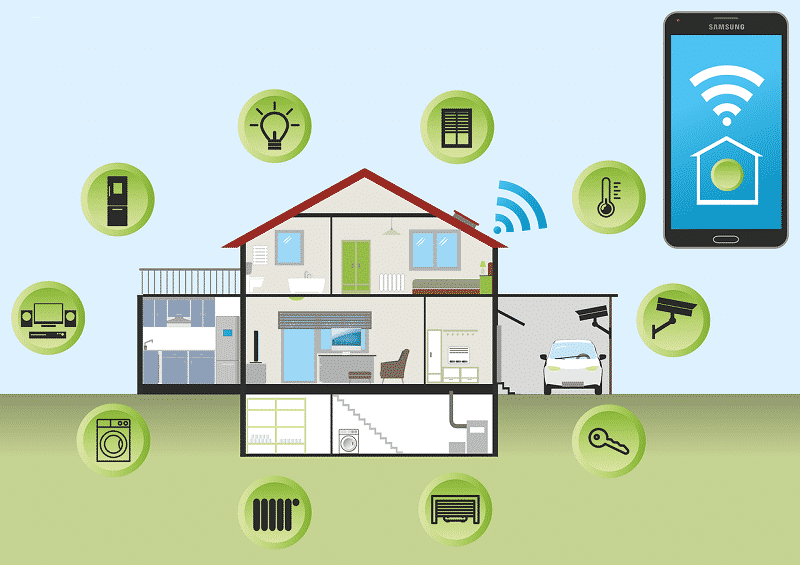 Control System
The local control center of a smart home can monitor all the appliances and sensors according to your request. For example, it can automatically detect the ambient light to adjust luminosity. Another use scenario is to detect temperature and adjust water temperature from shower head just as each family member's preference. Technically, this use scenario emphasizes AI and voice recognition technologies, and the control system is like a steward, for example Alexa in Amazon Echo, Google Assistant in Google Home.
The sub system can be applied to your smart mobile device, for example, Siri in iPhone/iPad/Apple Watch. This case emphasizes AI and voice recognition as well. AI is controlled and operated on the cloud, but the recognition technologies are computed in mobile devices. What should be noted is that both Amazon Echo and Google Home are controlled by the personal data on the cloud and cloud services.
Lighting Control
Automatically adjusting luminosity and color temperature, detecting motion, wireless control and remote control have been widely applied to various products and able to satisfy most product requirements. Remote control can be applied via home control center and smartphone. The wireless transmission options adopted by lighting equipment include low-power communication technologies, like Bluetooth and Zigbee. Moreover, with the usage of LED, there are more options for light colors so that lighting can be integrated with other services, like the smart LED bulb, Qube, with built-in Wi-Fi and Bluetooth antenna. The smart bulbs can transmit data among each other, collaborate, and even change the color temperature according to the latest weather forecast.
Smart Home Operating Platform
Physical transmission system
The data on smart home end devices are usually transmitted via wireless connection to the home gateway and then uploaded to cloud/ server. Some data can be read and processed directly. The commonly-used wireless transmission systems include Wi-Fi, Zigbee, and Z-Wave. Can any connection option dominate the whole smart home network? In the following, we are going to introduce the suitable use scenarios and limitations for each connection option.
Wi-Fi is a mature transmission system. Wi-Fi AP (Access Point) almost exists in every home and becomes the key role for indoor wireless communication. Wi-Fi coverage could be dozens of meters, and another feature of Wi-Fi is high bandwidth, which means high energy consumption. That's why smart home end devices using Wi-Fi need to connect with indoor power supply, such as surveillance camera.
Bluetooth is the short-range transmission system developed by Ericsson in 1994. Now Bluetooth 5.0 is available and has been applied to various types of devices. In recent years, Bluetooth LE (Low Energy) has been another option for connectivity. The feature of low-power consumption enables end devices to work without connecting with external power supply. Since almost every smart phone supports Bluetooth, Bluetooth is widely adopted by smart home end devices. For example, in-home healthcare biological sensors usually adopt Bluetooth.
Z-Wave and Zigbee's power consumption is much less than Bluetooth LE, but the bandwidth is as low as Bluetooth LE. The highest bandwidth of Z-Wave is 40kbit/s. Zigbee supports more network nodes and also supports types of network topology. In addition, with IEEE 802.15.4-based specification, Zigbee has more advantages than Z-Wave. However, Z-Wave is used primarily for home automation and supported by Cisco, Intel, Microsoft, etc. Therefore, Z-Wave and Zigbee are both applied widely. The table below lists the features of the connectivity options.
| Technology | Speed | Operating Frequency | Communication Distance | Power Consumption |
| --- | --- | --- | --- | --- |
| Wi-Fi | Highest 433 Mbps | 2.4/5 GHz | Hundreds of meters | High |
| Bluetooth | Highest 24 Mbps | 2.4 GHz | Dozens of meters | Low |
| Zigbee | 205 kbps | 2.4 GHz | Between Wi-Fi and Bluetooth | Extremely low |
| Z-Wave | 40 kbps | Sub-1 GHz | Between Wi-Fi and Bluetooth | Extremely low |
We have introduced the scenarios, the combination, and the platform and connectivity options commonly applied in smart home. Then the next thing is voice control! We will give you a brief idea of the voice recognition services, how voice control can be applied in smart home architecture, and Nuvoton solutions you can adopt to build your own voice-controlled smart home.
Voice Recognition Services
Commonly used voice recognition services include:
– Apple – Siri
– Google – Voice Assistant
– Alibaba – Tmall Genie
– IBM – Watson
– Microsoft – Cortana
– Amazon – Alexa
Smart Home Architecture
Here's the example of smart home architecture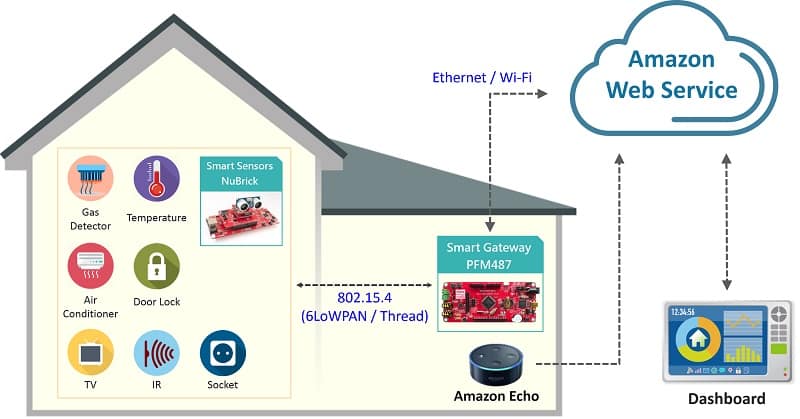 NuMaker Smart Home & Voice Control Solution
The NuMaker development platforms, embedded with Arm® Cortex®-M MCUs, are designed for makers. Each platform can be either used individually or cooperated with each other. The NuMaker PFM IoT platforms are especially suitable for IoT application and development.
How can the NuMaker PFM-487 development platform help you?
NuMaker PFM-487 Platform
– Built-in Nuvoton Mbed™ Voice Control Service
– Wi-Fi & 802.15.4 RF Expansion Board
– Support NuMaker Brick series sensors
Provide complete code to use with Amazon service
– Alexa/ DynamoDB/ Lambda
– Voice control to door lock, fan, and light
– Voice report temperature, humidity, and illumination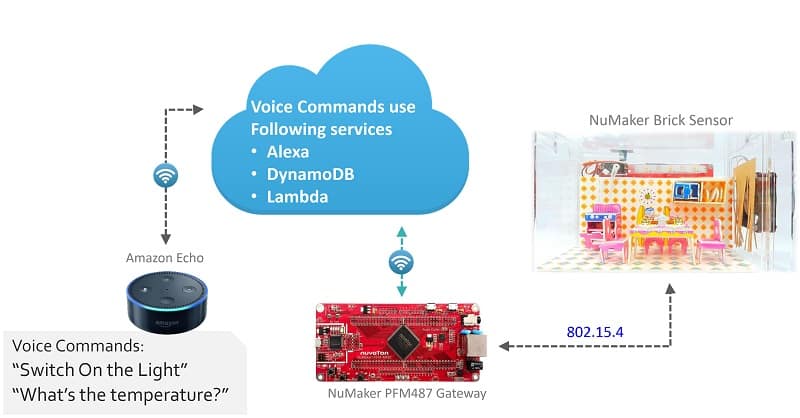 Key Features of the NuMaker PFM Series:
Support General Platforms
– Arm® Mbed™ OS v5.5
– Board Service Pack
– Support online compile & download
Multiple Communication Protocols
– Proprietary protocol with encryption
– Thread / 6LoWPAN / 802.15.4
– Wi-Fi / Bluetooth / …
Easy kit, Quick forming
– Various sensors and control boards
– Stackable & easy connections
– Easy expandable
Open Source
– Operation System
– Drivers
– Online samples – sensors / gateway / cloud
– APP
Ready for Your Smart Home Applications?
If you are working on a smart home device, TechDesign would love to assist you in developing the smart home product. We have a large network of carefully screened manufacturers and design houses that are able to provide support for your project at any stage. In addition, on TechDesign e-market, there are NuMaker platforms in stock for you to shop anytime and anywhere. No more hesitation, visit TechDesign to find the MCUs and ICs to develop your own voice-controlled smart home device.