PANJIT FRED—Maximizing System Efficiency in a Cost-Effective Way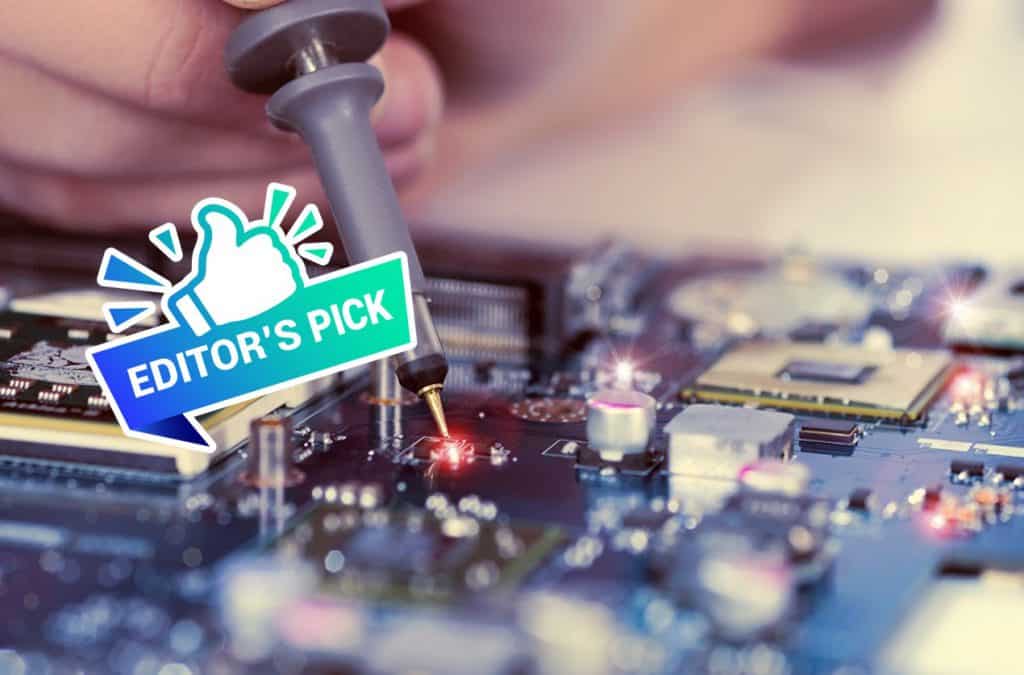 FRED (Fast Recovery Epitaxial Diode) refers to a series of High Voltage diodes, which have an additional epitaxial layer and the feature of fast recovery. The interesting part of FRED is the trade-off characteristic between Vf (forward voltage) and Trr (reverse recovery time); the higher Vf, the lower Trr, and vice versa. Hence to reach the best trade-off performance becomes extremely essential for FRED development.
When choosing diodes for fast switching purpose, FREDs are cost effective solutions comparing to SiC diodes. High voltage FREDs can be widely used in power related applications such as power supply system, UPS, PV inverter, EV charging pile, and so on. PANJIT, the leading discrete semiconductor provider, has a complete series of FREDs in place to be applied to the applications stated above for maximizing system efficiency.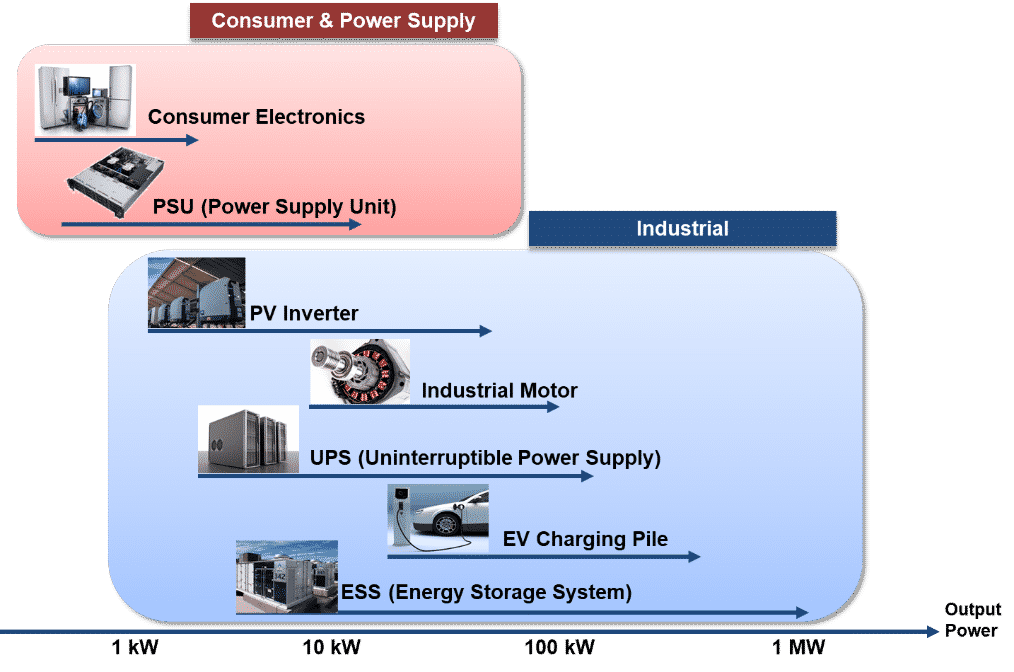 With proper platinum dosage in epitaxial layer and high temperature annealing technique, FREDs manufactured by PANJIT show great trade-off performance on Vf and Trr. Besides, optimized drift layer and buffer layer structure enable low leakage current and soft reverse recovery characteristic.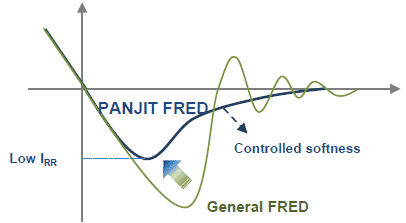 With the low Irr (reverse recovery current) and soft recovery characteristic of PANJIT FREDs as shown in Fig. 2 and 3, outstanding system efficiency is achievable.
Fig. 4 shows the simulation result of total power losses of those FREDs in Fig. 3, which indicates that PANJIT FREDs have the least power loss among competitors.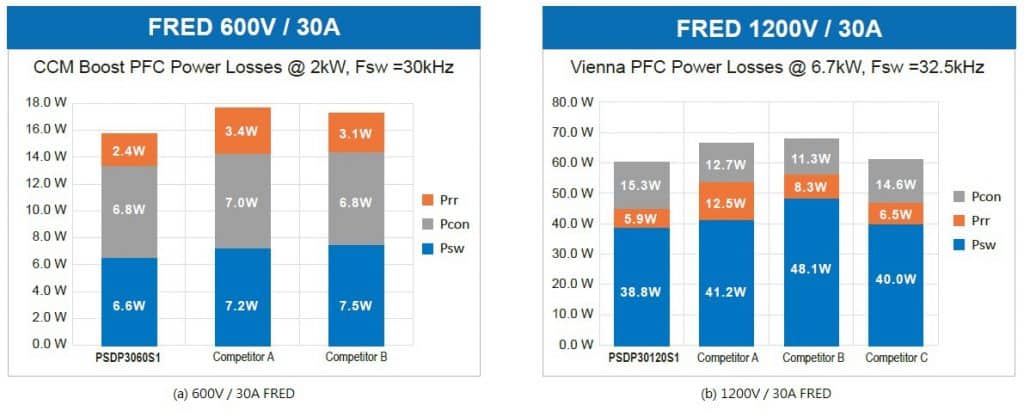 PANJIT has released 2 different FRED series – Optima FRED and Speedy FRED for different usage purpose. Optima FRED is optimized for low frequency switching circuit with its' compressed Vf which leads to lower conduction loss. Speedy FRED is recommended for high frequency switching circuit with lower Trr, which will be beneficial for minimizing the switching loss. Therefore, both Optima FREDs and Speedy FREDs can be used in the same circuit, for instance; in a boost PFC circuit, Optima FRED could be used as boost pre-charge diodes and Speedy FRED could be used as boost diodes.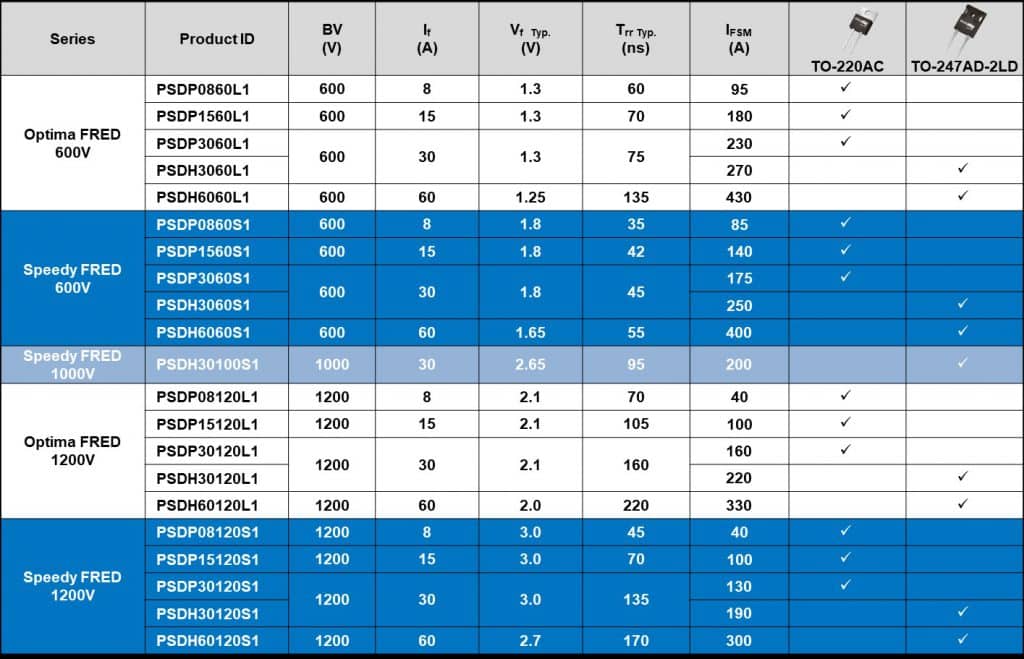 From what was mentioned above, suitable FRED products can be selected from PANJIT based on one's need. Thus, do not hesitate to come to TECHDesign now and start your shopping!