Discover the Most Promising Wireless Technologies in IoT world: BLE, Wi-Fi, and LoRa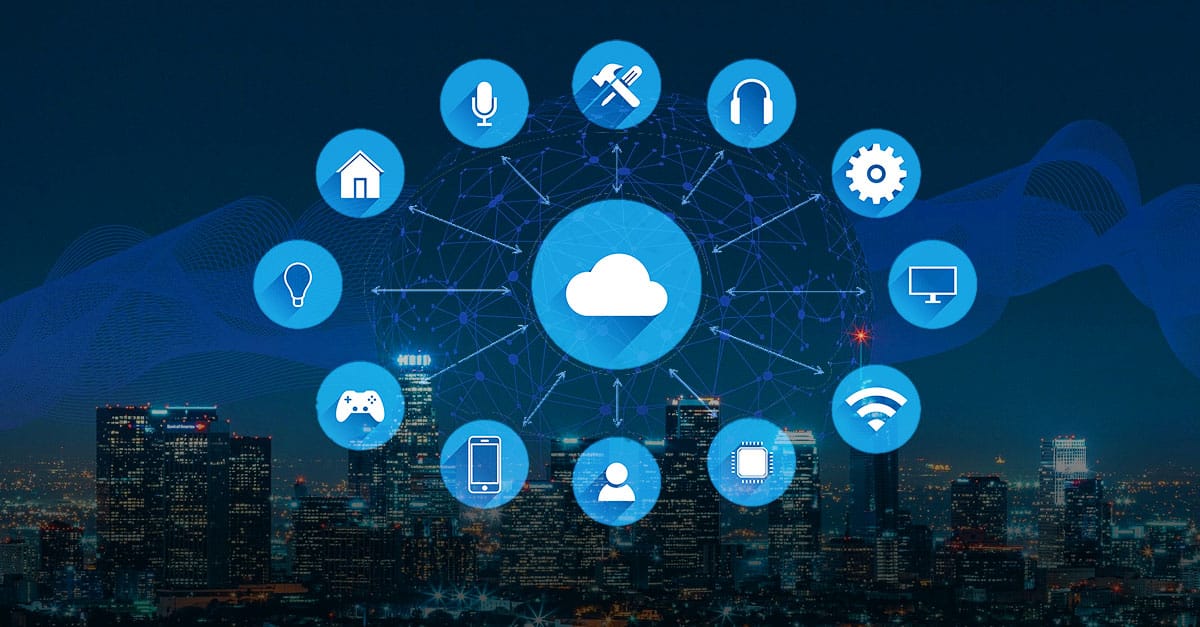 Global wireless data communication market is estimated to reach USD 1867.8 million by 2023, more than double of the growth rate, comparing to USD 794.6 million in 2018, according to MarketersMedia. Since wireless connectivity becomes distinct mainstream, there are several products which have won innovation awards in 2020 CES, such as Atmosic M3 Battery-Free Bluetooth 5 SoC (by Atmosic Technologies) and Halo Air Wi-Fi system (by Zyxel Communications Inc.). BLE (Bluetooth Low Energy), Wi-Fi, LoRa technology and the related solutions will be introduced and analyzed in this article.
In the world full of wireless connections, nowadays, wireless technology have been progressing swiftly and becomes extremely important. The table shown below indicates the configuration of BLE, Wi-Fi, and LoRa, which are the most popular standards in IoT applications.
Technology
BLE
Wi-Fi
LoRa
Frequency
2.4GHz
2.4 / 5GHz
<1GHz
Transmission range
Max 100m,
typically 20m
50~100m
2~10km

Data rate
2Mbps
600Mbps (802.11ax)
<50kbps
Topology
Star / Mesh
Star / Mesh
Star-of-stars
Power consumption
Low
Medium
Low
Maximum output power
100mW
100mW
500mW

Table 1. Configuration of BLE, Wi-Fi, and LoRa
*Please be noted that the power consumption varies from the use cases.
(Source:Bluetooth SIG, Wikipedia, LoRa alliance)
It is simple to distinguish these 3 wireless techniques through the applications. For the devices which require short-ranged and high-speed data transmission, Wi-Fi is definitely great for them; for the devices which require short-ranged transmission and low power consumption, BLE technology would be the best fit; and for devices which require ultra-long-range data transmission with low power consumption, LoRa would be the one.
Furthermore, IHS has categorized the related applications below.
Application
Use Cases
Key Technologies*
Industrial automation
Condition monitoring; Location monitoring
BLE
LoRa
Wired
Power and energy
Smart grid; Smart meter
LoRa
Wired
Building automation
Access and entrance control; Fire detection; Video monitoring
LoRa
Wi-Fi
Wired
Home appliances
Remote management
Bluetooth / BLE
Wi-Fi
Wired
Home automation
Climate control; Energy and water management; Safety and security
Bluetooth / BLE
Wi-Fi
Wired
Sports, fitness and activity
Fitness monitoring
Bluetooth / BLE
Wi-Fi
Wired
Table 2. Applications vs. key technologies
*Only LoRa, Wi-Fi, Bluetooth, BLE, and Wired technologies are discussed here.
(Source:IHS)
BLE (Bluetooth Low Energy), short distance and low data rate transmission
The use cases of BLE are various. Any case with short distance, low data rate transmission requirement could be adopted with BLE technology. BLE can be applied in multiple applications, such as wireless charging, health condition monitoring, wearables, smart tags, broadcasting beacons for retailing and guiding, smart homes and smart cities.
To understand more about BLE, one first needs to know about Bluetooth technology. The evolution of Bluetooth starts from a wireless alternative for RS-232 data cables. BT 1.0 was the initial generation; the technology started to support BLE since BT 4.0 and mesh topology since BT 4.1. With mesh topology, masters and slaves can be exchanged; more devices can connect to each other comparing to previous star topology.
The main difference between Bluetooth and BLE is power consumption. The power consumption of BLE reaches 1%~50% of Bluetooth, which consists of the need of IoT applications. Here at TechDesign, you could find BLE module solutions that fit your requirements.
Technology
Bluetooth
BLE
Transmission range
≦100 meters (BT3.0)
Max 100m,
typically 20m
Data rate
1~3Mbps
2Mbps
Voice capable
Y
N
Topology
Scatternet
Star / Mesh
Peak current consumption
<30mA
<15mA
Power consumption
100%
1~50%(≦10mW))
Table 3. Comparison between Bluetooth and BLE
(Source:Bluetooth SIG)
For Reyax, RYB070I (BT 4.0) and RYB080I (BT 4.2 / BT 5.0) are BLE modules with Antenna embedded. They are designed for but not limited to smartphone peripheral applications. TI SoC CC2541 and CC2640R2F are deployed in modules, respectively. Reyax also provides Android / iOS APP source codes and UART interface tools for customers' reference.
GPlus IoT at TechDesign also provides BLE solutions for customers' choice. CC2541F256, CC2640R2, CC2640F128, BlueNRG232, and Nordic51822 are the SoCs which complies with BT5.0 and BT4.2 specifications. Please refer to more details at TechDesign.

Wi-Fi, wide range and high data rate transmission
Wi-Fi is the most popular unlicensed technique in the world and has been widely deployed already. There are plenty of use cases of Wi-Fi technology. Devices including computers, smartphones, tablets, smart TVs, digital cameras, printers, cars are almost built with Wi-Fi technology inside. Wi-Fi is the wireless connectivity technology that suits the products with high speed data transmission needs.
Wi-Fi is a wireless local area networking (WLAN) technology, which is based on IEEE 802.11 standards. Devices with Wi-Fi capabilities could connect to each other through an Access Point or in AdHoc mode. After the device sends a probing signal to the Access Point, the Access Point will response to it; authentication and association need to be completed before any user data transaction happens.
Since Wi-Fi technology is so commonly used, one can almost find Access Points everywhere in cities and suburbs. The suppliers at TechDesign also have Wi-Fi module solutions available.

All the Wi-Fi modules at REYAX provide a comprehensive multi-protocol wireless solution including 802.11 b/g/n and dual-mode Bluetooth 5.0 for better user experience. Moreover, the modules also support for Client mode, Access point mode, Wi-Fi Direct, and Enterprise Security.
Among them, RYWDB00 and RYWDB02 support for Concurrent client and access point mode, 802.11a, 802.11j (hosted mode) with dual band (2.4GHz and 5GHz) as well. both RYWDB00 and RYWDB02 are equipped with Redpine Signals RS9116 Industrial grade core, the data rate is up to 100 Mbps (Hosted Mode) in 802.11n with 40 MHz bandwidth for Wi-Fi mode and 3Mbps for BLE mode. RYWDB00 and RYWDB02 use standard mini PCIe and standard M.2 2230 as their interfaces, respectively.
Here at TechDesign, one can find other Wi-Fi module solutions at GPlus IoT. TA3200R1D and TA3220R1E are designed with TI CC3200 and CC3220 SoC inside. Both of TA3200R1D and TA3220R1E are equipped with PCB and IPEX antenna; the transmission range is up to 70 meters indoors and 250 meters outdoors. 2.4 / 5 GHz dual band is available as well. For more information, please visit TechDesign.
LoRa, long distance and low data rate transmission
LoRa (Long Range) is a low-power, wide-area network (LPWAN) technology. It defines the physical layer (PHY) based on CSS modulation. Any application which requires small data packet transmission in a long range (2~1000 km) would be suitable to use LoRa as the wireless connection. Smart agriculture, smart fire evacuation, smart buildings (such as water leakage detection and structural health monitoring), and smart home management (such as thermostats, sprinklers, door locks…etc.) are all included in the application fields.
LoRa is capable of connecting sensor nodes to gateways in a long range, and the receivers can decode signals which are up to 19.5dB below the noise. Band spreading mechanism makes long range transmission achievable. Except for long range transmission capability, LoRa can also carry multiple data with different rates on the same channel.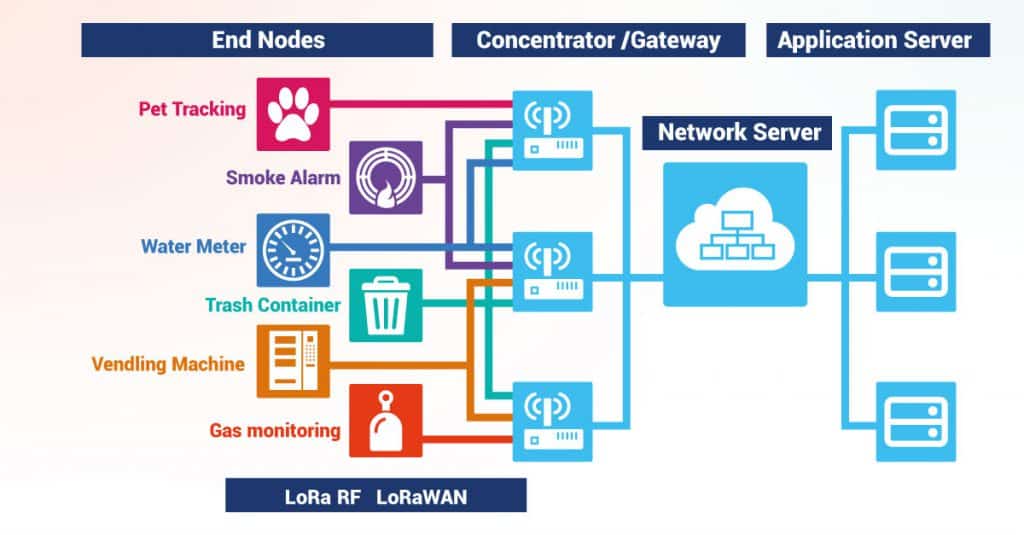 REYAX provides LoRa module solutions in the frequency of 410~525 MHz and 862~1020 MHz, with the SoC of Semtech SX 1276 and SX 1262. The data rate is up to 500 KHz and the transmission range is up to 15 km (4~4.5 km typically). Other than modules, one can find mini PCIe cards of LoRa technology at REYAX as well. On the other hand, Gplus IoT provides LoRa module solutions in the frequency of 434 / 470 and 868 / 915 MHz with helical and IPEX antenna, and the transmission distance is less than 10 km.
Conclusion
The wireless connectivity technologies mentioned above are all currently state-of-the-art. In the real world, BLE, Wi-Fi, and LoRa can be deployed together in a system and enhance the ability of each other. For instance, collect data through LoRa to Access Points then transmit the data through Wi-Fi to network servers. Discover more solutions at TechDesign and make your thoughts come to reality.