How to Select the Right ESD Protection Device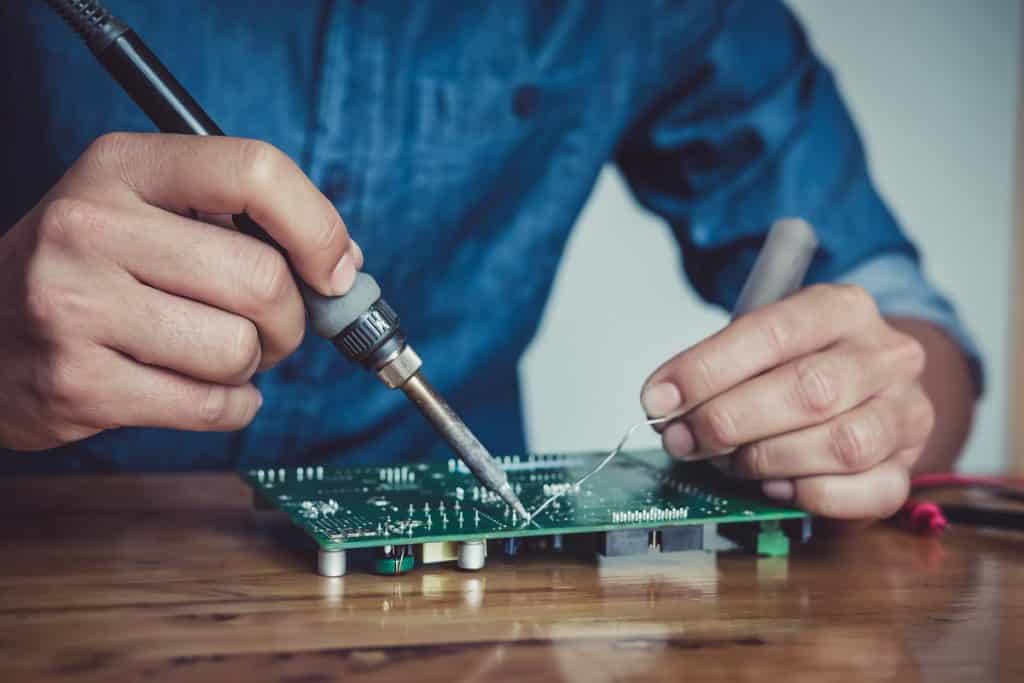 Owing to the technological progress, the thickness of gate-oxide of many semiconductor devices shrinks gradually, and the risk of ESD (Electrostatic Discharge) becomes stronger. Although ESD protection circuits are not the most crucial ones comparing to other I/O circuits, they still play important roles in avoiding damages on electronic devices.
According to Reportlinker, the global ESD protection devices market is predicted to grow USD 345.63 million from 2020 to 2024 with a CAGR of 5%. There are various kinds of ESD protection devices, such as Zener diodes, varistors, SCR (Silicon Controlled Rectifier), and TVS (Transient Voltage Suppressor), etc. Recently TVS is the most widely used protection device due to its great capability of protecting the internal circuits with small capacitance and fast turn-on speed.
Since ESD protection devices are so basic and essential, the providers are mostly large semiconductor suppliers. The main players in the market include but are not limited to Infineon, Murata, Nexperia, ROHM, ON Semiconductor, STMicroelectronics, Texas Instruments, and so on.
ESD Principle and Models
When 2 objects with different charges are put close to each other, an electrostatic discharge (ESD) pulse may happen. For any object which is an electronic device, the ESD current may cause irreversible damage to it. Therefore, an ESD protection circuit becomes extremely important.
An ESD protection circuit, which is made of ESD protection devices, provides a discharge path for the circuits it protects while an ESD current occurs. The discharge path with a low resistance would let the current pass and clamp the voltage in a relatively low level to avoid any damage towards the I/O or internal circuits.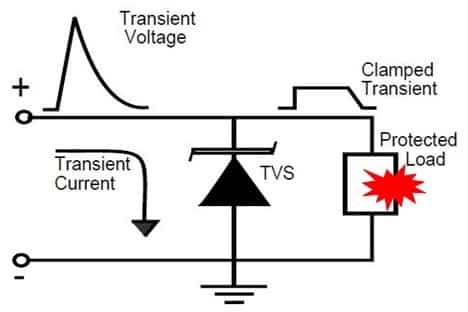 In general, the IEC 61000-4-2 is widely used as system-level ESD standard. Compared with the component-level ESD model HBM, the capacitances and discharge resistances of system-level and component-level are 150pF/330Ωand 100pF/1500Ω. We can figure out that system-level ESD model is with larger energy-storing capacitance and smaller discharge resistance. In the condition of the same ESD test voltage, the energy of system-level ESD test is much larger than that of HBM.
The reason of this difference is that HBM is used to reflect the ESD events which could be happening during manufacturing of a commercial IC. And during that procedure, the environment should be always well controlled to avoid any ESD damage. However, we cannot control the environment where end-users use their electronic system products (for example, notebooks, smartphones, etc.), so we have to test the system products by severer ESD test methods and criteria to efficiently reduce field return rate from end-customers and improve the visualization of brand.
How to select the right ESD protection device
To select proper ESD protection devices (usually TVS) to build up the ESD circuit, one should consider the maximum operating voltage, parasitic capacitance (Cin), pin configuration, clamping voltage, package type, and ESD immunity.
Before determining the operating voltage of any ESD protection device, one need to know the working voltage of circuits under ESD protection. Usually, the maximum operating voltage of ESD protection device is similar to the working voltage of circuits. For instance, a USB 2.0 switch with 5V Vbus would need an ESD device which works at 5V or slightly higher than 5V.
After choosing the right operating voltage of ESD protection device, one then could decide the parasitic capacitance (Cin) of it. Cin varies from less than 0.5pF to more than hundreds of picofarad and will affect the speed of end products. For protecting high-speed interface signals, Cin needs to be small; for protecting power-line, Cin will be relatively without limitation. In addition, one should also weigh up the influence of distortion over Cin towards high-speed interface signals. An eye diagram is often used to examine that if the signals are influenced or distorted by Cin.
Moreover, uni-directional or bi-directional characteristic and the clamping voltage of ESD protection device are also required to be selected, and another important parameter of ESD devices is package type. Regarding to different end products, there are multiple package options. For rather small products, 0402 (1mm x 0.6mm x 0.45mm) or 0201 (0.6mm x 0.3mm x 0.3mm) will be the suitable package types. On the other hand, DFN (Dual Flat No-lead) or SOT (Small Outline Transistor) package types suit average-sized products.
Finally, the ESD protection device must have ESD immunity itself. At least, the device has to pass IEC 61000-4-2 level 4, which is ±8kV in contact mode and ±15kV in air mode.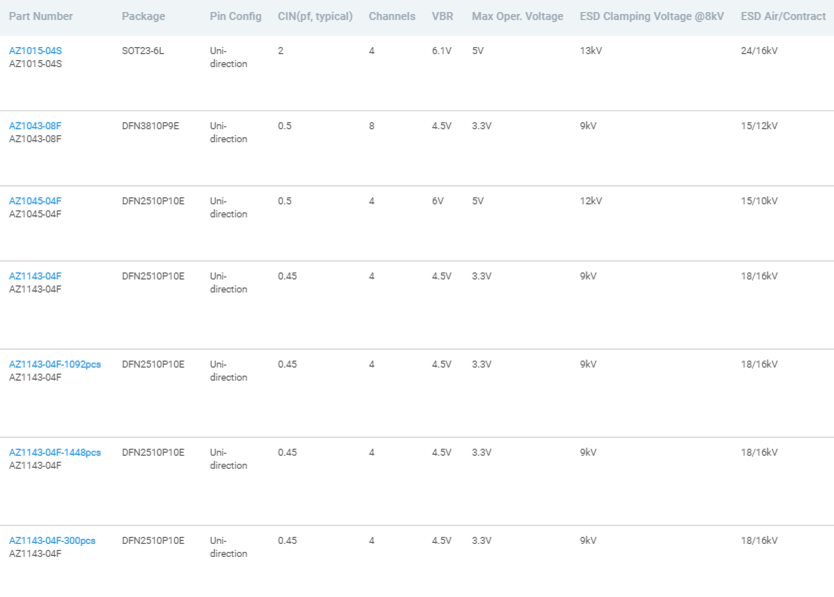 Amazing realizes ESD protection
Amazing Microelectronic Corp., the first professional ESD solution provider in Taiwan, has developed complete TVS product series to realize ESD protection. These series are comprised of high/low speed, high/low voltage, tiny package, and automotive TVS series, etc. From AZ1 to AZ9, Amazing provides various TVS products with different maximum operating voltages, parasitic capacitances, package types, and so on.
Now at TECHDesign, there are multiple choices for ESD protection TVS, from ultra-low to high capacitance, from protecting high speed data interfaces to protecting power lines, with operating voltage at 3.3, 5, and 12V. These ESD protection TVS devices could be applied to small panel, power supply, consumer electronics, handheld portable applications, etc.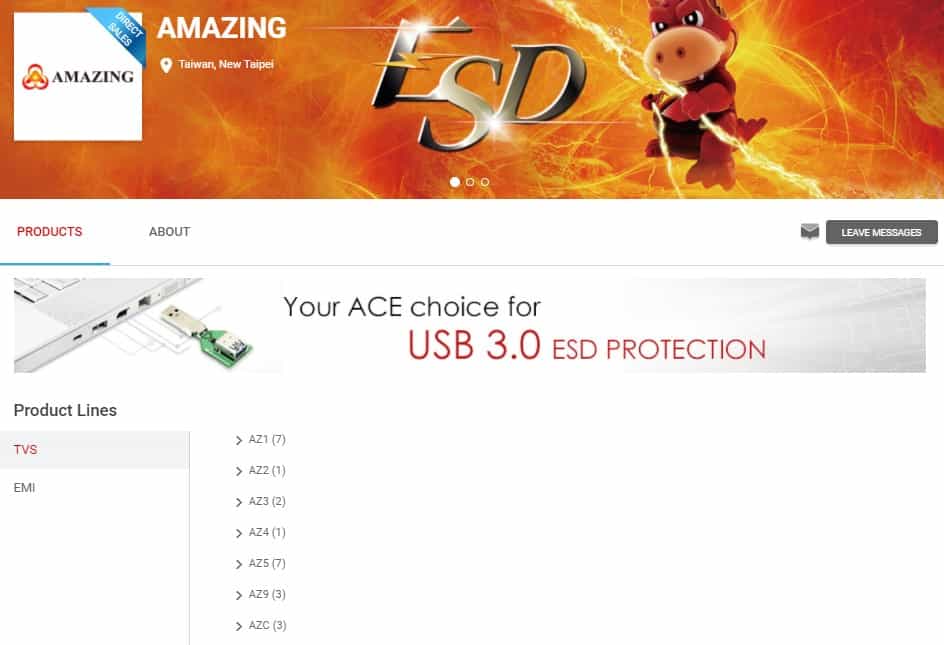 Conclusion
ESD (Electrostatic Discharge) has been a serious issue in electronic devices and protecting these devices from ESD damage is always what designers eager to pursue. When applying system-level ESD protection to any circuit, the protection should be highly effective and cannot influence the signal integrity of any high speed applications. Recently, TVS is the most widely used ESD protection device.
Based on different end products, one needs to understand the required maximum operating voltage, parasitic capacitance (Cin), pin configuration, clamping voltage, package type, and ESD immunity in order to select the right ESD protection device (usually a TVS).
As the first professional ESD solution provider in Taiwan, Amazing provides a variety of ESD protection selections. Come visit TECHDesign to take a glance and start your ESD shopping journey!