4 Things You Need to Know about Bridge Rectifier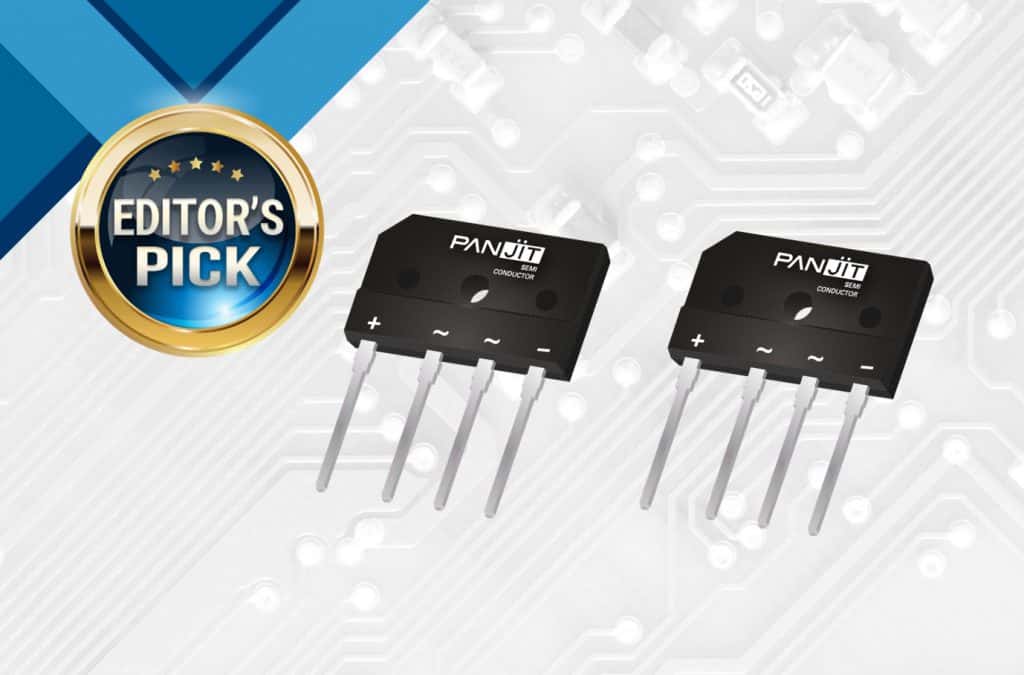 1) How a bridge rectifier works?
A bridge rectifier is a kind of full-wave rectifier which can convert AC (Alternating Current) to DC (Direct Current). It uses at least 4 diodes to rectify AC and the figure below shows how the rectification works.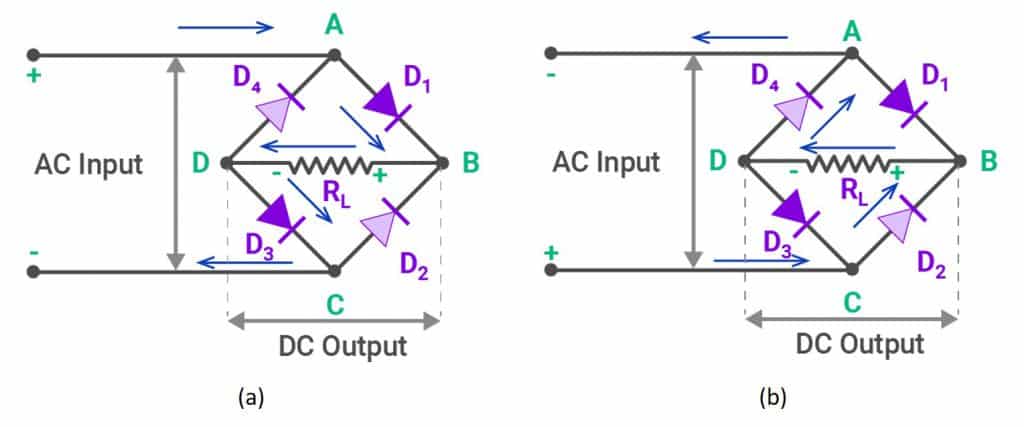 Fig. 1 shows a bridge rectifier with an AC signal applying to it. Fig. 1(a) shows the time when the AC signal is in its positive half cycle, and Fig. 1(b) shows the time when the AC signal is in its negative half cycle. From Fig. 1(a), we can find that diode D1 and D3 are forward biased while diode D2 and D4 are reverse biased; and from Fig. 1(b), diode D2 and D4 are forward biased while diode D1 and D3 are reverse biased during the negative half cycle.
Look at the DC output signal, we can discover the current is always flowing from terminal B to D, therefore VBD is always positive. And that is how the rectification accomplishes. As a result, a bridge rectifier would reduce the input voltage by nearly 1.4V (2 diode drops).
2) What the characteristics of a bridge rectifier are?
The main characteristics of a bridge rectifier are ripple factor, peak inverse voltage (PIV), and efficiency.
1. Ripple Factor
Since any AC input signal is a sine wave signal, the DC output signal after rectification will be ripply, and the factor used to measure the signal smoothness is called the ripple factor. Normally the ripple factor is 0.48 in a bridge rectifier. A capacitor can be used to smooth the DC output signal and lower the ripple factor.

2. Peak Inverse Voltage (PIV)
The peak inverse voltage (PIV) is the peak voltage across a diode when it is reverse biased. Ideally, the PIV of a bridge rectifier is the same as the DC output voltage; practically the difference between the PIV and the output voltage is 0.7V, i.e., PIV = VBD(out) + 0.7V.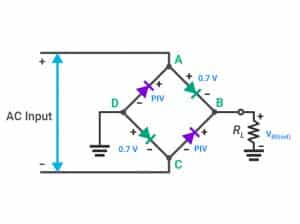 3. Efficiency
The efficiency of a bridge rectifier indicates how efficient the bridge rectifier performs. It is defined as the DC output power dividing into the AC input power.
η=PDC output/PAC input.
3) What the types of bridge rectifiers are?
1. Single-Phase and Three-Phase Bridge Rectifiers
4 diodes in a bridge rectifier which were addressed above are the basic case and this type of bridge rectifier is single-phase. The other type of bridge rectifier is a three-phase rectifier with 6 diodes. Three-phase bridge rectifiers are used for three-phase power supplies. With the overlapping of 3 sine waves, the output power of a three-phase bridge rectifier is larger, the PIV is larger, and the ripple factor is fewer.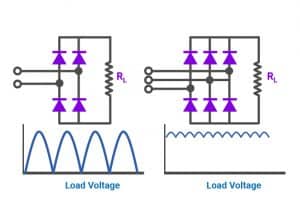 2. Uncontrolled and Controlled Bridge Rectifiers
Bridge rectifiers using diodes to realize rectification are called uncontrolled bridge rectifiers. An uncontrolled bridge rectifier can provide a fixed DC output voltage from a given AC input signal. Bridge rectifiers using other controlled devices such as MOSFETs, SCRs, and IGBTs to rectify are called controlled bridge rectifiers. A controlled bridge rectifier can provide an adjustable DC output voltage.
4) What the applications for bridge rectifiers are?
Any application that needs to convert AC input to DC output can use bridge rectifiers in the circuit. The common applications are power supplies, voltage multipliers, pulse generators, AM radio signals, electric welding, and so on.
Bridge rectifiers on TECHDesign
You can directly purchase high-quality bridge rectifiers from the well-known leading supplier PANJIT on TECHDesign. PANJIT offers single-phase, uncontrolled bridge rectifiers including general purpose and Schottky bridge rectifiers for you to choose from. Products with different specifications are here for your multiple application needs. Come and buy now!