3 Ways to Save Your Crowdfunding Projects through TechDesign

Last week, we shared our thoughts about why hardware manufacturing needs a transition with you, and we also briefly told you how TechDesign can help to solve those problems. However, we realize that we forget about a very important aspect of hardware manufacturing: many of the projects are funded through crowdfunding campaigns. For many startups, there is a gap between reaching their goals on Kickstarter and actually rolling out their products. We have seen countless startups fail not because they can't raise enough fund, but because of their poor estimation during the manufacturing period. So, our team decides to tell you 3 ways that TechDesign can help turn the fortune of your hardware projects around.
Multi-quotation model 

Traditionally, startups will fail due to poor estimation of manufacturing costs, which include the cost of good,s the cost of assembly and the cost of design for manufacture. With a limited budget, startups often need to plan things out before they start spending, but with the lack of established price range for hardware manufacturing, they often find themselves running out of cash when the manufacturing cycle actually kick off.  Sadly for their backers and the teams, they have to terminate their startups. However, TechDesign can make that a thing of the past with our multi-quotation model. Once you establish your project on our platform, you can receive multiple quotations from different independent design houses and determine the best price for your project. You may ask what difference does this feature make? The biggest benefit is that you no longer have to stick with the price offered by one IDH and think that the rest of them will just charge you pretty much the same. Now you can base your final decision on a transparent price range and determine which price fits your budget the best. In other words, you are now in the driver's seat to budget the manufacturing of your product, and of course, you run a much lower risk of spending all your money without rolling out your product.
Instant online project management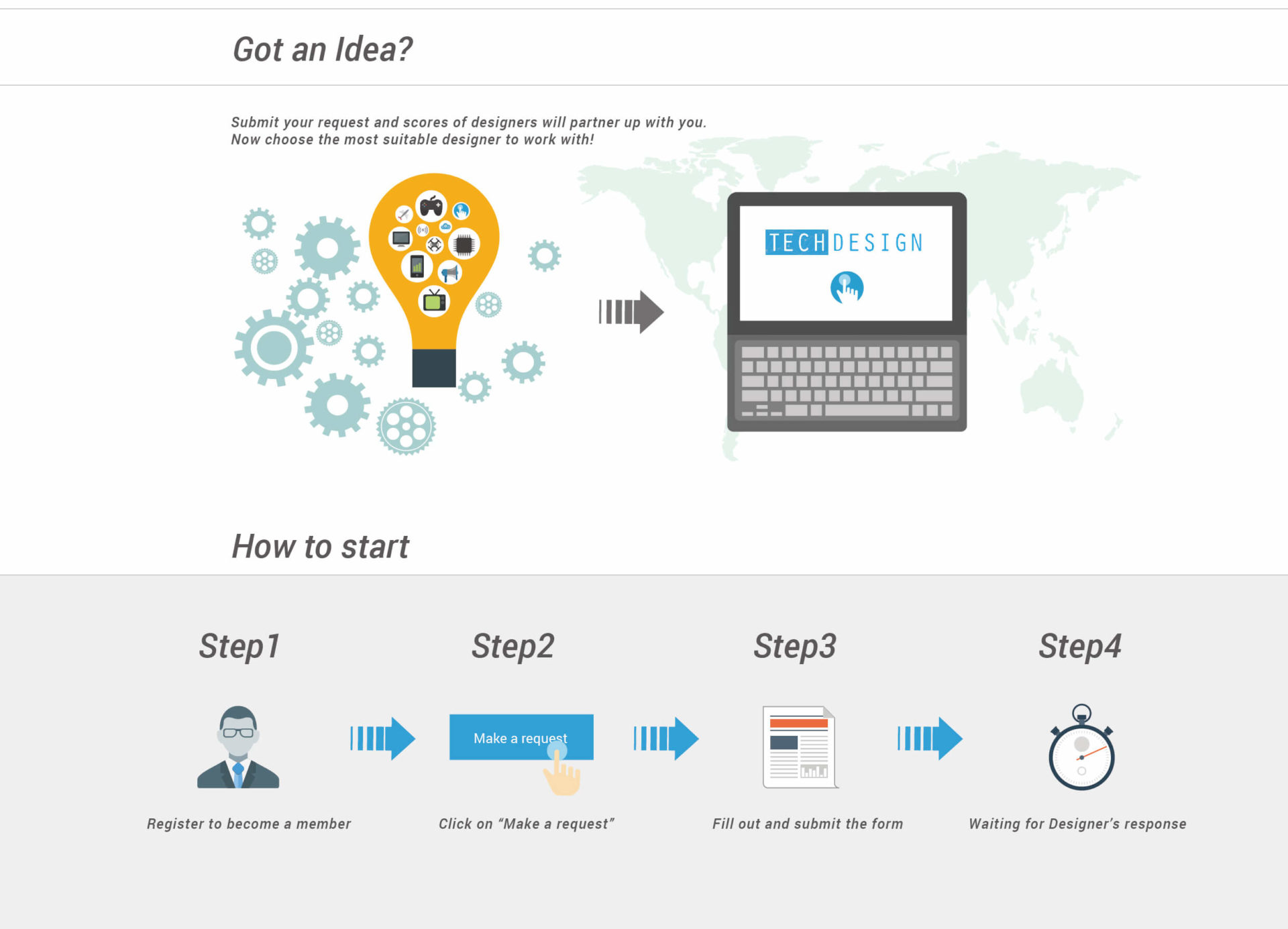 Of course, the risk that these projects are facing won't just end here. Startups will have to closely monitor the progress of product manufacturing because things can easily fall through the manufacturing process. Traditionally, closely monitoring every phase of the manufacturing process is almost impossible since the factories are usually far away from where the startups are based. Needless to say, coordinating the manufacturing schedule is also close to impossible. Thank goodness to TechDesign, we have made it possible for our users. From the moment they set up their projects on our platform, we offer intuitive features to help them easily customize the project timeline and instantly track their project progress through our platform. They no longer need to go through sleepless nights, worrying about their projects falling short, because all they need to do now is receiving the latest update from their projects through any device that has an Internet connection.
Automating hardware manufacturing 

TechDesign has one major feature that can help save startups' crowdfunding projects from bowing out. Our platform streamlines the hardware manufacturing process for startups. This means that we connect them directly to suitable manufacturers and  automate the manufacturing process for startups. From defining projects, setting milestones to communicating with manufacturers and making payments and receiving deliverable, they can all be done through one portal, which is our platform. They no longer have to keep multiple contacts for different aspects of the project because the single point of contact design of TechDesign allows them to put all kinds of project related questions through the platform and the manufacturers will disseminate them to different internal stakeholders from there.
Curious about how the platform works? Why don't you register and become a member!  And if you run into any questions while using the platform, you can always leave them in the comments and we will get back to you as soon as we can.