The Most Common 18 GPS Applications in 2022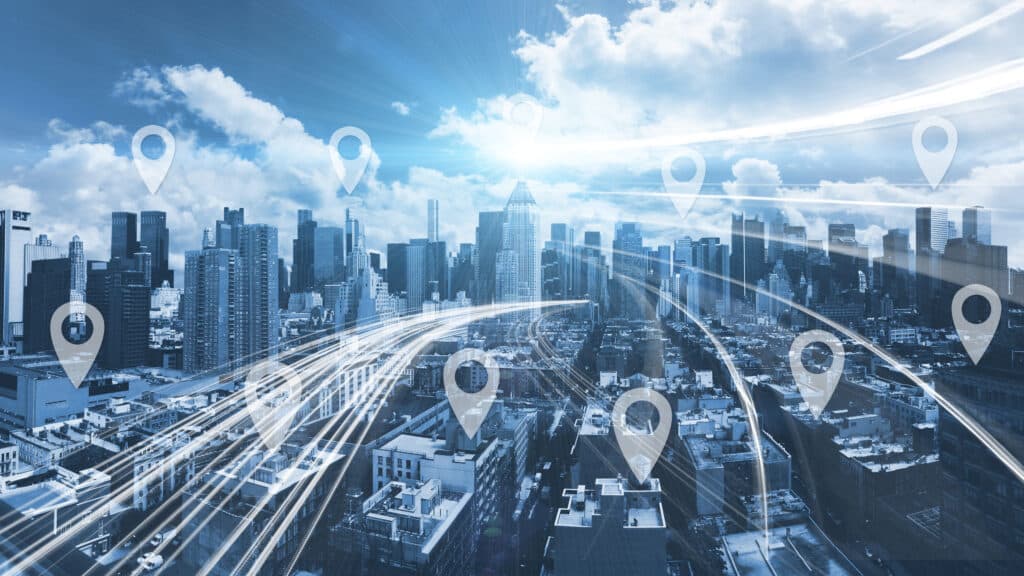 The Global Positioning System (GPS) comes from the United States and is one of the Global Navigation Satellite Systems (GNSS). It provides the location and information to GPS receivers for users to position themselves. We will introduce 18 common GPS applications in this article, and all of them can be realized by other satellite systems as well.
1. Transportation
Transportation is the most well-known field that GPS systems can be applied to. Drivers use GPS systems to guide the direction; passengers rely on GPS systems to know the bus schedule; government authorities depend on GPS systems to control the traffic. The GPS systems have brought order and convenience to roads and highways, and today, it is almost impossible to get on the way without any GPS receiver.
2. Objects and people tracking
You can track almost everything or everyone you want with a GPS tracker as long as the object or the person can be equipped with the tracker. Livestock, bikes, treasures, artworks, luggage, laptops, keys, pets, disabled people, elderly, children…, every single item you can imagine. By having a GPS tracker, you can keep your treasured belongings or people safe. For instance, the pets mini GPS tracker provided by Shenzhen Yushengchang Technology can monitor the pets in real-time and keep them safe. Moreover, geo-fence setting up is applicable to alert you when any intruder gets into your private space.
3. Recreation
Recreation is definitely one of the most exciting GPS applications. from hiking, cycling, fishing, to hunting, skiing…, any activity that relates to position determination or navigation can be realized through GPS systems. Yushengchang Technology also launched a GPS mini tracker with LED light which is installed in bikes that can be used in above activities. GPS makes traveling no longer difficult or time-consuming.
4. Agriculture
One efficient and cost-effective way for land cultivation is precision farming, and it can be achieved through GPS technology. For instance, tractors equipped with GPS systems can lead farmers to the right place to cultivate their lands in foggy weather. More tractor companies are using this technology as a tractor guidance service.
5. Safety and security
The GPS receivers can trace terrifying disasters such as fires or oil spills in any bad weather condition. It helps emergency crews to manage disasters. On the other hand, it can also help the crews to trace your location when you are in danger.
6. Defense
During war times, it is important to master the location of soldiers, fighter aircraft, and battleships, as well as the enemies. It is not surprising that world powers are building up their satellite navigation systems one after another, to get a head start in advance.
7. Surveying and maps making
GPS technology can assist topography research, for example, the survey of Earth surface and seafloor. Due to its mapping and boundary determination capability, various kinds of maps like electronic maps can be made through it.
8. Natural phenomena observation
The observation of natural phenomena can be improved with GPS. Some GPS apps can measure the millimeter-level movements of the Earth surface, so they are the tools for experts to predict or observe earthquakes. Besides, the weather forecast is getting more accurate as more satellites were launched.
9. Earth science
As mentioned above, with GPS, maps making has become a lot easier and more convenient. In the meantime, Earth science research can also be beneficial by adopting GPS technology. For example, researchers can understand the changes in landscapes, surface shapes, and so on.
10. Biology science
Biology scientists can use GPS technology (such as GPS collars) to monitor the footprints and movements of animals they are observing without putting any tiny papers or remarks on the animals. Besides, GPS devices can also be used to trace the migration of endangered species, so people can further ease their population reduction.
11. Aviation
In the sky, modern pilots also use GPS systems to guide the direction. The sky has become crowder than before as more aircraft are needed for global shipments, and GPS receivers can indicate the safest and most efficient way to the destination. Moreover, in the US, GPS is applied to the Next Generation Air Transportation System (NextGen) for aviation safety improvement.
12. Marine
Similar to pilots, captains need GPS technology to lead the way. The navigation function of GPS is so important for boats on the oceans to avoid obstacles, congestion, and crashes. GPS can also be applied to the applications underwater, such as the survey of seafloor, which has already been addressed above.
13. Mining
GPS is always being helpful for the mining industry. When it directly positions mineral resources, it makes mining more cost-effective and productive. Companies are eager to develop new hardware and software tools to optimize GPS signals and to continuously increase the profits of the mining industry.
14. Telecommunication services
Today, more than 50% of the world's population owns at least one smartphone. Telecommunication has dominated our everyday life, and its services require continuous information exchange which needs to be extremely accurate in time. Overall, GPS is the most suitable technology that has already been widely adopted.
15. Financial services
Timing accuracy is essential for money transfers and financial transactions, and GPS is the best tool that can offer this function. The precise time synchronization of GPS ensures the safety and security of money transfers, financial transactions, and other financial services.
16. Delivery
No delivery business can survive without GPS. Package delivery, food delivery, grocery delivery, and so on. GPS provides the most efficient and speedy way for delivery, and the consequence is that customers currently cannot stand waiting too long for their food and packages.
17. Logistics
Logistics is a broader concept of delivery, and it directly indicates supply chain management. Logistical supply chain management is always complicated since it relates to multiple steps of transport. With a set of GPS systems, the speed and routes of transporting vehicles can be tracked, and the best directions can be selected to raise productivity and efficiency. iFroglab just provides a GPS tracking system with GPRS function for users to well-managed their FMS applications.
18. Robotic field
As human beings, robots can also use GPS technology to find their way. Robots at homes, in factories, or in outdoor areas, all can be equipped with GPS receivers to find directions.
To sum up, the functions of GPS are nothing more than positioning, navigation, tracking, mapping, and time synchronization. Hundreds of applications have been produced because of them, and this article has introduced the most common ones for readers to take a glance at. Now, if you need GPS systems for your application, come to select the best REYAX GPS modules at TECHDesign!